Republican Sex Offenders and Child Molesters—DoNotPay Helps You Spot Pedophiles and Protect Your Child
Sex scandals among politicians are frequent regardless of the political option they represent. When the government and party officials get caught cheating with a consenting adult, it's shameful but not illegal or dangerous.
The true horror hits you when you find out how many powerful people, including Republican sex offenders, are accused of pedophilia.
These cruel predators can live on your block or near your kid's school.
DoNotPay helps you recognize sex offenders and keep tabs on their locations. and gain access to our Sex Offender Search feature. You'll be able to set alerts for the new offenders in your area and keep yourself and your family safe.
High-Profile GOP Sex Offenders vs. Commoner Sex Offenders
Regular people who commit sexual crimes can be discovered, reported to the police, prosecuted, and finally put to jail and on the sex offender registry.
The sex offender registration laws also have strict guidelines about:
The situation with wealthy, famous, and influential people—especially politicians—is entirely different. Getting them behind bars is more complicated. Republican sex offenders, like most people in high places, are notorious for using their power and leverage to pressure and threaten the victim into dropping the charges. The only thing they can't affect is the spotlight that these accusations attract.
The dark secrets of people in power have always found a way to come to light. Here are a few Republican scandals that shook the American public throughout history:
| Politician | The Sex Offense Conviction/Accusation |
| --- | --- |
| Donald "Buz" Lukens, Representative | Convicted of having sex with a 16-year-old girl |
| Robert Bauman, Representative | Accused of attempting to solicit sex from a 16-year-old male prostitute |
| Dan Crane, Representative | Accused of having sex with a 17-year-old congressional page |
| Robert Packwood, Senator | 29 women accused him of sexual harassment, abuse, and assaults |
| Mark Foley, Representative | Accused of sending sexually explicit emails to teenage male congressional pages |
Prominent Contemporary Republican Sex Offenders
The recent news about GOP sex offenders that have appeared in the press involved accusations against:
Speaker of the House of Representatives Dennis Hastert
Judge Roy Moore
President Donald Trump
All of them were accused of multiple sex offenses. The accusations even came from victims who were minors at the time of the crime.
Speaker of the House of Representatives Dennis Hastert
Dennis Hastert is a former Republican Speaker of the House of Representatives accused of harassing four 14-year-old boys. At the time of the alleged crimes, Hastert was the boys' high school wrestling coach. As The Chicago Tribune states, Hastert was convicted in 2016 and sentenced to 15 months in prison.
Judge Roy Moore
Judge Roy Moore ran for the Republican Alabama Senate when sex offense accusations against him appeared. He was accused of sexually harassing four women. One of them was 14 when the incidents allegedly took place—30 to 40 years ago. In the year following the allegations, no criminal charges were issued against Moore, and the story dwindled. According to Reuters, one of the women filed a defamation lawsuit against Moore because of his claim that her accusations were false. As a result of the whole affair, he lost the race for the seat in the Senate.
President Donald Trump
Among Republican sex offenders, Donald Trump may be the most high-profile and outspoken politician accused of various sex offenses.
He has been accused of:
Marital rape of his first wife, Ivana
Rape of a minor, 13-year-old girl
Attempted rape of his former business associate, Jil Harth
According to Newsweek, all his alleged victims finally decided to drop the charges, one of them stating numerous threats as the main reason for doing so.
How To Protect Your Child From Potential Molesters
You may not be around influential Republican sex offenders, but this doesn't mean you and your family aren't in danger. Predators lurk everywhere regardless of their sex, age, or social status.
Among sex offenders, pedophiles are the biggest experts in hiding their crimes, so many get away with their wrongdoings, even though every fourth child in the U.S. experiences some sort of sexual molestation.
Here are several steps you can take towards protecting your child:
Use sex offender registry to get informed on the locations of the potential threats—Megan's Law allows you access to your state's sex offender registry. The offender list or map will show you all Tier2/Level 2 and Tier 3/Level 3 offenders in your vicinity
Learn how to recognize the signs of a pedophile and report these dangerous offenders to make your neighborhood safer for children
Talk to your child and make sure you know everything about their daily activities—what is happening to them, who their friends are, and who supervises them when they are not at home
Keep an Eye on the Nearby Covert Pedophiles! DoNotPay's Alerts Keep You Updated on Their Whereabouts
Since the sex offender registry data changes all the time, it may be time-devouring to do regular checks manually.
DoNotPay has introduced a tool that makes your browsing easier and faster.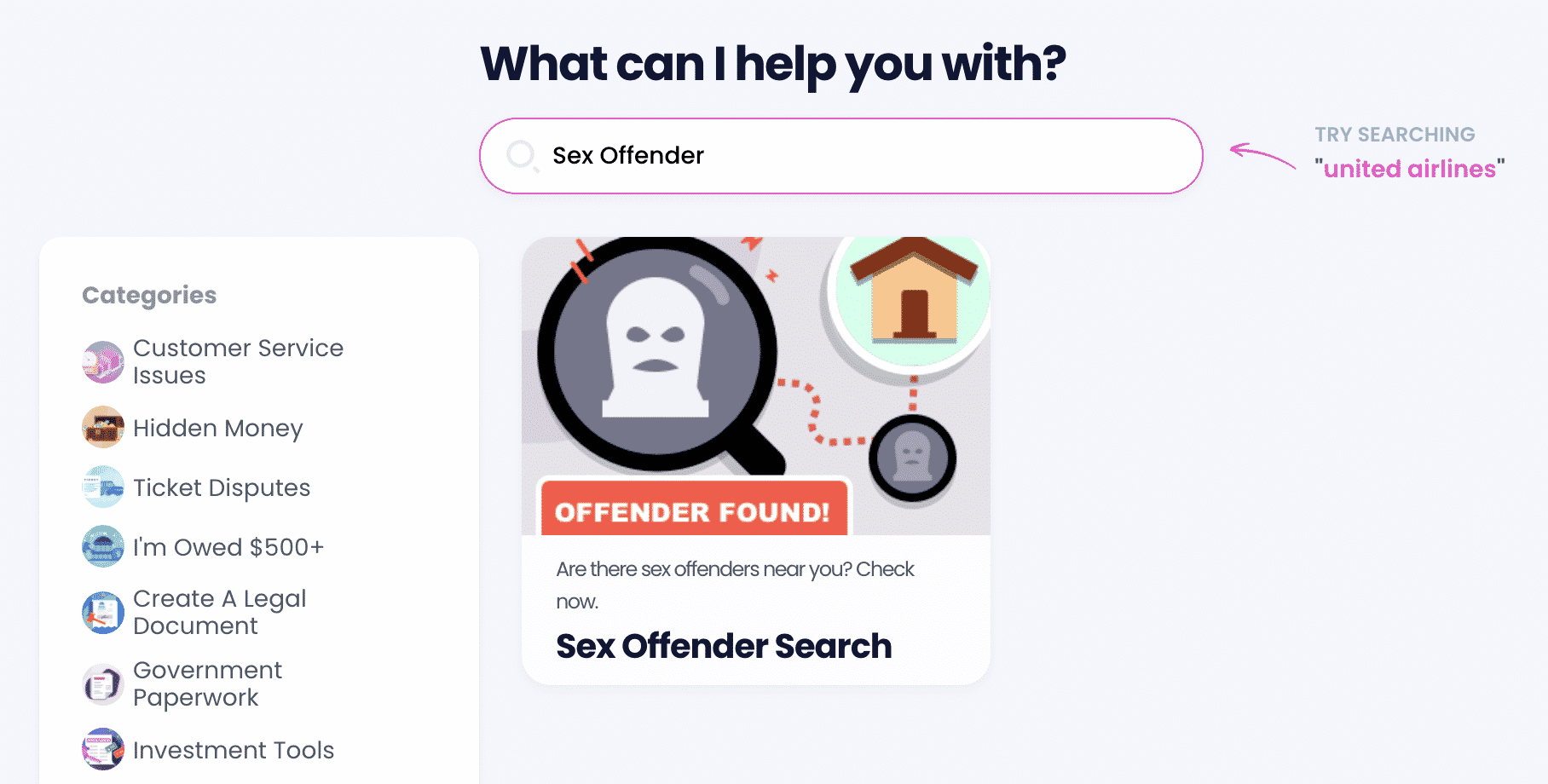 Our Sex Offender Search feature has many upsides, and here are some of them:
Easy one-time search for a particular offender or all ex-convicts living in your neighborhood
Changeable search perimeter—one, two, or three miles
Automatic detailed search based on your parameters with reports delivered weekly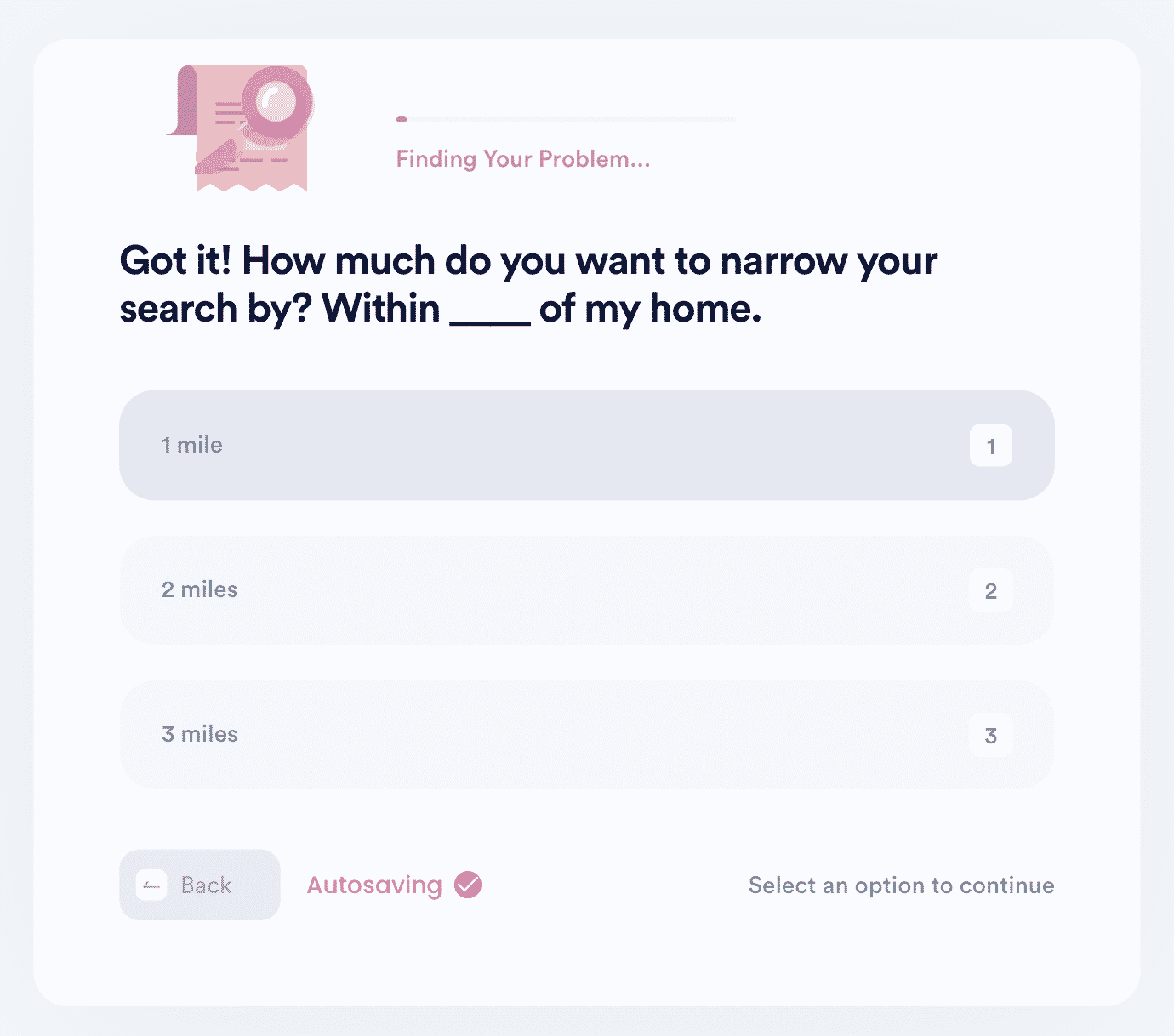 The setup is smooth. All you need to do is:
and find Sex Offender Search
Select the search criterion—by offender's name or your home address
Choose the area you want to scan—one, two, or three miles
Turn on the weekly alerts option
Our app will use your parameters, perform regular scans, and deliver all findings to you.
DoNotPay Makes Administrative Hurdles a Piece of Cake
If you ever needed to deal with an administrative task, such as drafting a valid legal document or paying property taxes, you know that it's a struggle. The good news is—it doesn't have to be!
With a bit of assistance, you can draft a POA document and learn how to reduce your property taxes in a jiffy!
DoNotPay will also show you how to tackle any of the following tasks like a pro:
We Offer More Helpful Tools!
Helping you deal with bureaucratic hurdles isn't everything we got in store for you! DoNotPay boasts various other nifty tools that you can use to deal with everyday tasks. You can: