Schedule a Meeting With a Notary in Richmond, VA, Without a Hitch
Having your documents notarized can be a challenging procedure due to numerous required steps. If you, for example, forget to bring an important document, you will likely have to repeat the procedure from the beginning.
Getting a notary's signature doesn't need to be so stressful. Our article focuses on explaining the best way to schedule an appointment with a notary in Richmond, VA, fuss-free. We will help you find the most suitable notary service. Get your contracts, affidavits, and other documents notarized without a visit to a notary's office!
What Can You Expect From a Notary Public in Richmond?
All notarization rules applying to Richmond and other cities in the state are regulated by Title 47.1 (Notaries and out-of-state commissioners) of the Code of Virginia. A notary public in Richmond:
Can
Can't

Take

acknowledgments

Make affirmations

Take oaths

Perform verification of facts

Certify various document

copies

, affidavits, and depositions of witnesses

Perform other notarial acts approved by the Virginia law

Notarize documents that will be used outside of the state

Notarize their own signatures

Validate the signatures of their spouses

Perform marriage ceremonies or any other acts constituting the practice of law

Charge their clients more than the applicable laws approve

Provide advice to their clients

Proceed with notarization if the signer doesn't provide satisfactory evidence of identification

Put their signature and seal on blank notarial certificates
What Does a Regular Notarization Procedure Look Like in Richmond?
During the standard notarization procedure, the signer and the notary must be in the same room, and the notary has to witness the signing to prevent fraud or irregularities. The main responsibilities of the notary include:
Confirming the identity of the signer by checking their identification documents

Revising the document that should be notarized to make sure it:

Complies with the governing laws

Contains the same information as the signer's identification document

Doesn't include blank spaces and other technical, grammatical, or spelling mistakes

Deciding which notarial act should be performed in the particular case

Ensuring that their client is signing the document voluntarily

Determining whether the signer is mentally stable and sober

Completing a notary certificate accordingly

Affixing their seal and signature to the document

Making a notary journal entry with the essential details of the notarization—This step isn't mandatory for in-person notarization, but the electronic one requires it. The entry should include:

State and city in which the document was notarized

Date of signing

Performed notarial act

Notary's signature

The expiration date of the notarized document

Registration number

A photographically reproducible notary stamp
Besides standard, in-person notaries, Richmond residents can opt for:
How Much Can Notarization Procedure Cost in Richmond?
The Office of the Secretary of the Commonwealth in Virginia also provides a handbook containing location-specific notarization rules, including the proposed notary fees. Notaries in Richmond or any other city in Virginia can charge:
Up to $5 per traditional notarization procedure

Up to $25 per electronic notarization procedure
Officials are free to set their preferred prices as long as the fees don't exceed the approved amounts. Notaries can also choose not to charge their clients at all since state laws don't require it. Travel costs for mobile notaries count as separate expenses, and they depend on the agreement between the notary and the client.
Get Any Document Notarized Remotely With Our Award-Winning App
If waiting in lines in the notary office makes you anxious, or you want to simplify the standard procedure, DoNotPay is the way to go. From now on, you can obtain a notary's signature and stamp remotely by using our Notarize Any Document service!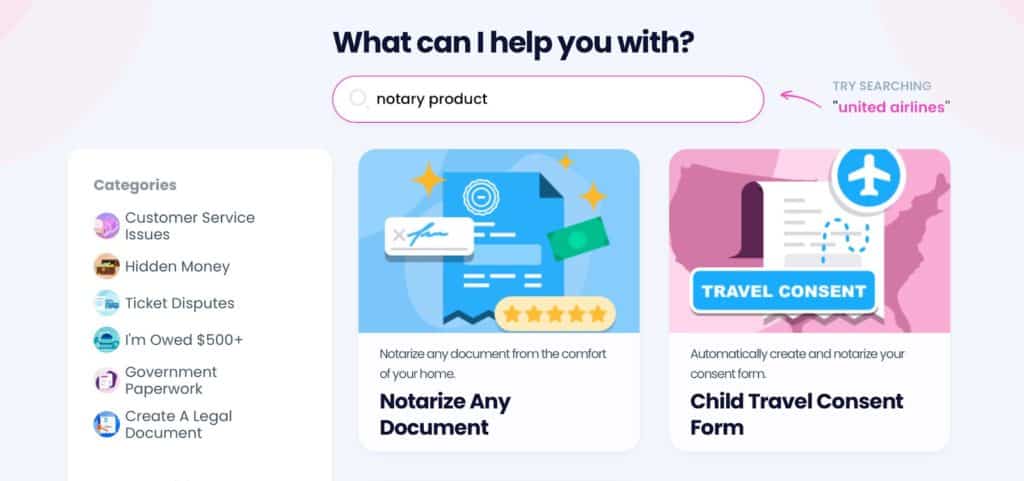 Here's how this feature works:
Click on the

Notarize Any Document

product

Upload the document that needs notarization

Leave your email address
You will get a link to a timetable to book a video meeting with a notary by picking a convenient time slot. During the virtual appointment, the official will confirm your identity and put a digital signature on the electronic copy of your document.
Create and Notarize Legal Documents in the Same App!
Drawing up a contract isn't always simple unless you are a lawyer. Use DoNotPay to avoid typical drafting mistakes and get a fully customized legal document in three easy steps! All you should do is:
in your preferred web browser

Pick one of our editable templates that suits your needs the most

Enter a few essential details regarding your document
All legal documents we generate are based on specific governing laws in your state. The list of available templates includes:
General business contract

Independent contractor agreement

Bill of sale document

LLC operating rules document

Intent to purchase real estate

Quitclaim deed

Estoppel certificate

Residential lease agreement

Non-compete agreement

Non-disclosure agreement

Child care authorization form

Child custody agreement

Prenuptial agreement

Promissory note

General affidavit
Learn About DoNotPay's Awesome Products!
DoNotPay is a multifunctional app that can solve numerous everyday challenges swiftly.
You can use our app to protect your work from copyright violations, schedule your driving exam or any other appointment with the DMV, reduce your property taxes in a few steps, and similar.
We have created many useful products to help our users take care of their issues through the same app. With us, you can:
DoNotPay Connects You With Your Loved Ones
Sending letters to inmates can be difficult since you have to follow certain rules to a T to avoid having your letter rejected. The situation is even more complicated if you don't know where your incarcerated loved one serves time. DoNotPay's app can help you locate prisoners and correspond with them without worrying whether you're breaking any rules.
Do you want to send a letter, but you don't feel like heading over to a post office? By using our mailing service, you can mail as many letters as you want from the comfort of your home. With DoNotPay, you can also send online faxes in under five minutes!
Email and text spam is something that everyone experiences at least once in their lives. DoNotPay has a solution for that too. Access your DoNotPay account and count on us to help you block spam and get compensation by reporting pesky robocalls.