Looking for a Notary Public in Mississippi? DoNotPay Can Help You!
If you want to get a document notarized in the Magnolia State, you should learn how to find a notary public in Mississippi. DoNotPay is here to provide advice on the best ways to get your documents notarized in a jiffy!.
Where Can You Find a Notary Public in Mississippi?
You can search for a notary in Mississippi online or visit certain public spots where notaries perform their acts. Check out the table below for more details:
Online Options
Public Places

Insurance agents

Accountant offices

Police departments

Law offices

Office supply stores

Tax preparation firms

Money transfer stores

Public libraries

Real estate agents

AAA

stores
You should also find out what services a notary in Mississippi offers.
What Does a
Mississippi Notary
Do?
Notaries across the country deal with similar tasks and perform standard notary acts. Notaries in Mississippi can offer the following services:
Taking acknowledgments

Administering oaths and affirmations

Certifying document copies

Performing a jurat

Witnessing

signatures
You can get a document notarized in Mississippi the traditional way by going to an office, or you can try out online notarization.
Can You Notarize a Document Online in Mississippi?
Since April 2020, notaries in the Magnolia State are allowed to notarize documents online. Governor Tate Reeves made the decision due to the COVID-19 pandemic. Mississippi notaries can choose between:
Remote notarization

—The notary and client are in different locations, but the documents are exchanged by mail. The signer physically signs an original, witnessed by the notary through an online platform. They then mail the original to the notary, where they physically add their seal

Remote online notarization

—The notary and client schedule a live video call. The signer signs electronically, and the notary adds their stamp the same way. This means that the original document is in electronic form
Both options will save you the trouble of going to the notary's office in person and risking your health. Remote online notarization is an even more convenient option since you don't have to deal with mailing documents.
Requirements for Remote Online Notarization in Mississippi
If you have any doubts about getting your documents notarized online, you can rest assured that the process is completely safe. Online notarization is taken seriously, and there are rules which need to be obeyed.
Notaries in Mississippi who wish to practice online and remote notarization have to meet the following requirements:
Be a currently commissioned notary in Mississippi

Let the Secretary of State's Business Services Division know of their intention to use remote notarization technology

Create an audio-video recording of the entire notarial act

Keep the electronic record like a notary journal or logbook

Note in a notary journal or logbook information about the notarial act
The rules apply to all the documents you need to get notarized.
How Much Does a Notary in Mississippi Charge?
When you get a document notarized in Mississippi, you can expect to be charged for the notary services as follows:
Acknowledgments—$5 per signature

Witnessing or attesting a signature—$5 per signature

Oaths or affirmations without a signature—$5 per person

Jurats—$5 per signature
What Documents Should You Notarize?
It is important to inform yourself about the documents that should be notarized since this step is not always required. These are the documents that you should take to a notary:
Power of attorney forms

Business contracts

Trusts

Real estate deeds

Consent forms

Loan documents
To get any of these documents notarized online the fastest way, you can use DoNotPay!
Notarize Documents With DoNotPay in a Flash
DoNotPay can help you find a notary to handle the notarization of your documents online! You can rest assured the process won't be tiring or time-consuming—unlike dealing with the task on your own.
To use DoNotPay's help, you only need to heed these instructions:
in any web browser

Locate and open the

Notarize any Document

product

Upload the document you need to get notarized

Type in your email address
You will get an email to confirm your appointment with the notary. Everything will be handled virtually, even the verification of your signature.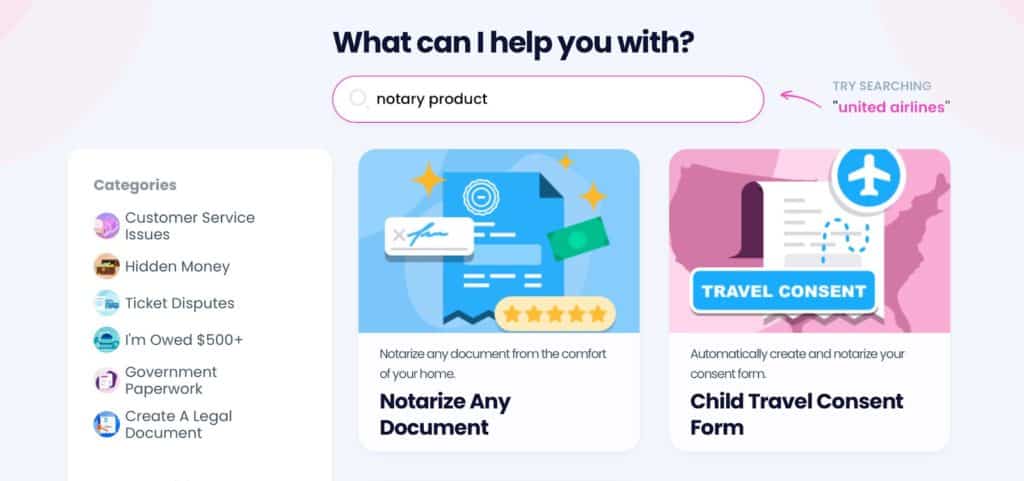 You can also count on DoNotPay's help if you need to create a legal document.
DoNotPay Generates Legal Documents in the Blink of an Eye
DoNotPay is the best option for creating legal documents without hiring expensive lawyers. You only need to and find the Standardized Legal Documents product. In case you need to get the document notarized, you can do so without leaving the app.
Here are all the documents that you can draw up with DoNotPay:
General Affidavit

Prenuptial Agreement

Non-Disclosure Agreement

Independent Contractor Agreement

Promissory Note

Residential Lease Agreement

Non-Compete Agreement

Parenting Plan (Child Custody Agreement)

Bill of Sale

LLC Operating Agreement

General Business Contract

Quitclaim Deed

Intent To Purchase Real Estate

Estoppel Certificate
DoNotPay also has the information you might need about other legal documents. Check out our guides on settlement agreements, purchase agreements, and postnuptial agreements.
Keep Your Money in Your Pocket and Save Time
With our assistance, you can also appeal parking tickets in any city, get help with bills, make an appointment with the DMV, protect your copyright, and avoid phone number verification!
If you feel like you were wronged either by a faulty product or a delayed or canceled flight, DoNotPay will also help you request a refund from any company or airline hassle-free.
Being on a tight budget isn't easy—knowing that, we've developed features that will get you free trials, unclaimed money, extended warranties, college application fee waivers, and so much more!
Fend Off Scammers With DoNotPay's Help
Are you sick of having a cluttered inbox or getting robocalls? So are the majority of Americans. If you want to get rid of email spam, text message spam, or annoying robocalls, DoNotPay can help you put a stop to them once and for all.
Do you feel like serving justice to companies that wronged you or stalkers and harassers that won't give you a break? Use our AI-driven app to fight for your right!