Find a Notary in Lebanon, PA, Without a Hitch
Whether you're dealing with legal documents often or only on occasion, stopping by places that offer notary services is inconvenient. If you need a notary in Lebanon, PA, you have many choices. The best course of action, though, is to find a way to notarize your documents without wasting much of your time.
Switching from going to notaries' offices to using online notary services may be the answer you're looking for—and using DoNotPay can get you a virtual meeting with a notary quickly!
Notary Services in Lebanon, Pennsylvania
You'll find that there's no shortage of notaries in Lebanon, Pennsylvania. You can walk into a bank or a shipping office and get a document notarized for a fee.
Check out these ten places in Lebanon, PA, to see which notary office is closest to you:
Notary Service
Address
Contact Info

The

UPS Store

1451 Quentin Rd Ste 400, Lebanon, PA 17042

(717) 277-5479

Joe's Notary Shop

221 Chestnut St

Lebanon, PA

(717) 273-8649

Lebanon Title Company

1601 Cornwall Rd, Lebanon, PA 17042

(717) 273-2360

Mail Dock

1594 Cumberland St Lebanon, PA 17042

(717) 274-6600

Sonrise Tags And Tax

346 S 9th St Lebanon, PA 17042

(717) 708-9003

Home & Land Transfer Co

525 S 8th St, Lebanon, PA 17042

(717) 274-1421

Martinez Tax and Notary Service

1036 Lehman St, Lebanon, PA 17046

(717) 228-2350

Dns Auto Exchange

2003 W Maple St Lebanon, PA 17046

(717) 274-6752

Signed & Sealed Notary Services

752 Willow St Suite D, Lebanon, Pennsylvania 17046

(717) 769-5066

Hoffman Agency Insurance & Notary Office

542 Cumberland St Lebanon, PA 17042

(717) 272-6022
How Much Do Notaries Charge in Lebanon, PA?
The cost of notary services ranges from $3 to $5 in Lebanon, Pennsylvania. This price may vary depending on the specific place you go to and the notarial act you need performed.
Note that notaries can also charge clerical or administrative fees if they have to perform additional services, such as:
Travel to your home if you're hiring a

mobile notary

Copy documents

Mail documents
Why In-Person Notarization Is Not the Best Option
If you need a notary signature, you are probably dealing with one of these documents:
Business contracts

Consent forms

Trusts

Deeds
The process of notarizing any of the listed documents the traditional way is complicated and tiresome. The steps you have to take to get the job done involve:
Finding a notary service in your proximity

Scheduling and waiting for your meeting

Spending time traveling to the notary's office

Waiting for the notary to notarize your document

Paying the notary fees
If you happen to forget an identification document, you have to repeat the whole process. You also need to restart the process when you're late to the scheduled meeting or fail to show up for any other reason.
When you need notary services, you're probably in a rush to get a notary's seal and signature as soon as possible. The impossibility for that to happen as quickly as you would like makes going to notary offices in person extremely inconvenient.
Pennsylvania Lets You Notarize Your Documents Online
Thankfully, remote notarization is allowed in most of the states precisely because in-person notarization is either a nuisance or too expensive. In Pennsylvania, you can employ the services of a notary online and get the job done over a video call.
Some online notaries public work 24/7, which means that you won't have to accommodate your schedule for the meeting. This is also one of the biggest advantages of mobile notaries, but they charge travel fees, making the total cost a hefty amount of money.
You only need a stable internet connection, a mic, and a camera to get any document notarized by an online notary, and DoNotPay can help you make an appointment right away!
Let DoNotPay Get You a Meeting With a Notary in Three Clicks!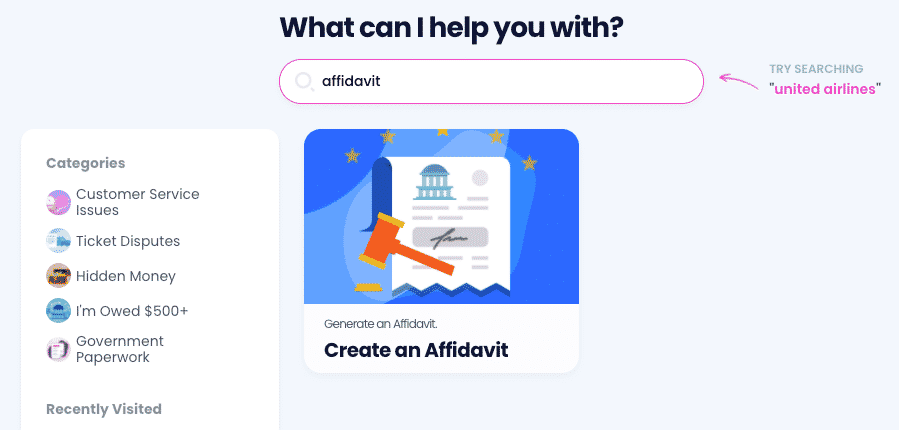 Once you , here's what you should do to get an online appointment with a notary:
Navigate to the

Notarize Any Document

product

Upload the document you want to notarize

Enter your email address
DoNotPay will send you an email in the blink of an eye. The email will contain a link through which you will be able to make an appointment with a notary public.
Kill Two Birds With One Stone! Generate and Fax Your Documents With DoNotPay
The best perk of making a DoNotPay account is that you can use all the products our app offers without paying any additional fees!
For example, you can use both Legal Documents and Online Fax products to get a fully customized contract and fax it to another party in one sitting.
If you need a personalized legal document, you should:
Locate our

Legal Documents

product

Enter the name of the document you need

Answer our chatbot's questions
DoNotPay Helps You Scam Scammers
DoNotPay helps you stay safe from scammers and fraudsters!
We have developed a Virtual Credit Card product that helps you sign up for free trials without revealing your real banking information to any suspicious company. We've joined our most popular feature with a Burner Phone functionality that allows you to verify online accounts with a temporary phone number.
That way, you'll be free to enjoy services while they're free of charge, eliminate the possibility of robocalls, robo texts, and spam emails from the shady companies, and forget about canceling the subscriptions altogether—our product does it for you!
DoNot Pay can even shield you from cyberstalking and online harassment and get you compensation for the crime you've suffered. We'll even help you take individuals or businesses to small claims court by drafting the relevant paperwork for you, accessing any public records that might bolster your case, and supplying you with a court script that you can read to the judge on the day of the hearing.
DoNotPay Is Helping You Out Left and Right
Not only can DoNotPay handle bureaucratic nuisances on your behalf, but we can make your daily life easier too!
No more waiting in endless phone queues to make a warranty claim for a faulty product or wasting the day away in mile-long DMV lines—our app will do the hard work for you! We'll call the reps of any company—even major airlines—and schedule appointments on your behalf in a matter of minutes!