How To Sign Up for an MLB TV Free Trial Without the Risk of Being Charged
MLB TV is an online platform that allows you to stream high-quality out-of-market baseball games of the Major League. You can choose whether you want to watch one team or all of them.
Once you subscribe, you'll have access to live feeds, game stats, archives, highlights, live DVR controls, and more. You can also enjoy fun baseball documentaries and the most popular games.
Does MLB TV Offer a Free Trial?
New MLB TV subscribers have the opportunity to use a three-day free trial for a yearly membership. The members can stream the games live or on-demand. Streaming is available on the MLB website and app. During the trial, you'll have access to all premium features.
Since MLB TV is available on Prime Video, as well as Apple and Google Play store, you can take advantage of a free trial on all of your devices, including:
Will My MLB TV Trial Automatically Renew Into a Paid Membership?

Once a free trial is over, you'll be charged the yearly subscription. If you want to avoid being billed, you'll have to cancel your free trial before it ends. No matter when you cancel it, you'll still have access to the MLB TV features for free, for three full days. This means that even if you register for a free trial and cancel it right away, you'll be able to stream the games during those three days.
Want To Avoid Being Charged? Count on DoNotPay!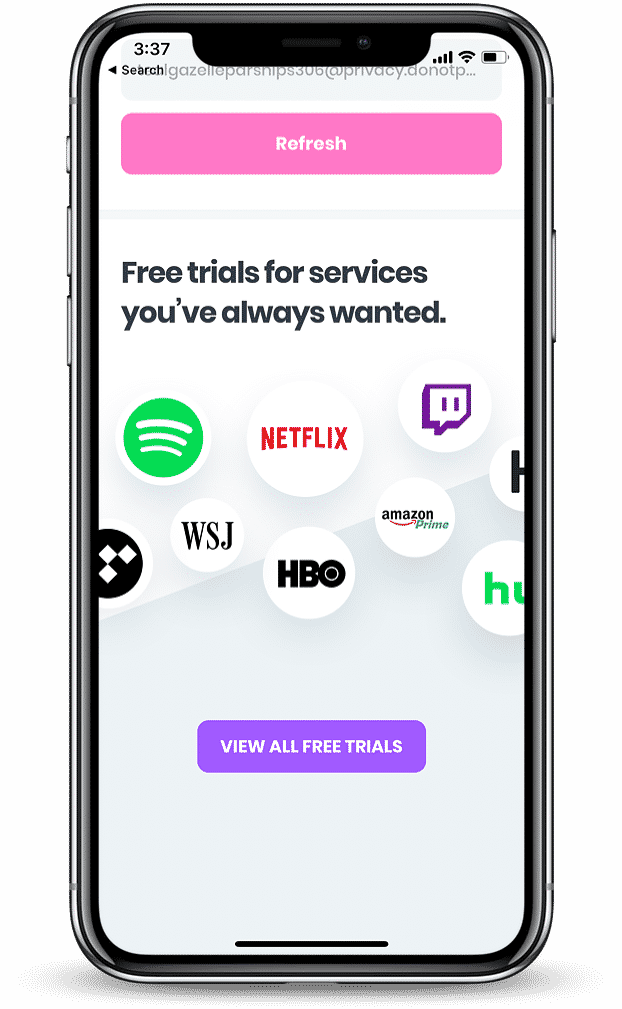 Do you have a habit of forgetting to cancel free trials? Why lose money when you can rely on DoNotPay and use our super convenient virtual credit card when registering for an MLB TV free trial?
You can also use it for any other free trial that doesn't require a temporary authorization. The virtual credit card ensures you're automatically unsubscribed from any service once a free trial period is over.
All you need to do is log in to your DoNotPay account from a , and generate our virtual credit card. We will create a random credit card number and provide a temporary email address to avoid unwanted promo emails. Use both when signing up for an MLB TV free trial, and rest assured you won't be charged afterward because our card is not associated with your bank account.
How To Start an MLB TV Free Trial
You can sign up for your MLB TV free trial like this:
Go to the

MLB TV website subscription page

Click on

Free Trial

Complete the

Billing Information

form

Choose your payment method

Click on

Buy & Accept Terms
You will have to type in your credit card info when registering. That's when you should use DoNotPay's virtual credit card and enjoy your free trial stress-free.
It's also possible to start your MLB TV free trial on Prime Video:
Go to the

MLB TV page on the Prime Video website

Click on

Learn more

Choose one of the plans you'd like to try out

Log in to your Prime Video account

Follow the rest of the instructions
How Much Does an MLB TV Subscription Cost?
In case you decide to continue paying for an MLB TV membership after the trial ends, these are the prices:
| | |
| --- | --- |
| Plan | Price |
| Single Team | $49.99/season |
| All Teams | $59.99/season |
Cancel Your MLB TV Free Trial and Save Money
If you didn't use DoNotPay's virtual credit card when signing up for an MLB TV free trial, you'll have to cancel it on your own.
You can do it by sending an email to subscriptioncancel@website.mlb.com. Ask them to cancel your free trial (or membership), and make sure to get a confirmation.
Another option is to log in to your MLB TV account, go to the Manage Subscription page, and cancel your subscription there.
If you prefer calling, dial 866-800-1275 (U.S.) or 972-836-1111 (international). In case you chose to call, DoNotPay will help navigate the often complex phone tree, and we will hold the line until one of the customer service agents becomes available.
Why waste time on the phone when we can take care of it for you? With us, you can easily get in touch with customer care reps of many popular companies, including:
The Most Efficient Way To Cancel Your MLB TV Is With DoNotPay

Do you want to avoid wasting time and stressing over whether or not your cancellation was successful? DoNotPay comes to the rescue once again. We can cancel any free trial or membership for you in two minutes and notify you as soon as we do it. Here are the steps to follow:
Open your DoNotPay account from a

Click on

Find Hidden Money

Enter

MLB TV
Here are some memberships we can help you unsubscribe from in no time:
What Do MLB TV Charges Look Like on My Statement?
You will recognize MLB TV charges on your bank statement by the codes presented in the table below:
| | |
| --- | --- |
| MLB.COM MLB.COM | Recurring 040918 201518 / MLB.COM MLB.COM, NY RECURRING |
| MLB.COM WWW.MLB.COM NY | MLB.COM MLB.COM NY |
Serve MLB TV Justice With DoNotPay
Did you cancel your free trial on time, but MLB TV charged you anyway? Sue them in small claims court with DoNotPay if you feel like they have wronged you. We will guide you through the process and determine whether your case is adequate for small claims court.
Once you log in to your account from a and choose to sue MLB TV in small claims court, DoNotPay's chatbot will ask you a few questions about the case and desired compensation. Then we will compare it to the laws in your state and tell you whether or not you can continue with the lawsuit. If you can, DoNotPay will assist you in composing an excellent demand letter that you should send to MLB TV.
If you don't receive a response 90 days after sending the demand letter, or if the response is negative, you can file the complaint. You will have to do it on your own, but DoNotPay can help you collect the documents and fill out the forms. We will assist you in writing your statement, and provide instructions on what to say and how to behave in court.
DoNotPay Offers a Lot of Convenient Features

Saving money by canceling free trials on time and getting rid of unwanted subscriptions has never been easier, thanks to DoNotPay. Other than helping you block an email address permanently, explaining how to report email abuse, stop robocalls, and cyberstalking, DoNotPay is there to assist you in solving many other administrative issues.
After you log in to your account from a , you can rely on us to help you: