All You Ever Wanted To Know About Liberty University Scholarships
If you are looking for quality education with a solid Christian foundation, Liberty University in Virginia is probably your dream school. It isn't super expensive, but its tuition fees are still too high for an average student.
Don't let these high fees scare you—you can apply for financial aid in the form of scholarships and grants. Check out DoNotPay's comprehensive guide and find out everything you need to know about Liberty University scholarships!
How To Find Liberty University Scholarships
All Liberty University Scholarships are listed on the university's website but scattered around different pages. You will have to spend hours finding and carefully reviewing each scholarship to see if you qualify for it. Remember that you can always ask the Financial Aid Office for assistance.
You can also look for external scholarships, but this is even more difficult because not all scholarships you bump into are legit.
There is a way for you to get a list of all the scholarships you qualify for without breaking a sweat and wasting hours on research. , and we will assist you in finding Liberty University scholarships that will be the best fit for you in minutes!
Types of Liberty University Scholarships You Can Apply For
Liberty University offers four different scholarship packages:
Resident Transfer Student Scholarships
Resident Graduate Scholarships
Resident Undergraduate Scholarships
Online Scholarships
Resident Transfer Student Scholarships
Scholarships for resident transfer students are listed in the table below:
| Scholarship | Award | Who Can Apply? |
| --- | --- | --- |
| Central Virginia Community College Scholarship | $5,000 per year | Prospective transfer students that graduate with a cumulative GPA of 3.5 or higher |
| Phi Theta Kappa Scholarship | $1,000 per year | Members of Phi Theta Kappa transferring to Liberty University with a GPA of 3.5 or higher |
| Virginia Two Year College Transfer Grant | Up to $1,000 for a standard award year | Undergraduate in-state students who are Virginia domiciled residents; A cumulative GPA of 3.0 is required |
| Word of Life Scholarship | $1,000–$1,500 per year | Transfer students from WOLBI in Florida, New York, or Argentina with a GPA of at least 2.7 |
Resident Graduate Scholarships
Resident graduate students can apply for one of the following scholarships:
| Scholarship | Who Can Apply? |
| --- | --- |
| Heroes Fund Scholarship | |
| Keesee Scholarship | U.S. citizens with a minimum cumulative GPA of 2.5 who are members of a Baptist church |
| Virginia: Brown v. Board of Education Scholarship | Virginia domiciled residents who didn't move to Virginia for purposes of attending a post-secondary school |
Resident Undergraduate Scholarships
As a resident undergraduate student, you can apply for a number of scholarships, including:
| Scholarship | Amount |
| --- | --- |
| Book Dollars Scholarship | Up to $600 for one semester |
| Central Virginia Community College Scholarship | $5,000 per year |
| Champion Award | $1,000–$2,750 per year |
| CFAW Scholarships | Up to $2,000 |
| Heroes Fund Scholarship | Enough money to cover the rest of tuition and class fees once financial and military aid have been applied |
| Legacy Scholarship | $1,000 per year |
| Liberty Academic Scholarship | The award depends on the student's GPA |
| Liberty Virginia High-Achiever Scholarship | $800 per year |
| Lynchburg Beacon of Hope—Stay Close, Go Far Promise Program | $8,000 (over four years) |
| Middle America Scholarship | Up to $5,495 |
| Missionary Scholarship | Covers a partial or full tuition per academic year |
| National Merit Scholarship | 100% tuition scholarship |
| Phi Theta Kappa Scholarship | $1,000 per year |
| Rick Gage GO TELL Scholarship | $4,760–$5,950 |
| Virginia Scholarship | $1,500 per year |
| Word of Life Bible Institute Scholarship | $1,000–$1,500 per year |
Online Scholarships
If you plan to study online, you can apply for the following scholarships:
Canadian Student Discount
Education Transfer Student Scholarship
First Responder Discount
Heroes Fund Scholarship
International Mission Board
Liberty Advantage
Southern Baptist Conservatives of Virginia (SBCV)
Word of Life Employees
West Virginia Convention of Southern Baptists (WVCSB)
How To Apply for the Liberty University Scholarship
You must complete the Free Application for Federal Student Aid (FAFSA) to receive:
Any resident Liberty aid
Most online Liberty aids
Scholarship essays or recommendation letters are not necessary in most cases.
If you are an international student, you will not be eligible to apply for most scholarships. Also, note that there are no full-ride scholarships available to international students.
Find the Right Liberty University Scholarship With DoNotPay
Going through more than 20 different scholarships may give you headaches. To avoid all the hassle, sign up for DoNotPay. We will provide you with a list of the best Liberty University scholarships or any other college or grad school scholarships you qualify for in a matter of minutes.
We can also apply for no-essay scholarships in your stead!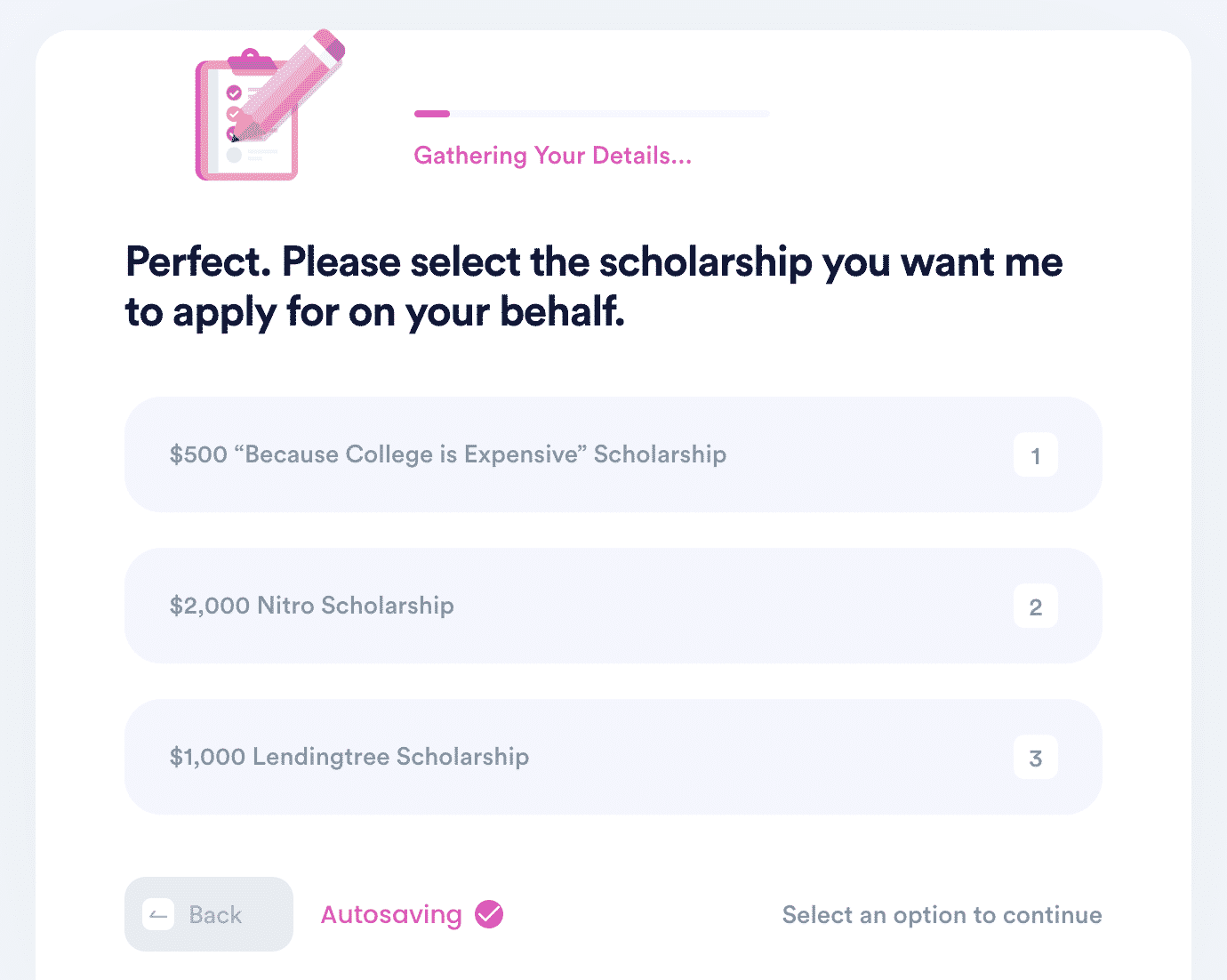 What you need to do is:
Choose the study level you are pursuing
Give us the name of your current school
Answer a few more questions from our chatbot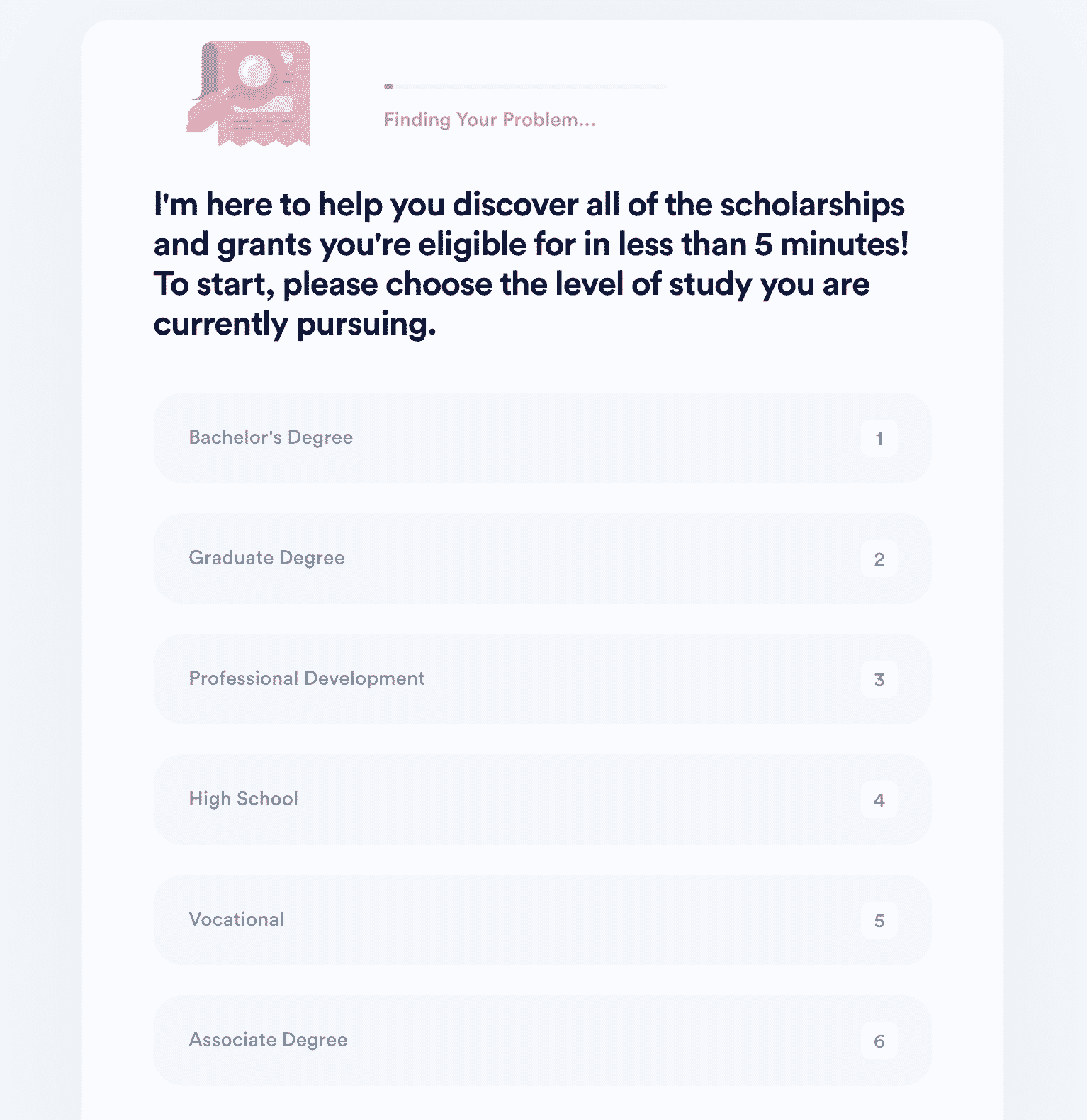 Aside from listing scholarships offered by a particular school, we can also provide you with lists of other scholarship types, such as the ones for women or high school seniors.
Save Time With DoNotPay
DoNotPay is not done helping you! We offer you assistance in completing a variety of tasks quickly and efficiently, such as:
Canceling Subscriptions Has Never Been Easier!
If you keep getting charged a monthly subscription fee even though you no longer want to use a certain service, don't let your money go to waste! Some companies tend to renew your subscription automatically, but that doesn't mean you have to put up with it—use our app to terminate your membership or subscription in a few clicks!
Do you want to sign up for free trials and create a virtual credit card or a burner phone number to protect your sensitive info? Once you subscribe to DoNotPay, we will walk you through the process of doing all of the above in no time!
You can also count on our assistance if you need to get rid of spam or robocalls.