A Detailed Guide to Sending KY Inmate Packages Fast and Easy
Whether you have prison pen pals, incarcerated friends, partners, or family members, sending them a care package is the best way of showing you care.
Before you send a package to a Kentucky inmate, you should be familiar with all the rules you need to follow to ensure your items are approved and handed over to the prisoner in question.
Who's Allowed To Send Kentucky Inmate Packages?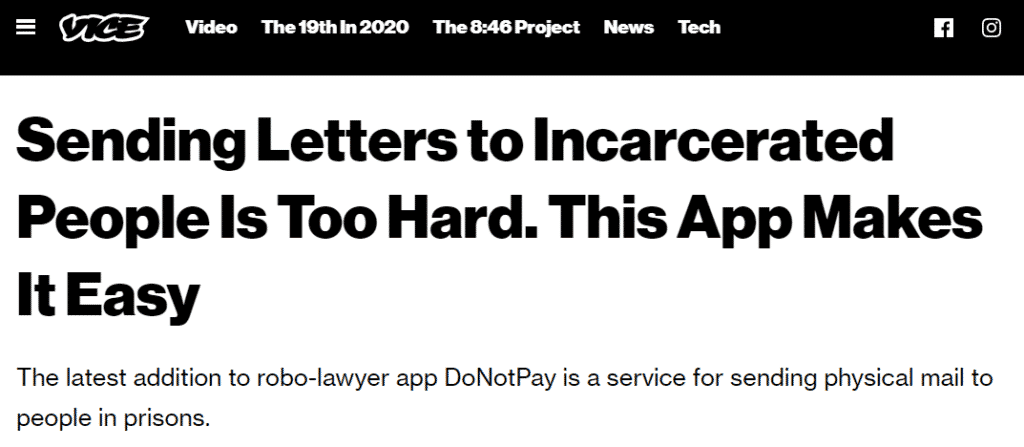 Anyone who has an inmate's full name, ID, and the address of the correctional facility should be able to send care packages and write letters to prisoners.
You should visit the website of the facility to check if they have specific rules about who can send packages to inmates. Some prisons might require you to submit a request before sending a package.
There's no point in purchasing products only to realize you're not allowed to send them, so make sure you find all the info you need. If the facility doesn't offer many details online, you can always call them.
Find Out the Latest Location of a Kentucky Inmate With DoNotPay

It's crucial to know the correct address of the facility to be able to send your letters, books, magazines, and care packages. Knowing an inmate's address is also necessary if you plan on visiting the prisoner.
Rely on DoNotPay's handy tool to locate inmates in less than two minutes. We'll make your search effortless and help you send packages to inmates in Kentucky but other states as well. California, Arizona, and Michigan are some of the states that DoNotPay covers.
The only info you'll need is the prisoner's name and last-known state, and we will provide you with the correct address as quickly as possible and spare you the guesswork.
If you'd like to try out this feature, follow these steps:
Log in to your account from a

Click on

Connect With an Inmate

Choose the

Locate Someone

option

Type in the necessary info
Rules To Follow When Sending Packages to Kentucky Inmates
Whether you want to send books, newspapers, magazines, or other items to prisoners, you have to follow certain inmate mail rules and regulations if you want your package to be accepted.
These are the most important rules:
Send only new, softcover books through Amazon. Hardcover, spiral-bound, and used books are strictly forbidden and will be rejected by the prison staff

Don't send drugs, weapons, adult magazines, explicit pictures, gang-related symbols, and items that promote violence

Avoid using glue, glitter, confetti, stickers, and other decorations

Ship care packages that contain food, footwear, clothing, and hygiene items

through pre-approved distributors only

Send all mail through the USPS

Don't send money to prisoners inside letters or packages
Bear in mind that these rules are general and should apply to all facilities, but the most reliable thing to do is visit the website of the correctional facility in question to check if they have any additional rules.
How To Send Kentucky Inmate Care Packages
If you want to send a care package to Kentucky prisoners, you have to do it through the pre-approved distributors because care packages sent in any other way will be rejected.
There are two distributors you can choose from:
On their websites, you'll find items that were approved by most correctional facilities so that you can choose which products to include in your care package.
Here are the steps to follow to order a package for inmates online:
Care a Cell
Access SecurePak

Visit the website

Click on

Order a Care Package

Click on

Kentucky

Select the county

Choose the products you would like to send

Click on the

Shopping Cart

icon in the upper right corner

Enter the necessary info

Click on

Place Order

Visit the website

Select

Kentucky

in the drop-down menu of the

State

field

Choose one of the available care package programs

Create an account

Follow the rest of the instructions to place an order
How To Send Letters to Prisoners Stress-Free

Writing to prisoners is a fantastic way of staying connected with inmates, especially if you live far from the facility they are held in and can't afford to visit them regularly.
DoNotPay can make your correspondence with inmates much easier and ensure your letter is written and addressed according to the facility's rules.
Keeping track of all the rules one correctional facility has can be overwhelming. If you want to avoid worrying about the right choice of the envelope or how to address your letter, you'll appreciate our Connect With an Inmate tool.
When you finish writing your letter, DoNotPay will print it and send it to your incarcerated pen pals, friends, or family members as soon as possible. Once you open your account in a , follow these steps:
Pick our

Connect With an Inmate

tool

Select the

Send a Personalized Letter

option

Compose your letter or upload a file from your PC

Attach a few photos

Select one of the numerous templates
What To Keep in Mind When Sending Letters to Offenders
The prison staff inspects every item that inmates receive, which means that offenders aren't the only ones who read them. Be careful about the info you share. Don't write anything you don't feel comfortable sharing with the prison staff.
You can include up to five pictures inside the envelope, but be mindful about the photos you choose because nudity is forbidden.
Receive Letters From Inmates Through DoNotPay's App

The third option our Connect With an Inmate tool offers is the possibility to receive letters from prisoners in digital form. This option is useful if you want to protect your privacy when corresponding with prison pen pals.
Once an offender replies, the letter will arrive at a location where it will be scanned and sent to your virtual mailbox.
You will need to set up your virtual mailbox first, and you can do it by clicking on the Create My Mailbox option after choosing the Virtual Inbox feature.
To check if you've received any letter, click on the Request Mail Check option.
When Do Inmates Receive Mail?
While your letter or package will arrive at the facility after a few days, the staff will have to control each item thoroughly to ensure none of the rules is broken. Inmates might receive your items a bit later, so be patient when waiting for the response.
What Other Problems Can DoNotPay Help With?

Besides helping you locate and send care packages to inmates hassle-free, DoNotPay can also make your other issues less challenging to solve.
Are you looking for some ideas for composing creative letters to inmates? Do you need help sending magazines to inmates through Amazon? DoNotPay has got your back!
Access your account in a , and we will assist you with:
Disputing traffic tickets

Fighting speeding tickets