Learn All There Is To Know About Getting a Georgetown Application Fee Waiver
Georgetown University is a history-rich and high-quality research institution. Students enrolling at Georgetown can count on fulfilling student life, various academic opportunities, and the nurture of diversity, inclusivity, and social justice. 
Becoming a part of Georgetown University's community is not so easy. The top-notch student experience they offer is the reason for their 14% acceptance rate and high application fee. 
If you are not sure whether you can afford the pricey application fee, you are in the right place. We will explain how getting an application fee waiver can help you save money and some of the easiest ways of getting one. Get one step closer to your dream university with the help of DoNotPay!
What Are Application Fee Waivers and How Can They Help?
Applying for almost any college requires paying a college application fee. The application fee is supposed to cover the expense of reviewing your application and deciding if you are the right material for the college you applied for. The average cost of application fees is about $60, with some universities charging up to $90. 
This is not the only financial setback you will face when applying for a college. Here is a list of other possible college fees:
Covering travel costs, which in some cases include booking hotel rooms and paying for plane tickets for on-campus visits

Paying for admission tests preparations—something that high-profile colleges usually require

Paying for application fees

Taking standardized tests

Covering the expenses of sending test scores to colleges
Students often apply to multiple colleges as a way of exploring their options and increasing their chances of getting in, so the costs multiply and can mount up to hundreds of dollars. 
Most colleges and universities grant application fee waivers to students who are facing financial difficulties. Every university has its criteria for students applying for a fee waiver. This process usually includes confirmation from your guidance counselor that you qualify.
Getting an application fee waiver will save you money and allow you to apply to more schools.
How Much Is the Georgetown University Application Fee?
The application fee for Georgetown University is $75. The first-year students can apply in two ways—by using Early Action or Regular Decision. The application fee is non-refundable, so make sure to apply for a fee waiver before submitting your application form for review. 
Am I Eligible for a Georgetown Fee Waiver?
If you are facing financial hardship, you are qualified to apply for an application fee waiver from Georgetown University. 
Georgetown doesn't specify the conditions that make you eligible for applying for a fee waiver, but some financial circumstances are almost sure to grant you this right. The qualifying guidelines that follow are universal for all colleges and universities, so you should consider applying if you:
Are an orphan

Are homeless

Live in public housing

Reside in a foster home

Are a ward of the state

Receive public assistance

Meet the

Income Eligibility Guidelines

set by the

USDA Food and Nutrition Service

Are a part of or qualified for programs designed for low-income families, such as

Reduced Price Lunch

,

Federal Free

or

Upward Bound
If you get a fee waiver for taking your SAT or ACT, you automatically become eligible to apply for any college or university without paying an application fee. Transfer and international students are also eligible to request an application fee waiver from Georgetown.
How To Request a Georgetown Application Fee Waiver on Your Own
Georgetown allows a few methods of applying for a fee waiver. The official request forms that Georgetown accepts are the NACAC and the CollegeBoard form. This table represents the summarized information on how you can and can't apply for a fee waiver at Georgetown University:
| | |
| --- | --- |
| Method of Applying | Yes/No |
| Via email | Yes |
| Via mail | Yes |
| Using a NACAC form | Yes |
| With a completed CollegeBoard form | Yes |
| Using the Common App or Coalition App | No |
| With DoNotPay | Yes |
Applying for a Georgetown Fee Waiver via Email
You can fill out the NACAC or CollegeBoard application fee waiver form with the help of your guidance counselor and send it directly to feewaiver@georgetown.edu. As an alternative, your guidance counselor can write an email about your financial situation.
Asking for a Georgetown Application Fee Waiver via Mail
In case you are unable to email the request for a fee waiver, you can send it by mail. Instead of the official form, your counselor can write a letter explaining your situation.
You can send the application fee waiver form or the letter to the following address:
Georgetown University
The Office of Undergraduate Admissions
Room 103 White Gravenor Hall
37th and O Streets, NW
Washington, DC 20057
Attn: Fee Waiver Request
Using the NACAC Fee Waiver Request Form
One way of applying for a Georgetown University fee waiver is with the official NACAC Application Fee Waiver form. Your guidance counselor can fill out the form on your behalf. They must also supply a fee waiver request letter to confirm your family's financial difficulties. 
This is how you can apply to get a fee waiver at Georgetown University with the NACAC form:
Download the form on your computer

Write Georgetown University on the top line

Complete the

Student

section

 

Check the boxes with statements that correspond to your financial situation in the

Economic Need Section.

If those statements don't apply to you,

check

Other Reasons

and

write why you need an application fee waiver

Let a school guidance counselor or third party authority complete the

Authorized Official

section and confirm your economic situation

Send the form, along with the counselor's letter, to Georgetown's undergraduate admissions office
Accessing the CollegeBoard Application Fee Waiver Form
To file the CollegeBoard fee waiver, you must:
Access your account on the

CollegeBoard website

Click on the

Get Your College Application Fee Waivers

link

Review the options and follow the instructions listed on the fee waiver form

Send the form to Georgetown
How To Submit Your
Georgetown Fee Waiver
Using DoNotPay
DoNotPay offers a simple and effortless way of applying for a fee waiver. In light of the situation with COVID-19, students are more than ever facing the obstacles of getting their college application costs reduced. 
DoNotPay offers easy access to a database of universities across America. It also takes care of filling out the form and sending it to your guidance counselor or desired university for you! 
You are only required to perform a few simple steps, and we will take care of the rest.
Here is what you need to do:
Access the

College Application Fee Waiver

feature from your

web browser

 

Choose the type of fee

Select the desired college and answer a couple of short questions about your financial situation

Let us know if you need a counselor's signature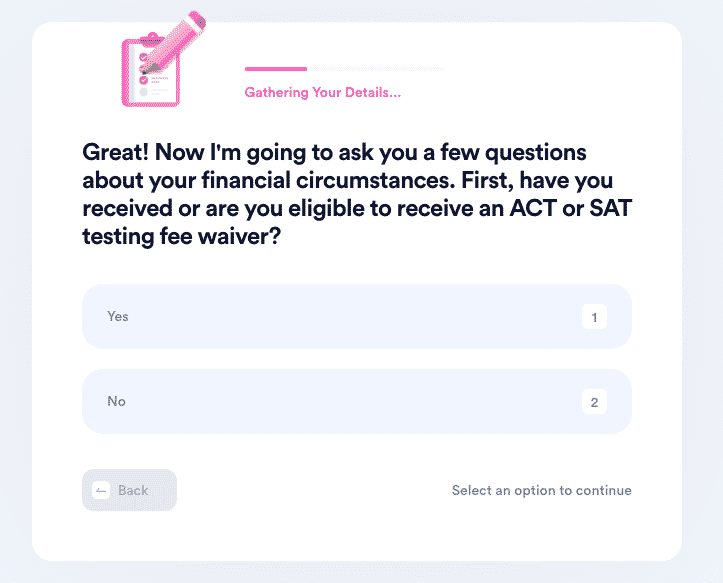 DoNotPay will fill out the form and send it to your guidance counselor or directly to the university's financial aid office.

Let DoNotPay Solve Other Dull Administrative Tasks for You
DoNotPay is here to help with all kinds of bureaucratic issues you might be facing. Contesting parking tickets in Washington is easy with our assistance. If you need to cancel any service or subscription, like XSport, BookRags, or Audible, we make it possible. 
Are you thinking of applying to more colleges? We will help you get your application fees waived at other high-profile schools, such as Princeton, Yale, or Duke University. 
Access DoNotPay from your web browser, and let us manage tasks like:
Fighting traffic tickets

Disputing speeding tickets