All you need to know about FTC robocalls-blocking service
Robocalls are always annoying. Whether it's telemarketing or a political campaign, you would rather avoid these calls. This mere annoyance can easily turn into stress and anger if you're facing a robocall scam. The chances of receiving a spam call are higher and higher, as spam calls grew by 18% in 2019, according to TechCrunch.
Even though this upward trend is alarming, there's no need to despair—there are things you can do to fight these scammers. The Federal Trade Commission (FTC) offers an app to block robocalls, and, of course, you can always rely on DoNotPay to stop robocalls, too. Before we go into more details about FTC and DoNotPay robocall blocking, let us first explain what robocalls are and how they work.
How do robocalls work?

Have you ever received a call, yet there wasn't a live person on another end, but an automated message instead? These automated calls delivering a pre-recorded message, usually trying to sell you something, are called robocalls. They have become more and more common, primarily because it has become cheaper to make them than it was the case before. Another reason is that many fraudsters have started using robocalls to scam people.
It all starts when telemarketers and scammers buy phone numbers, either from a legitimate broker or a shady operator. They then use software to dial all the numbers from the list. Such software can make as many as one million robocalls in just an hour.
If a person falls into the scammer's trap and presses a command for further information, the call is patched to a real person who takes over to try to get the money or personal information from the victim.
Are all robocalls illegal?
No matter how annoying they are, not all robocalls are illegal. The first thing you should ask yourself to judge if it's a legal or illegal robocall is whether you gave your number to the company calling you or not. If you've never heard of it, the chances are that it is an illegal call that you should end right away.
To be more precise, any robocall trying to sell you something is considered illegal unless you gave written consent to the company in question, allowing them to call you. Let's take a look at some of the major differences to help you draw a clear line between legal and illegal robocalls:
| | |
| --- | --- |
| Legal robocalls | Illegal robocalls |
| When you give your number to a service provider, they have the right to contact you about anything regarding your subscriptions with them | Robocalls asking for sensitive payment information are in most cases scams, so you should never reveal these details |
| Robocalls asking you to be part of a government-approved study | Robocalls coming from a number manipulated to look as if the government or another reputable institution is behind the call |
| Robocalls delivering valuable updates or other pieces of information of interest to you, such as updates on rescheduled appointments, delayed flights, etc. | Robocalls promising a big prize in any form or anything else for free out of nowhere |
| Robocalls coming from real debt collectors are legal and obligatory, as avoiding them can only cause you a greater trouble | Robocalls trying to sell you something, especially if they're coming from an unknown company |
Can the Federal Trade Commission stop robocalls?
You can count on the Federal Trade Commission to help you fight robocalls, but FTC cannot block any calls. Whether you want robocalls blocked on your mobile phone, traditional landline, or a VoIP phone (home phones making calls over the Internet), FTC can help you find the right solution. If scammers manage to wrong you, you can report them to the FTC. So far, FTC has managed to bring over one hundred lawsuits against six hundred individuals and companies that were behind billions of illegal robocalls.
How does FTC help you with robocall blocking?
If you decide to rely on the Federal Trade Commission to help you deal with annoying robocalls and try to stop scams, remember that you cannot expect them to block the calls for you. To help people put an end to seemingly never-ending, disturbing robocalls, this insitution:
Takes enforcement actions against people and companies behind robocalls
Collaborates with other law enforcement agencies
Endorses initiatives to work on better technology-based solutions against robocalls
Helps build better tools for the more-detailed investigation of those behind robocalls
Releases reported phone numbers to the public on a daily basis to help others working on robocall blocking solutions
What to do to block robocalls on your cell phone
If you have a problem with robocalls on your mobile, the first thing to do is to check what kind of built-in features your mobile has, so you know what your phone will allow you to do. You should consider taking some of the following steps:
Install a call-blocking app
Check if your carrier offers any convenient services
If you decide to install an app to block robocalls and potential scams, you should know that there are usually three options to choose from. These include the following:
Stop your calls right away
Ring silently when a suspicious number is spotted
Make the call go straight to voicemail
Depending on your preferences, you may also set the app to block certain numbers from a specific geographic area or may create an entire list of numbers to block and another one with numbers to let through. Some apps even offer an option to send pre-written text messages to the caller whose calls you want to avoid.
Some apps might request your permission to access your contact list, so make sure you check their privacy policy first if you're not comfortable with this request.
What to do to block robocalls on your landline
In case you want to block robocalls on your home phone, the blocking process might be somewhat different than for your cell phone. To stop robocalls on your landline, you should consider taking some of these steps:
Talk to your carrier to see what kind of services they have to offer
Ask for the prices, as some carriers might charge you a monthly fee
Install a call-blocking device to stop unwanted calls
Similarly to mobile phones and call-blocking apps, when you install a call-blocking device to attach it to your landline, you will have several options to choose from, including the following:
Stop all unwanted calls immediately
Transfer unwanted calls to voicemail
Set the light to start blinking when an unwanted call comes in
This is what blocking will look like if you make a blacklist of unwanted numbers. If you find it more convenient, you can also set a whitelist. In this case, you create a list of approved numbers and the device weeds out robocalls by asking the callers to press a certain number to continue with the call.
Do not hesitate to use DoNotPay to get revenge on robocalls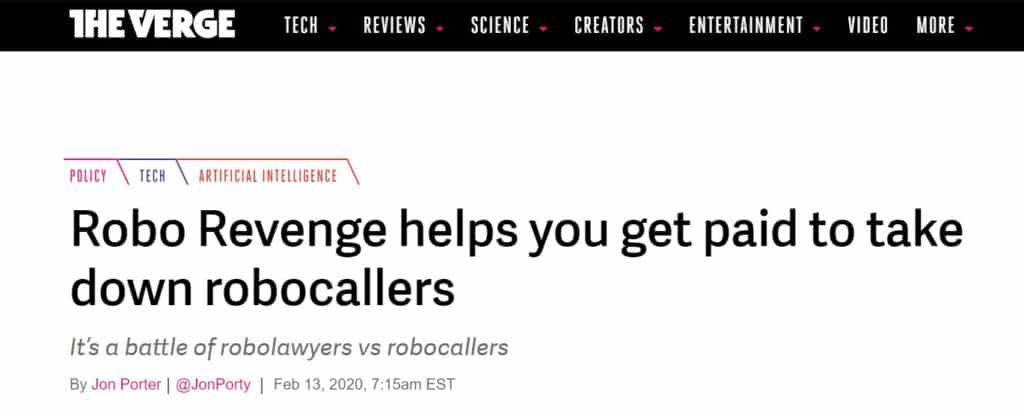 No matter how careful you are, scammers might still find a way to fool you. In case something like that happens, there's no need to panic—DoNotPay can help you get revenge on robocalls. You can use robocall blocker for Robo Revenge to get the justice you deserve. With the help of our app, you can sue robocall scammers for up to $3,000. Here's what this process looks like:
Sign in to your DoNotPay account through the
Select Robo Revenge option
Put your number on the Do Not Call list
When a robocaller asks for your payment information, give the virtual credit card number instead of the real card number
Robo Revenge works on a pretty simple principle. By using our free virtual credit card instead of the real one, you protect your sensitive information. That way, the scammers cannot take any money from your bank account. However, their very attempt to charge you bodes well for us—it gives DoNotPay an opportunity to access their information. This insight enables us to figure out who your scammers are, so we can track them. We will gather all the information you need to be able to file your claim against them. You can rely on DoNotPay to send a demand letter for compensation on your behalf.
Is it possible to report robocalls?
All robocalls, and especially scams, can become quite a problem. If you've been a victim of these annoying phone calls or you just know someone who has, you know very well how problematic this situation can turn out to be. The good news is that you can do something to put an end to it—report robocalls. For a start, you need to put your phone number on the National Do Not Call List. If you're not sure how to check if a number is on the Do Not Call list, here are your options:
Call via TeleTypewriter (1-866-290-4236)
Dial 1-888-382-1222
How to report robocalls at FTC
The Federal Trade Commission can accept your complaint if you decide to report any unwanted calls. To do this, you will need to provide the number that appears on your caller ID when the robocaller makes the call. You will also be required to provide the number that the scammers gave you to call them back, if applicable. The FTC will then determine the calling pattern and analyze the data so as to identify your scammer. You may also be required to provide the names that the scammers may have mentioned when they contacted you. The more details you remember from your conversation, the better—a detailed report increases the chances of tracking the scammer as soon as possible.
How to report robocalls using DoNotPay

Should it happen that robocalls continue to disturb you even after you've put your number on the list, you should know how to report robocalls with DoNotPay, too. Luckily, our app is here to help you out in this endeavor. And we always get the job done efficiently, so you can expect the entire process to be completed in up to 48 hours.
You can use DoNotPay to help you sue any company that's wronged you in small claims court. We can't actually sue the company on your behalf, but we can and will be happy to prepare the paperwork required in small claims court. We only need you to keep all your phone records. We will obtain enough information on the company behind robocalls for you to know whom to sue.
Some of the most common robocall scams to beware of
To reduce the risk of being scammed, you should learn more about some of the most common forms of robocall scams. When you know what to expect from potential scammers, you can easily spot them and not let them wrong you. Here are some of the most common robocall scams that you should beware of:
| | |
| --- | --- |
| Most common robocall scams | Explanation |
| Prize scams | The chances are that you've already encountered scammers who try to fool people by offering prizes. It could be an exclusive trip to an exotic destination, a big sum of money, or something else. Whatever it is, if it sounds too good to be true, then it is. When they tell you that you are the lucky winner of such a prize, the best thing you can do is hang up the phone and not let the scammers get you into any further discussion. |
| Investment fraud | Investment frauds are another common form of robocall scams as they pay off. In this case, people often fall into the trap because the scammers prepare official-looking documents that make people buy the story as real more easily. The fraudsters go out their way to put official seals and logos to make the documents believable. They promise you a guaranteed gain after you invest a certain sum of money, which, of course, is never going to come true. To make their intention less obvious, they may ask for your personal information instead of the money. Be careful and do not give them anything they want. |
| Fake debt collectors | Since there are so many people struggling with overdue bills and unsettled debt, it comes as no surprise that many scammers choose to take advantage of this situation and fool people by presenting themselves as debt collectors. In most cases, they call and threaten by disconnecting you in a couple of hours if you don't transfer a certain amount of money. The clear sign that it is a scammer and not a real debt collector is also when they offer to give you a discount if you transfer the money to another account first instead of paying your utility company or service provider directly. |
| Neighbor spoofing | When you see a number from your local area, you are more likely to pick up even if you don't know who's calling. Scammers are very well aware of that, so they find a way to manipulate numbers and make it look like the call is coming from your neighborhood, no matter the real location. If you want to protect yourself from this type of scam, the safest way to go about it is not to pick up the phone at all when you don't know whose number it is. If it turns out that it was really a neighbor calling you, don't worry—they'll wait for the beep and leave a message on the machine. |
Can I prevent robocalls?
Being able to stop robocalls might seem satisfactory enough, but what about preventing robocalls from disturbing you? When you take appropriate precautionary measures, it is possible to avoid annoying robocalls and, more importantly, potential scams that could get you in trouble. Here are some of the crucial things to do if you want to be completely safe from robocalls:
Make sure your number is on the National Do Not Call List
Be extra careful when giving your phone number and other personal information
Do not reveal any of your personal information to a suspicious or unknown caller
Do not fall into the trap when they offer you a prize in any form out of nowhere
Think about using an unlisted phone number
Count on DoNotPay for a variety of other services
DoNotPay is here to help you fight robocalls and get your revenge, but there are many other problematic situations in which we can save you some trouble. We cover a wide range of everyday issues, from unfair parking tickets to long phone queues. Here are some of the things that your trusted robot lawyer can do for you:
Fight speeding tickets
Dispute traffic tickets