Send a Free Fax in a Matter of Minutes
Faxing may sound like something from the distant past, but it is highly present today. Many companies and agencies still prefer faxing to any other method of sending and receiving documents.
If you are wondering how to send a free fax, you are in the right place. Technology brought us new and more practical ways to fax documents, and DoNotPay provides the best one. Follow our lead and learn how to fax online in no time!
Why Is Online Faxing So Practical?
In today's age of emails, it is hard to imagine why an agency would insist on faxing documents. Faxing has come a long way from expensive and impractical fax machines. Online faxing provides numerous benefits to companies who use it, and the most important ones are:
Cost-effectiveness

—Online faxing saves you from considerable expenses that include:

Buying paper

Changing ink cartridges

Covering large electricity bills

Maintaining and repairing your fax machine

Paying for telephone lines and long-distance services

Security

—The main reason agencies resort to faxing is because it is a lot harder to intercept faxed documents than emails. Your documents are encrypted during the transmission and get stored in your inbox safely upon receiving, which adds to the security factor

Convenience

—Online faxing doesn't require any effort to access the documents. You can download and upload them in a few clicks. The online faxing method also allows you to send your fax to multiple numbers at the same time

Flexibility

—The cloud-based faxing system enables you to access your documents at any place and from any device, provided you have an internet connection
How To Fax Online
You can fax documents online from your computer, a tablet, or a phone. Take a look at the table below for a detailed description of both processes:
Online Faxing Method

Computer

Phone or tablet

Choose a software installed on your computer or an online service

Select a

Create a New Fax

option

Attach your documents

Type in the fax number and a short message in the required field

Hit

Send

Access a fax app

Select the document you want to send

Enter the fax number and a brief message

Click on

Send
Are There Any Free Online Faxing Services?
Looking for free fax services may seem like a good idea, especially if you don't fax documents that often. Numerous apps advertise free faxing services to attract users. Before you decide on one, you should browse through some online reviews to see if there is a catch.
Users of free fax apps often complain about the following:
Poor document resolution

Lack of the fax cover page feature

Restricted offer of file formats you can fax

Limited number of documents you can send

Other flaws in service, such as failure to deliver all faxed documents
While you may need to fax occasionally, it is still important to maintain a decent quality of the faxed documents. DoNotPay can help you combine a great service with a reasonable price and a minimal effort!
DoNotPay Can Help You Send a Fax Online at an Affordable Price
Most apps offer poor free service but expensive paid faxing plans. You shouldn't choose between the two extremes—choose DoNotPay instead!
With , you will enjoy all the convenience of online faxing and not go broke. Take a look at the service we provide:
Sending 100 pages per month

Automatic faxing from any digital device

Instant fax with the snap of a photo (or standard file upload)

Easy email integration so you can view your faxes from your email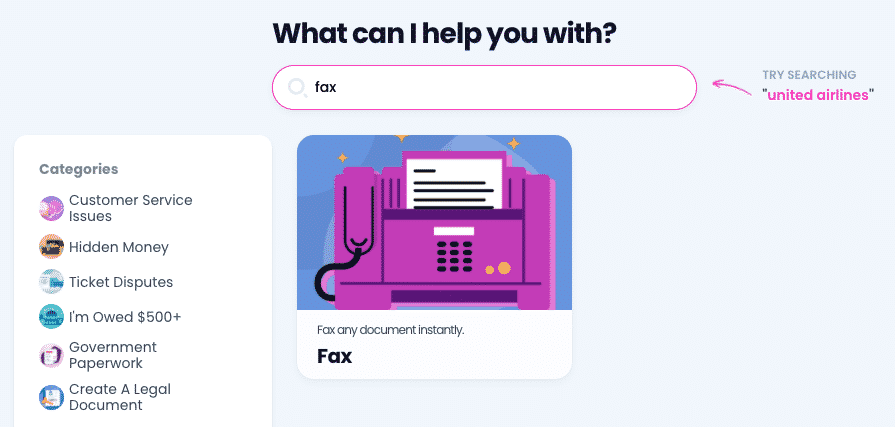 Our fax feature is integrated with the legal documents feature. That means you can generate a contract, e-sign it, and fax it with a few clicks of the mouse! The other convenience we offer is our photo snap option that you can use to take photos of checks and bills. You will be able to pay without using a scanner!
How To Send a Fax Online With DoNotPay
DoNotPay makes faxing super easy. You only have to perform a few steps:
Open our app in your

Go to the

DoNotPay Fax

feature

Indicate that you want to send a fax

Upload or snap a photo

Type in the receiving fax number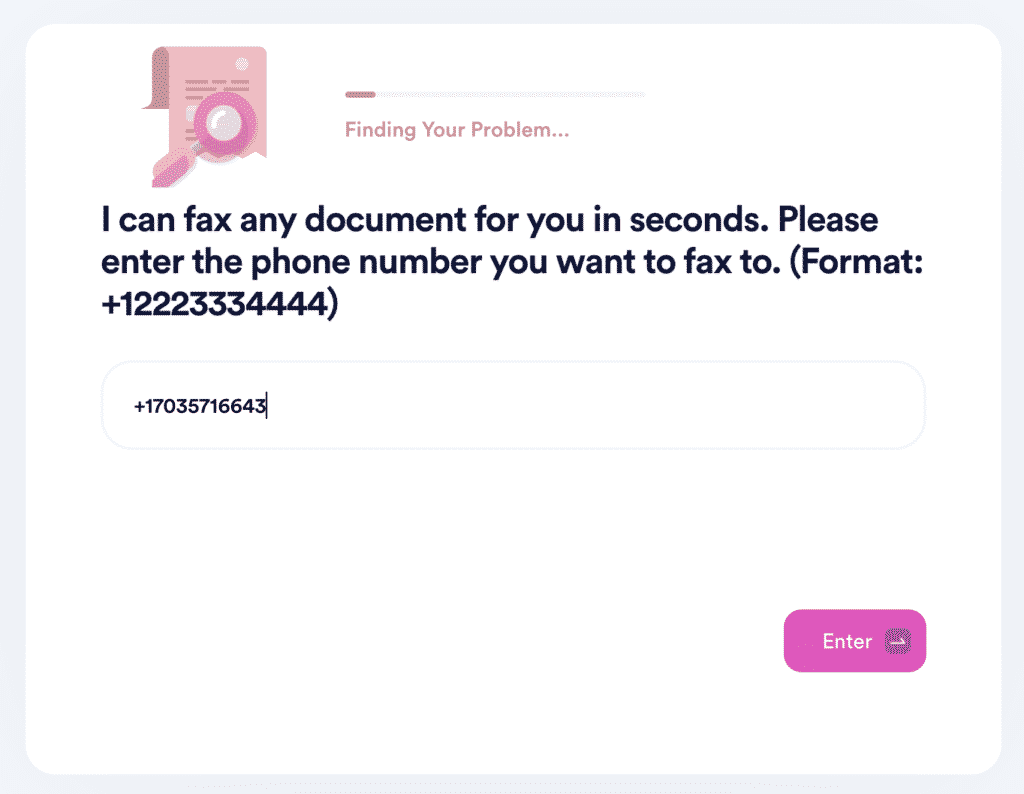 All you have to do now is wait for our app's confirmation that the file has been sent!
If you want to know how to fax from the phone or how to get a fax number, DoNotPay has the answers. Visit our learning center for more information on:
DoNotPay Keeps Your Privacy Intact
DoNotPay can help you surf the web safely and securely. No need to provide your personal information to every company whose service you'd like to take for a test drive. Our Virtual Credit Card and Burner Phone products shield your data from prying eyes and dishonest merchants.
Feel like subscribing for a free trial? Make it truly free and avoid automatic membership renewals with our card. It can also help identify spammers and potential scammers who send bothersome robocalls and robo texts your way. As soon as they act on the virtual card number, DoNotPay will unmask them and demand compensation!
DoNotPay Can Help You Bring Any Business to Justice
Should a company refuse to grant you a refund or compensation, our app will help you take them to small claims court!
We'll help you cancel the service in question to avoid any future charges, and we'll call their customer service so you can get info on your denied request. We'll draft the relevant court documents for your jurisdiction and give you instructions on filing them.
More Nifty Features That'll Make Your Day
You may not have breach of privacy issues or reasons to bring someone to court, but you surely have ample motivation to save or earn a few dollars here and there—especially if we catch you unawares!
DoNotPay can show you how to reclaim funds that you didn't know were under your name or make a denied warranty appeal to any company. We streamlined the processes of requesting refunds, college fee waivers, airline flight compensation, parking infraction dismissals, as well as applying to clinical trials that pay!