How Does Free Fax Server Software Work?
When sending important or confidential files, people look for the safest way to do so. Fax services are a lot more popular than you may think, and you need to know how to fax to be at the top of the business game. Does free fax server software exist? DoNotPay has your answer and will explain how to send a fax the easiest way.
What You Should Know About Fax Server Software
We can explain fax servers in two ways. The first one describes a fax server as a system that is installed as a part of a local area network (LAN). This lets people send and receive faxes from their computer. You can store faxes as databases, graphics, spreadsheets, or word processing files. It is also possible to use a scanner to scan documents and send them as faxes. Your PC and scanner essentially become a fax machine.
A fax server consists of several components, including :
Fax program

Fax modem

Phone line or internet connection

Connections to LAN users
The second definition of a fax server describes a software program that allows faxes to be sent or received from a computer.
How Does a Fax Server Work?
The working process of a fax server works like this—it:
Accepts documents from users

Converts them into a fax format

Transmits documents to the recipients
It stores faxes in a folder on the LAN or uses a printer connected to the LAN to print them.
What About Fax to Email Servers?
A fax server also receives fax calls and sends received faxes via email. Users can write an email and transmit the email to a recipient's fax number. Fax servers can route faxes to a recipient's email inbox (usually in a PDF format).
What Is Open-Source Fax Server Software?
Businesses use open-source fax servers to keep track of fax usage and simplify the process of sending and receiving files by keeping everything on a computer. An open-source fax server virtualizes all the services and only needs hard drive space, unlike true fax servers that require a server computer, server software, and phone cables.
Why Are Free Fax Servers Better Than Fax Machines?
Fax servers are a better option than fax machines for a few reasons. One fax server can do the work of several fax machines (one per network user.) Another advantage of fax servers is that they don't use paper and are more environmentally friendly.
You may also use fax servers to send files at specified times automatically. Files received via a fax server can be stored on the server with the option of going back to them later.
Free Fax Server Software Solutions
You can find a few free server software solutions on the market. Take a look at the table below to see your options:
Fax Server Software
Details

Covers both inbound and outbound faxing scenarios

Has bugs

Can support multiple modems

Sends alpha-numeric pages

Resizes pages and provides poor image quality

Allows users to fax directly from desktop applications with print options

Consolidates and centralizes fax communication through Fax over IP

Has issues with bugs
You shouldn't risk the quality of faxes you wish to send via free fax server software. DoNotPay can ensure you send faxes without any issues. While these fax servers are focused solely on fax, with DoNotPay, you get numerous other helpful features.
DoNotPay Offers the Easiest Way of Sending Faxes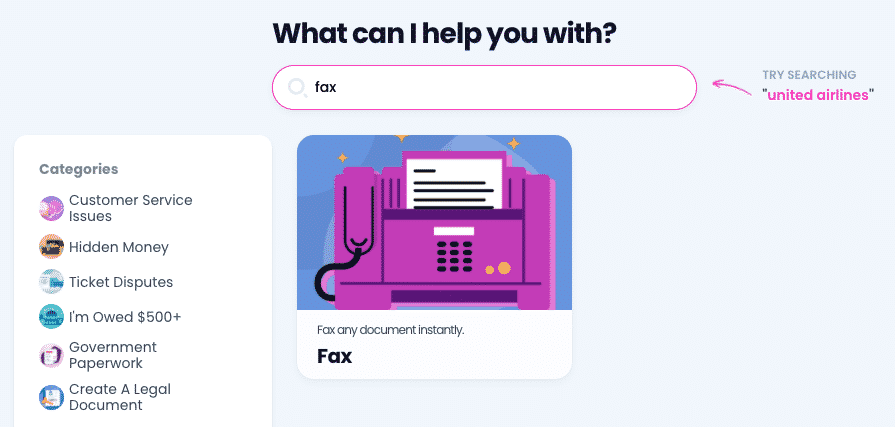 If you find online faxing options confusing, you should look no further than . Our app has a simple and efficient procedure for sending documents—you can even use your phone or laptop to do so.
We offer the option of sending up to 100 pages per month!
Another great feature is the option to take a photo of your bills and pay them. You don't even need a scanner!
DoNotPay knows everything about faxing without a phone line and can also tell you how long a fax takes to get sent. If you are interested to learn more about faxing over Wi-Fi or using Google Voice fax, you can find the answers on our platform as well.
How To Send Fax Messages With DoNotPay
It is simple to use DoNotPay to send faxes. Open our app in a and follow these steps:
Upload or snap a photo

Enter the fax number of the recipient

Expect to get a notification from us as soon as the fax gets sent
Other Options for Sending a Fax
There are a few other options available when it comes to sending faxes. Some of the popular methods include:
If you choose any of these options, you'll either waste your time or money. Fax machines are slower than online faxing and aren't secure enough because they can't encrypt your documents.
Fax apps cost a lot—you'll have to spend hundreds of dollars on them.
When it comes to Windows Fax and Scan, the biggest drawback is that it needs a phone line to connect to, so this isn't an ideal option either.
Keep Your Money in Your Pocket and Save Time
With our assistance, you can also appeal parking tickets in any city, get help with bills, make an appointment with the DMV, protect your copyright, and avoid phone number verification!
If you feel like you were wronged either by a faulty product or a delayed or canceled flight, DoNotPay will also help you request a refund from any company or airline hassle-free.
Being on a tight budget isn't easy—knowing that, we've developed features that will get you free trials, unclaimed money, extended warranties, college application fee waivers, and so much more!
Fend Off Scammers With DoNotPay's Help
Are you sick of having a cluttered inbox or getting robocalls? So are the majority of Americans. If you want to get rid of email spam, text message spam, or annoying robocalls, DoNotPay can help you put a stop to them once and for all.
Do you feel like serving justice to companies that wronged you or stalkers and harassers that won't give you a break? Use our AI-driven app to fight for your right!