Fred Meyer Fax Service—Can You Fax Your Documents in the Shopping Center?
Going to Fred Meyer is usually all about buying goods or stocking up on groceries, but can you also run errands in it, such as sending or receiving faxes?
Many companies offer fax services to customers because it's still widely popular and because the majority of people don't have fax machines at home. While you can fax without a phone line in many places that provide the service for a fee, it still isn't as efficient as faxing from your phone.
Here's how to fax by going to the Fred Meyer shopping center.
About the Fred Meyer Fax Service
If you want to send or receive faxes in a Fred Meyer shopping center, you have to go to one that has a UPS store in it.
UPS charges for its faxing services, and you can visit its stores to get or send your documents with a fax machine.
How To Send and Receive Faxes at the Fred Meyer UPS Store
Here's what to do when you want to get or send a fax at a UPS store:
Send Fax
Receive Fax

Go to the nearest Fred Meyer that has a UPS store

Ask a staff member to assist you

Hand over the file you want to fax to them

Give them the fax number of the recipient or let them read it from your

cover sheet

if you're using one

Pay the fee

Wait while your document is being faxed

Contact the UPS store that is in the Fred Meyer near you

Inquire whether you have to visit the store physically or they can contact you when you get a fax

Go to the store to receive your fax—you should give them your name and

fax number

when you arrive
Is Faxing in a Fred Meyer UPS Store Worth It?
Depending on how many pages you want to send, faxing at a UPS store can last between a few minutes and half an hour. Since fax machines are complex and outdated, using them is cumbersome.
Even when you don't need to fax multiple pages, there's still the trouble and cost of going to a store only when you need to run a simple errand.
When using fax machines to exchange documents, you always risk messing up the image quality of your files. It also isn't the safest method of sending faxes because anyone around you could see the document that may contain sensitive information.
What Are the Alternatives to Faxing in the Fred Meyer Shopping Center?
Sending and receiving files without a fax machine is not only possible but also common and more efficient. Because there is no shortage of businesses that prefer faxes over emails, there also isn't a scarcity of service providers that you can subscribe to and:
Get a fax number for yourself or your business

Send and receive documents online from your phone, laptop, or desktop PC

Store faxes on the cloud for good organization and maximum security
Online faxing is better than faxing with a machine, primarily because the practice:
Is eco-friendly

Enables instant faxing

Allows you to fax whenever and wherever you are

Doesn't incur additional costs that fax machines do
Instead of contacting the UPS customer service, driving to the nearest Fred Meyer, and waiting by the machine while the assistant faxes your files, you can use a third-party provider to send files with a few taps on your phone.
You should be careful to pick the right service provider, though. You can run into many faxing apps for both iPhone and Android smartphones that are either too expensive or complicated to use. Don't worry, though—we can help you learn which fax apps are the best option!
Save Time and Money by Faxing With DoNotPay!
The good news is that enables you to fax quickly, securely, and without incurring unnecessary costs.
With our feature, you can enjoy instant faxing whether you need to send documents regularly or occasionally. Our AI-powered app will let you:
Snap a photo of your files and send them quickly

Fax without a phone line

Send up to 100 pages per month
Since faxing is particularly common when dealing with legal documents, we have integrated our Standardized Legal Documents feature with our Online Fax one to make the service as efficient as possible for you.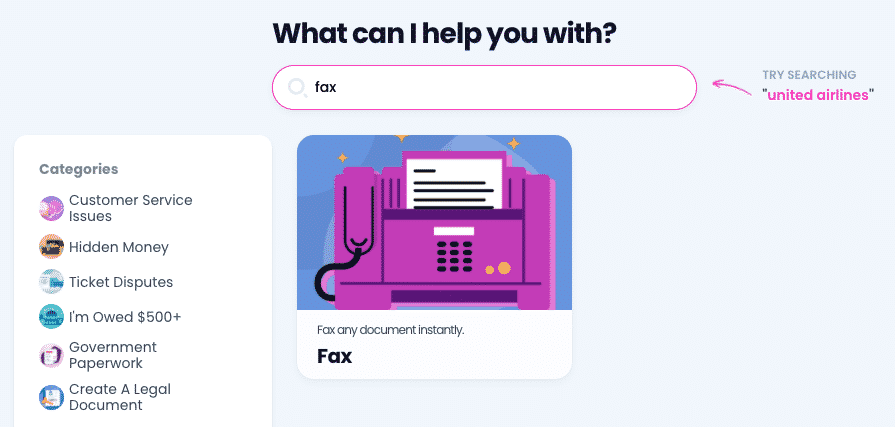 How To Send a Fax With DoNotPay
If you thought that sending faxes with DoNotPay couldn't get any better—hear this! Faxing with the help of DoNotPay takes no more than three short steps:
Access your DoNotPay account from your

Take a photo of your file or upload it

Enter the fax number you'll be sending your document to
You now only need to read our confirmation message to know that your file has been received.
DoNotPay is the most affordable option out there because, apart from faxing, you can use all of our robust features without paying additional fees!
Do You Know What Else You Are Eligible For?
DoNotPay is a handy virtual assistant that can reveal a world of possibilities that you may not have even been aware of. We've perfected our algorithms to identify opportunities for you to save up and take charge of your rights.
Here's a fraction of what we can do for you:
What Else Is New With DoNotPay?
DoNotPay boasts several new features that can help make your everyday life so much easier.
Have you been wondering how to file an insurance claim but weren't sure where or who to turn to? We'll gladly do it for you.
Are you tired of outdated faxing practices and manual documentation? Our app can provide you with an online fax solution and draft all your legal paperwork in no time at all.
Do you need a safe place to prepare for your upcoming government test? DoNotPay will give you all the prep tests you need.
We can help out with locating an imprisoned loved one and keeping correspondence with them via our virtual mailbox.
See what else DoNotPay has in store by accessing our web app in any browser.