How to Get a Flight Cancelation Refund Even When It Seems Impossible
A flight cancelation can take you by surprise at any time. More often than not, it has nothing to do with you—for example, when your flight is canceled due to bad weather—and yet you're the one that has to pay the price.
Whether or not you are responsible for a flight cancelation, read on to learn everything you have to know about flight cancelation refunds and how to get them.
Do Airlines Refund Canceled Flights?

When a carrier cancels or postpones your flight, you're bound to be asking yourself whether or not you can get a refund on plane tickets. The answer is both yes and no because the refund on canceled and delayed flights depends on a variety of different factors.
We can tell you right away that when you are responsible for canceling your booking, airlines are not obliged, by any law, to give you your money back. It is a shame, but that's why there's a distinction between refundable and nonrefundable flight tickets. The latter ones are much more affordable, though not too helpful in the event of cancelation.
The 24-Hour Reservation Requirement—The One Exception to the Strict Refunds for Canceled Flights Rules
Under the U.S. Department of Transportation, which all American airlines must abide by, you must be fully refunded when you cancel your flight within 24 hours of booking.
Most third-party booking services—like Justfly—do not always abide by this rule. Here's everything you need to know about how to get a Justfly booking refund.
Individual Airline Refund Policies and Why You Should Know Them

If you're a frequent flier, you would be wise to learn how refund policies on flights work and, more importantly, what they are for carriers you most often use. Because of our hectic lifestyles, we often forget to check our customer rights when dealing with big or small companies. Don't make that mistake and learn what your airline passenger rights are.
The U.S. Department of Transportation—An Airline Refund Policy for All
Even though every carrier has its policies and regulations, all of them must abide by the U.S. Department of Transportation (DOT) laws regulated by the U.S. government. Contrary to what you might have thought until now, under DOT, airlines are obliged to issue a refund for plane tickets when flights were canceled by the airline itself.
Terms like "cancelation" and "significant change" to the flight aren't strictly defined in the DOT regulations, so airlines have the freedom to bend these rules. Carriers define these terms freely when determining their refund policies.
To not let yourself be deceived any longer—we'll break the DOT refund policy down for you.
You are not eligible for a refund if you:
Are for some reason dissatisfied with the service you were given on a taken flight

Bought a non-refundable ticket

Canceled your flight yourself because of personal issues
You are eligible for a refund if:
You bought a refundable ticket

The airline canceled the flight

You were moved to the class that costs less than your original one

Your baggage was lost, and you paid a baggage fee

The airline made a significant change to the booked flight
Note that, while DOT regulates you are entitled to a refund if the airline cancels your flight, it also warns that this rule depends on many factors. Even DOT determines your refund eligibility on a case-by-case basis. It is a significant flaw in their refund policy on canceled flights and is probably another reason airlines can get away with tricking their customers.
How to Request a Refund for a Canceled Flight From Airlines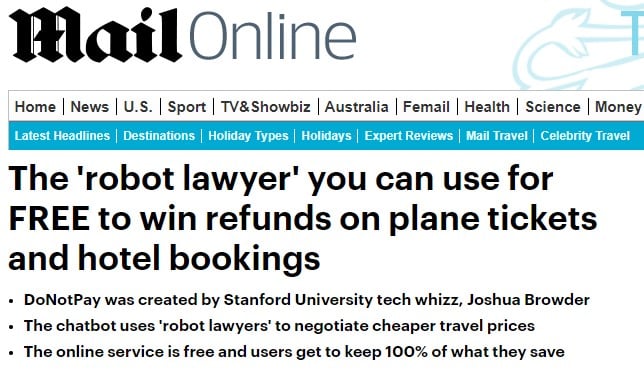 How you can request a canceled flight refund will depend on the options your carrier offers. The most common ways are:
Canceling your flight (within 12 hours of booking)

Completing a refund form

Contacting the airline by phone or email

Sending the airline a direct message on social media
No matter which option you pick to file a refund request to an airline company, be smart when communicating with them. Here are a couple of tips:
Be patient as airlines are extremely busy (especially when flights are canceled due to a problem that's out of their reach)

Have all the papers and documents related to a booked flight with you

Don't contact the company 72 hours before the flight was supposed to take off if it's in any way possible
Here are more tips on specific airlines that are particularly popular with fliers and what you can do when they cancel or delay your flight:
You can also learn about United Airlines overbooking and how to get compensated when it happens.
Get DoNotPay's Help to Secure Yourself a Canceled Flight Refund

We won't beat about the bush — refund requests for canceled flights are something airlines avoid like a plague. It's why they are so clever with hiding the fact that you are by law entitled to a refund in the first place.
Even though it shouldn't be, contacting the carrier is, in most cases, a proper nightmare. It's excellent news then that you can skip the grizzly affair and let DoNotPay help you. We don't ask any questions or place any conditions. When you request a refund through DoNotPay, your complaint is immediately sent to your bank, with all the credit card details and other evidence we can collect to help you win your case.
The process could not be easier than the following:
Log in to your DoNotPay account from any

Navigate to the File a Chargeback section

Fill out your payment details

Specify the airline you want a refund from
And you got it! With only these four steps, you are already on your way to a canceled flight refund. It is much better than having to listen to the buzzings of slow jazz for hours on end and hoping an airline representative will pick up the phone already.
DoNotPay doesn't let you down when it comes to getting an overbooked flight compensation as well.
Refund Policy on Flights—More Details
Two important factors in airline refund policies are refund deadlines and forms of refunds. Under DOT policy, your refund has to be processed seven workdays from the day you placed your request if you paid for the flight by credit card. Alternatively, if you made your purchase in cash, you'll have to wait 20 business days for your refund.
Depending on different circumstances, airlines can refund you in:
Money

Travel credits

Vouchers
You No Longer Have to Deal With Administrative Issues on Your Own

DoNotPay works by being the first robot lawyer in the world—a service that you can have at your fingertips as soon as you access your DoNotPay account. You can do this using any .
To see to it that your customer rights aren't infringed, we can help you:
Fight traffic tickets

Appeal speeding tickets