Getting flight delay compensation from American Airlines
American Airlines (AA) is part of the American Airlines Group. It has the biggest air fleet in the world and serves the highest number of customers on a daily basis. With such large numbers circulating on a daily basis, it should come as no surprise that eventual inconveniences can happen. If you were negatively affected, we're going to show you how to easily get compensation from American Airlines using DoNotPay, the world's first AI lawyer.
How to file for compensation from American Airlines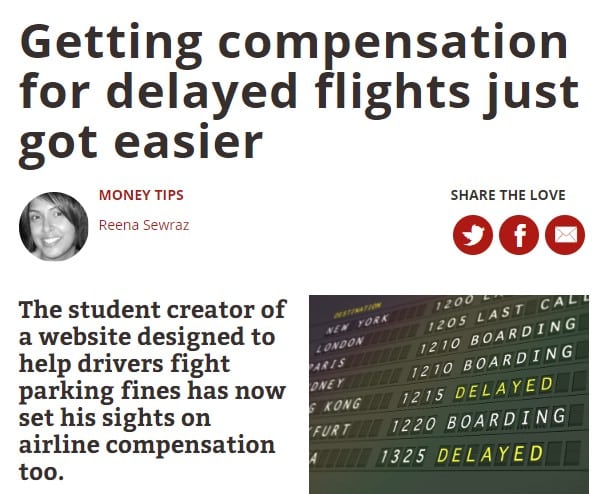 Believe it or not, under the U.S. law, airlines aren't required to compensate passengers for delay or cancelation inconveniences, other than in a few distinct situations. The only thing that's required from them is to notify passengers a maximum of 30 minutes after they find out about the delay. It's actually up to the airline company whether or not and how they will compensate you for your lost time and money. In the case of American Airlines, their Customer Service page is easy to understand and they don't dodge the hard questions like who's responsible for what under their policies, so they get a thumbs up for that. Under the Delays, cancelations, and diversion events tab, the company quickly outlines your rights and responsibilities and links to a complaint/refund page.
How to get compensation from American Airlines easily with DoNotPay
Find out just how simple it is to get compensated for delayed or canceled flights.
Even though American Airlines is transparent with its customer service policies, it's still in the company's interest to save as much profit as they can, even if you didn't get the service exactly as you paid for it. While they'll gladly assist you in unexpected events and put different compensation options on the table for you, they'll make sure to leave as much information as they can out of the conversation. Most people don't know enough and can't be bothered to research how to get the maximum amount of compensation. This is where DoNotPay comes into play. The app was created to handle all the necessary preparations for you. Here's how it works:
Open the DoNotPay

web app

 

Click on "Customer Service Issues"

Type in the name of the company you want to raise your concern with, in this case, American Airlines

You'll get the option for the chatbot to wait in phone queue for you or fight the issue on your behalf

By selecting the latter, the chatbot will guide you with a series of simple questions, to assess the situation

The app will get back to you within 48 hours with new information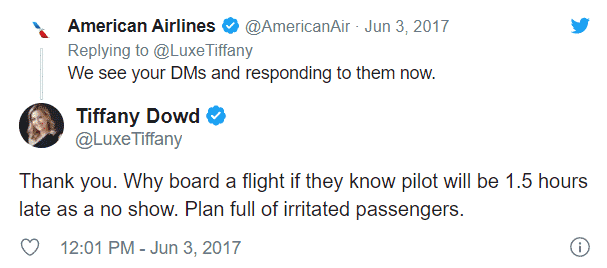 Once you get your answer back from AA, if you're still unhappy with the results, DoNotPay can help you take the case further by creating a legal dispute in small claims court.
How often does American Airlines delay or cancel flights?

According to the United States Department of Transportation Bureau of Transportation Statistics, American Airlines had 867,371 flight operations in 2019. These resulted in:
19,974 canceled flights (2.30%)

171,173 delayed departures (19.73%)

130,577 delayed arrivals (14.34%)
This is a sizable amount and one of the largest compared to similar-sized airlines such as Delta. An average of five canceled flights per day leaves hundreds of passengers stranded and looking for answers, making their customer care sector busy and often hard to reach on first contact.
Useful Information about American Airlines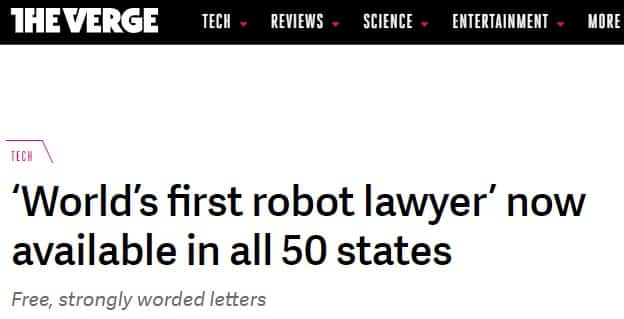 William Douglas Parker

is the Chairman and CEO of AA

The American Airlines headquarters are located in 1 Skyview Drive, Fort Worth, TX 76155

The Customer Care director is Catherine Connolly, her corporate address is 4333 Amon Carter Blvd., Fort Worth, Texas, United States

According to Forbes

, American Airlines reported $44.5 billion in total revenue in 2018

The company's mailing address is P.O. Box 619616, DFW Airport, TX 75261-9616
How to reach out to American Airlines

Finding contact information and getting in touch with American Airlines is relatively easy. Here are some of the ways you may reach out:
Multiple phone numbers depending on inquiry (details below)
Avoid using social media if you're having issues. They will just redirect you to the customer service page, and you can't expect a timely response. Calling is a great option for fast assistance. To get in touch with the higher-ups, use either the P.O. box, website contact form, or call and see if you can schedule a meeting in person. Going directly to the address is not a good idea, as you'll have to announce your visit. Otherwise, you won't be allowed to the company grounds.
American Airlines useful phone lines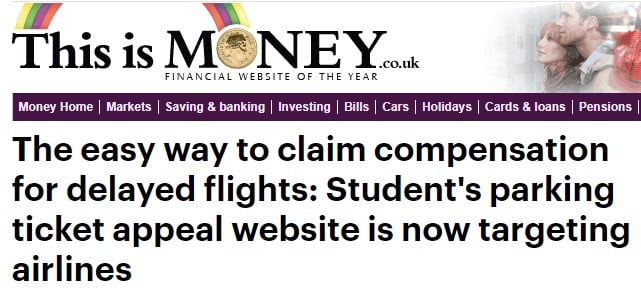 If you need immediate assistance, dialing one of American Airlines' key phone lines is your best option. You'll be greeted by an IVR machine telling you a list of options, but if you repeat the word "Agent" to it, it will forward your call to a customer care representative. To avoid waiting in hour-long queues, let DoNotPay do the waiting for you. Use the web app. Here are some of the useful numbers:
Service
Phone Number
Working hours
Reservations and Ticket Changes

800-433-7300

24/7, 365 (English support,

check here

for other languages)

Bags and Luggage

800-535-5225

24/7, 365

AA New Customers Line

844-202-2336

24/7, 365

Corporate Headquarters

817-963-1234

Mon. – Fri. 8 am – 5 pm CT

Trip Insurance (provided by Allianz Global Assistance)

800-628-5404

24/7, 365

Gift Card Support

800-677-9555

Mon. – Fri. 8 am – 5 pm CT

Group and Meetings travel arrangements

800-221-2255

24/7, 365

AAdvantage Miles Support

800-882-8880

24/7, 365

Hearing and speech impaired

800-543-1586

24/7, 365
American Airlines flight delay policy
As previously mentioned, the U.S. Department of Transportation (DOT) does not require airlines to compensate passengers for a flight delay. Every form of reimbursement you receive will be out of the company's goodwill, so to speak. The only mandatory thing is informing passengers at least 30 minutes after the airline becomes aware of any irregularities, which American Airlines does. The company policy also states that you'll be contacted personally on the phone you provided when making the reservation. Customers that signed up on AA.com and ask for flight status updated can expect to be informed via phone, text or email, depending on the situation. If the delay lasts long enough that boarding will not happen before 11:59 p.m. local time:
American Airlines will offer a complimentary overnight stay if the situation was caused by an error or inconvenience on their part

You will be expected to cover your own expenses if the situation is out of American Airlines control, such as bad weather
American Airlines flight cancelation policy
Even a full cancelation of a scheduled flight does not mandate the airline to compensate you. However, American Airlines does not hide behind this regulation and offers the option to reroute you or issue a refund to passengers with severely delayed or canceled flights. If you choose the refund, you can expect to be reimbursed for the remaining ticket value and any additional costs you paid. If you take a refund, you'll be expected to find your own accommodation and get new travel arrangements by yourself. Accepting either a reroute or refund will forfeit your right to the other. Make sure to file for compensation through DoNotPay first, and if you're unhappy with the results, you can let the app escalate things through small claims court.
American Airlines overbooked/oversold flight policy
The only instance where airlines must always compensate passengers under the U.S. law is if they sold more tickets than available seats, also known as overbooking. To resolve this situation, American Airlines will offer passengers to voluntarily give up their seats, in exchange for travel credit and a reroute. If the company can not find enough volunteers, they will result in denying boarding to some passengers. While seemingly at random, things that may influence denial of boarding include, but are not limited to:
The ticket fare

Airline membership

Ticket class

Time of booking

Check-in time
If you end up being denied boarding, you'll receive compensation depending on your destination.
Flying within the United States:
| | |
| --- | --- |
| Hours lost | Compensation |
| Delayed up to 1 hour | No compensation |
| Delayed 1 to 2 hours | 200% of your one-way fare, maximum $675 |
| Delayed for 2 or more hours | 400% of your one-way fare, maximum $1350 |
Flying internationally:
| | |
| --- | --- |
| Hours lost | Compensation |
| Delayed up to 1 hour | No compensation |
| Delayed 1 to 4 hours | 200% of your one-way fare, maximum $675 |
| Delayed for 4 or more hours | 400% of your one-way fare, maximum $1350 |
Flying from the E.U. to the U.S.:
If you're denied boarding on a non-stop flight from the European Union, you're eligible for one of the following:
A 1-ticket voucher that can be used anywhere on an American Airlines flight

A 300 EUR check if your arrival is delayed less than four hours, or a 600 EUR check if your arrival is delayed 4 or more hours
Passengers from to and from Canada may be offered different compensation in accordance with the Canada Air Passenger Protection Regulations.
If you wish to speak to an American Airlines representative regarding your situation, use DoNotPay to avoid waiting in the queue yourself.
All American Airlines flights in the U.S.
American Airlines currently operates in 45 territories of the U.S. The airline also provides international flights. Here are the currently available destinations for domestic flights:
State
City
Airports

Wyoming

Jackson (seasonal flight)

Wisconsin

Milwaukee Mitchell International Airport

Washington

Seattle–Tacoma International Airport

Spokane International Airport

Virginia

Norfolk International Airport

Richmond International Airport

Utah

SLC International Airport

The U.S. Virgin Islands

Henry E. Rohlsen Airport

Cyril E. King Airport

Texas

Austin

Dallas

El Paso

Houston

Houston

San Antonio

Austin–Bergstrom International Airport

Dallas/Fort Worth International Airport

El Paso International Airport

George Bush Intercontinental Airport

William P. Hobby Airport

San Antonio International Airport

Tennessee

Knoxville

Memphis

Nashville

McGhee Tyson Airport

Memphis International Airport

Nashville International Airport

Rhode Island

Pennsylvania

Harrisburg

Philadelphia

Pittsburgh

Harrisburg International Airport

Philadelphia International Airport

Pittsburgh International Airport

Oregon

Portland International Airport

Redmond Municipal Airport

Oklahoma

Will Rogers World Airport

Tulsa International Airport

Ohio

Akron

Cincinnati

Cleveland

Columbus

Dayton

Toledo

Akron–Canton Regional Airport

Cincinnati/Northern Kentucky International Airport

Cleveland Hopkins International Airport

John Glenn Columbus International Airport

Dayton International Airport

Toledo Express Airport

North Dakota

Bismarck Municipal Airport

Hector International Airport

North Carolina

Charlotte

Greensboro

Raleigh

Wilmington

Charlotte Douglas International Airport

Piedmont Triad International Airport

Raleigh–Durham International Airport

Wilmington International Airport

New York

Albany

Buffalo

New York City

New York City

Rochester

Syracuse

Albany International Airport

Buffalo Niagara International Airport

John F. Kennedy International Airport

LaGuardia Airport

Greater Rochester International Airport

Syracuse Hancock International Airport

New Mexico

Albuquerque International Sunport

Santa Fe Municipal Airport

New Jersey

Newark Liberty International Airport

Nevada

McCarran International Airport

Reno–Tahoe International Airport

Nebraska

Montana

Bozeman

(Seasonal)

Missoula

Bozeman Yellowstone International Airport

Missoula International Airport

Missouri

Kansas City International Airport

St. Louis Lambert International Airport

Minnesota

Minneapolis−Saint Paul International Airport

Michigan

Detroit Metropolitan Airport

Massachusetts

Logan International Airport

Worcester Regional Airport

Maryland

Baltimore–Washington International Airport

Maine

Portland International Jetport

Louisiana

Baton Rouge Metropolitan Airport

Louis Armstrong New Orleans International Airport

Kentucky

Louisville International Airport

Kansas

Wichita Dwight D. Eisenhower National Airport

Iowa

Des Moines International Airport

Indiana

Indianapolis International Airport

Illinois

O'Hare International Airport

Idaho

Hawaii

Honolulu

Kahului

Kailua-Kona

Lihue

Daniel K. Inouye International Airport

Kahului Airport

Kona International Airport

Lihue Airport

Georgia

Hartsfield–Jackson Atlanta International Airport

Florida

Fort Lauderdale

Fort Myers

Jacksonville

Miami

Orlando

Sarasota

Pensacola

Tampa

Southwest Florida International Airport

Jacksonville International Airport

Miami International Airport

Orlando International Airport

Sarasota Bradenton International Airport

Pensacola International Airport

Tampa International Airport

District of Columbia

Washington Dulles International Airport

Ronald Reagan Washington National Airport

Connecticut

Bradley International Airport

Colorado

Colorado Springs

Denver

Hayden (Seasonal)

Montrose (Seasonal)

Vail (Seasonal)

Colorado Springs Airport

Denver International Airport

Yampa Valley Airport

Montrose Regional Airport

Eagle County Regional Airport

California

Burbank

Fresno

Los Angeles

Oakland

Ontario

Palm Springs

Sacramento

San Diego

San Francisco

San Jose

Santa Ana

Santa Barbara

Hollywood Burbank Airport

Fresno Yosemite International Airport

Los Angeles International Airport

Oakland International Airport

Ontario International Airport

Palm Springs International Airport

Sacramento International Airport

San Diego International Airport

San Francisco International Airport

San Jose International Airport

John Wayne Airport

Santa Barbara Municipal Airport

Arkansas

Northwest Arkansas Regional Airport

Arizona

Phoenix Sky Harbor International Airport

Tucson International Airport

Alaska

Anchorage (Seasonal)

Fairbanks (from May 7th, 2020)

Ted Stevens Anchorage International Airport

Fairbanks International Airport
The American Airlines Fleet
American Airlines currently has 945 planes in the sky, making it the largest commercial airline fleet in the world. The average age of their aircraft is 11.2 Years. These include:
438 Airbus airplanes (around 46%)

487 Boeing airplanes (around 51.5%)

20 Embraer E-Jet (around 2%)
The main airport from which American Airlines operates is Dallas / Fort Worth International Airport (DFW / KDFW), with major city hubs (bases) including:
Philadelphia International (PHL / KPHL)

Washington Ronald Reagan National (DCA / KDCA)

Charlotte Douglas International (CLT / KCLT)

Miami International (MIA / KMIA)

New York John F. Kennedy (JFK / KJFK)

Phoenix Sky Harbor (PHX / KPHX)

Chicago O'Hare (ORD / KORD)

Washington Ronald Reagan National (DCA / KDCA)

Los Angeles International (LAX / KLAX)

New York La Guardia (LGA / KLGA)
American Airlines partnering companies
American Airlines is a member of the OneWorld Airline Partners, together with 13 other major airlines:
British Airways

Finnair

SriLankan Airlines

Qantas Airways

Royal Jordanian Airlines

LATAM Airlines

S7 Airlines

Iberia

Malaysia Airlines

Japan Airlines

Cathay Pacific

Qatar Airways
Other partnerships include:
Cape Air

Hawaiian Airlines

Interjet

Air Tahiti Nui

Alaska Airlines/Horizon Air

Etihad Airways

Seaborne Virgin Islands

China Southern Airlines

Fiji Airways
American Airlines has a codesharing agreement with the above-mentioned airlines, and advertises their flights under their own flight code (and vice versa). The flights are typically operated by one airline, while its partners may show them in their timetable/schedule and sell tickets. This helps everyone increase customer reach and overall sales. When you fly with AA or any of their partners, you're eligible to "collect miles" that can later be turned into rewards.
Here's what else DoNotPay can for you
Apart from helping with delayed and canceled flights, DoNotPay is effective at:
Disputing speeding tickets

Challenging traffic tickets
The DoNotPay learning center is a free resource full of articles on similar topics.