What happens if your flight is delayed or canceled due to bad weather

One of the top reasons for delayed or canceled flights is unignorable weather conditions. Although seemingly straightforward, weather conditions can impact your flight directly or indirectly. For example, maybe the weather is ideal at your airport, but making it difficult to land somewhere else. This might mean your flights' runway may have to be occupied by planes diverting from bad weather elsewhere. Likewise, the current weather conditions may not be impacting your flight, but a different flight that's causing issues with the schedule. Today you'll learn about how bad weather can impact your flights and what your rights are in these situations.
How to ask for compensation for flight cancelation/delay

Every airline has a different customer service policy and methods of compensation. Directly receiving money for delayed or canceled flights almost never happens. Unless the case lands in court and you win. Usually, the airline will have some sort of contact page on their website. There, you will likely find a page where you can file for compensation directly. You can also dial the airline's customer service number and open a ticket through the representative. If you choose this method, you can use DoNotPay to avoid waiting in long phone lines.
All of these scenarios require you to do the investigative work yourself. The airline will assume you're not familiar with your rights and offer compensation lower than what you're entitled to, hoping you'll accept. Avoid doing everything manually — there is a better method which we will explain next.
How to get compensation for flight delay/cancelation through DoNotPay
Find out just how simple it is to get compensated for delayed or canceled flights.
Most airlines will offer one or more forms of compensation, even if they're not required to. Maintaining good relations and a positive relationship with unhappy customers is crucial for a business's survival, especially in the age of the Internet where bad reviews can spread like wildfire. However, airlines are still interested in keeping as much money as they can and will often assume you're uninformed on just how much and what you're entitled to. This is where DoNotPay can take over for you. The app knows the law better than anyone and will do the heavy lifting. Here's how it works:
Open the DoNotPay

web app

Click on "Customer Service Issues"

Type in the name of the company you want to contact over compensation

The chatbot will give you the option to wait in the airline's customer care queue for you, or fight the issue on your behalf

By selecting the latter, the chatbot will guide you with a series of simple questions to get a better understanding of your situation and prepare the case

The app will get back to you within 48 hours with new information
Once you get your answer, if you're still unsatisfied, DoNotPay can help you escalate the case by helping you sue the airline in small claims court.
Can I get compensation if my flight was delayed due to bad weather?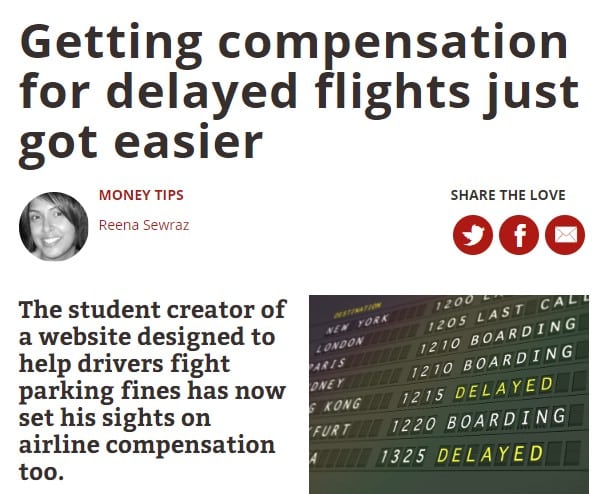 You may be surprised to learn this but, according to the U.S. Department of Transportation (DOT), airlines are NOT required to compensate you for delayed flights, regardless of the reason. The European Union has a different policy. Depending on the length and reason of the delay, you may be entitled to:
Assistance with rerouting

Airline compensation

Refunds in cash
However, even the EU recognizes bad weather conditions as "extraordinary circumstances" beyond the airline's control, and thus excuses the airline from mandatory compensation. In short, both U.S. and EU flights aren't required to compensate you for bad weather conditions. In these scenarios, every form of compensation is voluntary on the part of the airline. For example, the American Airlines Conditions of Carriage policy states that if the flight is delayed beyond 11:59 pm for reasons beyond their control, like the weather, customers are required to make their own accommodations. Here's a quick summary when to expect compensation:
| | |
| --- | --- |
| Who's fault is it? | Can you expect compensation? |
| Air traffic control | No |
| The airline's | Yes |
| Another airline | Depends on the circumstances |
Can I get compensation if my flight was canceled due to bad weather?

Just like with delays, you are NOT entitled to any specific compensation for canceled flights under the U.S. law. Luckily for us, the free market speaks for itself. If companies literally offered nothing in return, they'd be out of customers in no time. In the European Union, cancelation always entitles the passenger to refunds, re-routing, or return to the original destination for connection flights. Total canceling due to bad weather doesn't happen often, and when it does, it's usually for very good safety reasons.
Keep in mind that if the conditions were so severe, then none of the other flights would be taking off or landing. So always ask if it's just yours, or everybody's flight that's being canceled. In the case of United Air cancelation or delay policy, choosing not to travel entitles you to a refund. Otherwise, you may accept a reroute or travel credit, regardless of the reason for canceling was bad weather or something else.
Are supposed bad weather conditions ever disputable?

Bad weather situations can be tricky. Whether or not a flight will be allowed to continue in regards to weather can be influenced by a number of factors:
The airport's security policy

The model of the aircraft

The airline companies weather policy

The state of the runway
Filing a complaint is always a good idea and can't hurt to try. This is where DoNotPay comes in handy. Not only can it help you file for compensation from any airline but it can also quickly create a legal dispute in small claims court if you're still unhappy with your compensation. Believe it or not, airlines have been caught lying that the flight issue was caused by bad weather. In reality, it could have been something on their part they're trying to cover for. Otherwise, they'd have to pay up. Here are some examples:
Lack of adequately trained crew

Coordination with other flights that face issues

Mechanical delays

Refueling

Tire changes
What kind of compensation am I entitled to?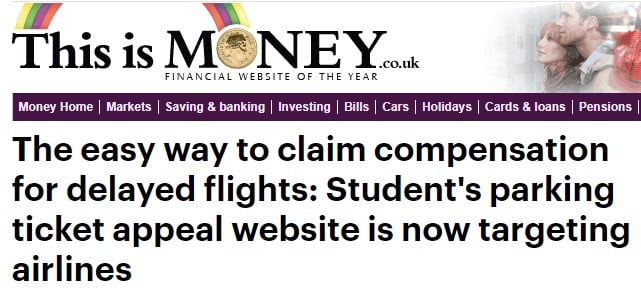 The type of compensation you receive is not universal. Typically, if you file for compensation, you can expect something along these lines:
Flight delayed

In-flight commodities, such as free meals or drinks

Vouchers (or similar bonuses) for airports restaurant and/or entertainment facility

Complimentary overnight stay for flights delayed until the following day

Flight canceled

Full refunds

Flight credit

Alternative routes

Complimentary overnight stay
Airlines will often offer you more than one option to choose from. While this may sound like courtesy, it often masks the fact that they're not all of the same value. Under most company policies, accepting one offer forfeits your right to the others, so think carefully. For example, travel credit in a larger sum than a full refund may sound appealing, but a sold ticket and filled seat is better for the airline than giving money back.
Who made the decision to delay/cancel the flight makes a key difference
As seen from previous examples, both the airline and air traffic control can declare the weather is suboptimal for flight. Here's what it boils down to:
If the airline made the decision

, this likely means they overlooked something and asking to be compensated is perfectly reasonable

If air traffic control forces the aircraft to delay its operations

, this removes fault from the airline and you may not get compensation (unless out of the goodwill of the airline)

A different airline is having issues

that are causing your flight to delay, again technically excusing your airline from compensation obligations
You can always try to find out more information from places like customer service or info desks. However, no need to try and guess whose fault it was. Let DoNotPay do the work for you by filing for flight compensation, or helping you sue the airline in small claims court.
Difference between avoidable and unavoidable weather conditions
Here lies the key questions whether or not and just how much compensation you're owed for a flight influenced by weather: is the weather issue unignorable or was the airline ill-prepared to face it? Let's look at some examples:
The aircraft should be perfectly fine when taking off or landing during snow or rain. Not having appropriate tires or take off/landing gear is the airline's fault and you can file for compensation

A heavy thunderstorm may have an impact on the aircraft's or traffic controls electronic equipment, making flight operations dangerous

Although technically not impossible to take off/fly/land in low visibility, such as fogs of heavy snow, the airline may be instructed to postpone their flight and can avoid accountability

Sudden drops or increases in temperatures do not excuse the airline for not having adequate/faulty air conditioning on their aircrafts

Tornadoes, volcanic eruptions, earthquakes, and similar are considered too dangerous for flight operations and, therefore, are not the fault of the airlines
The airline may justify all of the following situations as "weather conditions", but it should be clear that not every situation is the same. This warrants looking into by .
Can I get compensation if my flight was delayed due to snow?
Snowfall is not uncommon in wintertime on the northern hemisphere, and such a common weather condition should not have an impact on flight operations. Only extreme conditions like heavy snowstorms, that may result in things like low visibility and icing on the runway, are considered suboptimal for flight.
Snow may cause a slippery runway and, while the aircraft may be equipped to handle this, the airport's own security policy may force traffic control to put things to a halt until the runway is cleared. If air traffic control is the one who put a stop on the flight, it will be considered out of the airline's control, and they'll be excused from compensating you any more than their policy suggests.
Can I get compensation if my flight was delayed due to wind?
Unpredictable winds can be tricky to work around. Heavy winds can have little to no effect on a normal day, while even a mild wind can cause issues if mixed with snow or rain. Windows hitting from the front/back of the runway may cause other flights to take off/land slower, thus delaying your own. It should be no surprise that a tornado risk is not the fault of the airline and justifies delaying a flight. Whether you're entitled to compensation will mostly depend on who made the decision to delay the flight — the airline or air traffic control.
Can I get compensation if my flight was delayed due to fog?
Dense fog or similar vision-impairing weather may cause flight operations to be slowed down or stopped. This can impact your flight both directly and indirectly. In most cases, the airplanes light and radar equipment, along with traffic control help should be more than enough to get through fog curtains.
The airport's own security measures may force them to slow down operations, which can stack up delays over time. A different airline's flight policy or aircraft issue may be an indirect cause for fog having an impact on your flight. Whether you're entitled to and what sort of compensation you'll receive will depend on whose decision it was to delay, the airline's or traffic control's.
Can I get compensation if my flight was delayed due to rain?
Rain is a standard part of our daily lives for a good portion of the year. The chances of rain having any impact on flight schedules are very low. Airplanes take off, land, and fly in the rain all the time. Even heavy thunderstorms can be ignored most of the time due to aircrafts being equipped with lightning protection. If the thunderstorm is just in the way after takeoff, that poses different threats and it may be decided to wait out the cloud.
Rain can also leave the runway slippery. But even this may cause just minor delays until the runway is cleared, which might not even affect flight schedules. However, it's always the air traffic control's call. If they decide to postpone the flight, the airline will not be required to compensate you more than their own policy dictates.
Is your flight directly or indirectly impacted
The flight you're supposed to take doesn't have to be directly impacted for the weather to play a key role in the delay or cancelation. Sometimes, traffic control may have to make space on the runway for an emergency landing for a plane stranded due to bad weather at a different airport. Your flight may be delayed because it's awaiting connecting passengers or important cargo from other flights that were affected by weather conditions elsewhere.
There are also instances where your plane is waiting for the flight crew stuck on a different delayed flight. In all of these cases, there is a chance the airline may be excused from giving any more compensation than their regular policy offers. However, is easy enough that it warrants any chance of asking for compensation.
I was told my flight would be delayed for two hours, but it keeps getting pushed back, what's the issue?
Weather is the most common reason for flights being delayed and rescheduled multiple times. Airlines get the final green light from air traffic control, which does take weather conditions into account. While they rely on meteorologist reports to predict possible issues, mistakes happen and sometimes bad weather turns worse or lasts longer than anticipated.
Again, whether or not you're entitled to compensation depends on if the delays are the fault of the airline or not. If the answer is beyond a doubt yes, you're absolutely entitled to compensation. If the answer is no, the airline may be excused. But it can't hurt to It will only take a couple of minutes.
Is bad weather a common reason for flight delays
Actual bad weather conditions make up a small number of flight delays and cancelations, about 5 — 6%. This is because only extreme weather conditions are cause for alarm. However, the weather also has countless ways it can have an impact indirectly, making it a common excuse airlines use. Here are some of the common reasons a flight may be delayed:
Air traffic control request

Waiting for additional crew

Issues on other flights

Food supply not adequate

Refueling

Security alerts
Here's what else DoNotPay can for you
We've already helped you deal with compensation with delayed or canceled flights. Now check out the other useful features DoNotPay has:
Beat speeding tickets

Challenge traffic tickets
Let's not forget, DoNotPay also has a FREE learning center full of articles and tips on similar topics.