Female Sex Offenders by the Numbers—Female Predators Stats and Facts
The news often mention male sex offenders, whose numbers are astonishingly high, but how come female sex offenders are rarely talked about? Are they given milder sentences, and are their crimes not as severe as those of male perpetrators?
Learn about that and the woman sex offender statistics in this article! If you , we can keep you updated on all registered sex offenders in your area, regardless of their gender.
The Most Prominent Female Sex Offender Facts
It's true that most sex offenders are male, but female offenders are less likely to be:
Reported to the police
Arrested
Convicted
Jailed for extended periods (their sentences are usually more lenient)
Female sex offenders are more likely to:
Commit sex crimes against their children or foster children
Have younger victims than those of male offenders (typically under the age of 15)
Offend against both sexes, while male offenders mostly target females
Abuse their victims with a co-offender, while men tend to do it alone
Know their victims and even be their teachers or babysitters
Coerce, manipulate, or recruit victims with malevolent intent
Use foreign objects when committing the offense
The Most Common Similarities Between Male and Female Sexual Offenders
Male and female sex offenders share a lot in common:
They have low recidivism rates (likelihood of reoffending) compared to other types of sex offenders
They use cognitive distortions equally
Both usually offend by groping their victims' genitals
They coerce their victims into sexual acts
Female Sex Offenders—Statistics Everyone Should Know
Data on female sex offenders is scarce, but it's also often conflicting. Most studies find that there are about 5% registered female sex offenders in total, so the remaining 95% are male, but that doesn't include the unregistered sex offenders. A more realistic number comes from a 2016 study with a larger sample group that tells the number of female sex offenders is closer to 11.6%.
Here are some crucial demographic statistics on women sex offenders:
A whopping 85% of them are Caucasian
Female sex offenders are mostly in their late twenties and early thirties
The approximate number of married offenders is 33.3%
A huge number of them come from dysfunctional families (circa 60%)
The majority of them were neglected or abused in the past
The average IQ is around 100
A tendency toward alcohol and drug abuse affects many of them
A common factor is unemployment—between 40% and 60%
The majority of adult-abusing females target the same sex (88%)
The rate of sexual recidivism among women is much lower than that in men
The Types and Tiers of Girl Sex Offenders Explained
The main female sex offender types are:
Co-offenders—Are more likely to abuse relatives and other females. Their offenses are often non-sexual
Teacher lovers—Abuse adolescent boys and "teach" them about sex. They usually have nurturing relationships with the victims and are intimate with them
Same-sex offenders—They tend to exploit or force younger females into prostitution for financial gain. They usually don't sexually abuse the victims themselves
Sex offender tiers are related to the severity of the crime and the sex offender registration obligations. The sex offender registration laws list the same tiers for males and females.
| | |
| --- | --- |
| Category | Description |
| Tier I | Offenders convicted of video voyeurism and false imprisonment of minors or possession of child pornography |
| Tier II | Sex offenders involved in solicitation and prostitution of minors, sex acts with minors older than 13, and use of minors in sex performances |
| Tier III | Their crimes include minor kidnapping, forced sex acts, and sex acts with minors younger than 12 |
Restrictions Imposed on Female Sex Offenders
The law imposes many restrictions on sex offenders, such as loitering and residential restrictions, which can vary depending on the location.
Most states do not allow sex offenders to:
Live near parks, schools, or other public grounds used by children
Use the public libraries or parts of libraries
Avoid registration—required by Megan's Law—that puts them on the sex offenders map
Sex offenders are allowed to travel to other states if they comply with the visiting state's registration laws. Every state has an online sex offender registry that is publicly available for all citizens to use.
These registries can be poorly optimized, and regular checks take a lot of time and effort. It is also relevant to point out that you likely won't be able to search the official databases by sex to get a definitive female sexual offenders list in your area.
DoNotPay has an easier solution that will help you stay up to date with sex offenders' whereabouts! If you're worried about female sex offenders lurking in your neighborhood, you can count on our automated weekly alerts to keep you safe.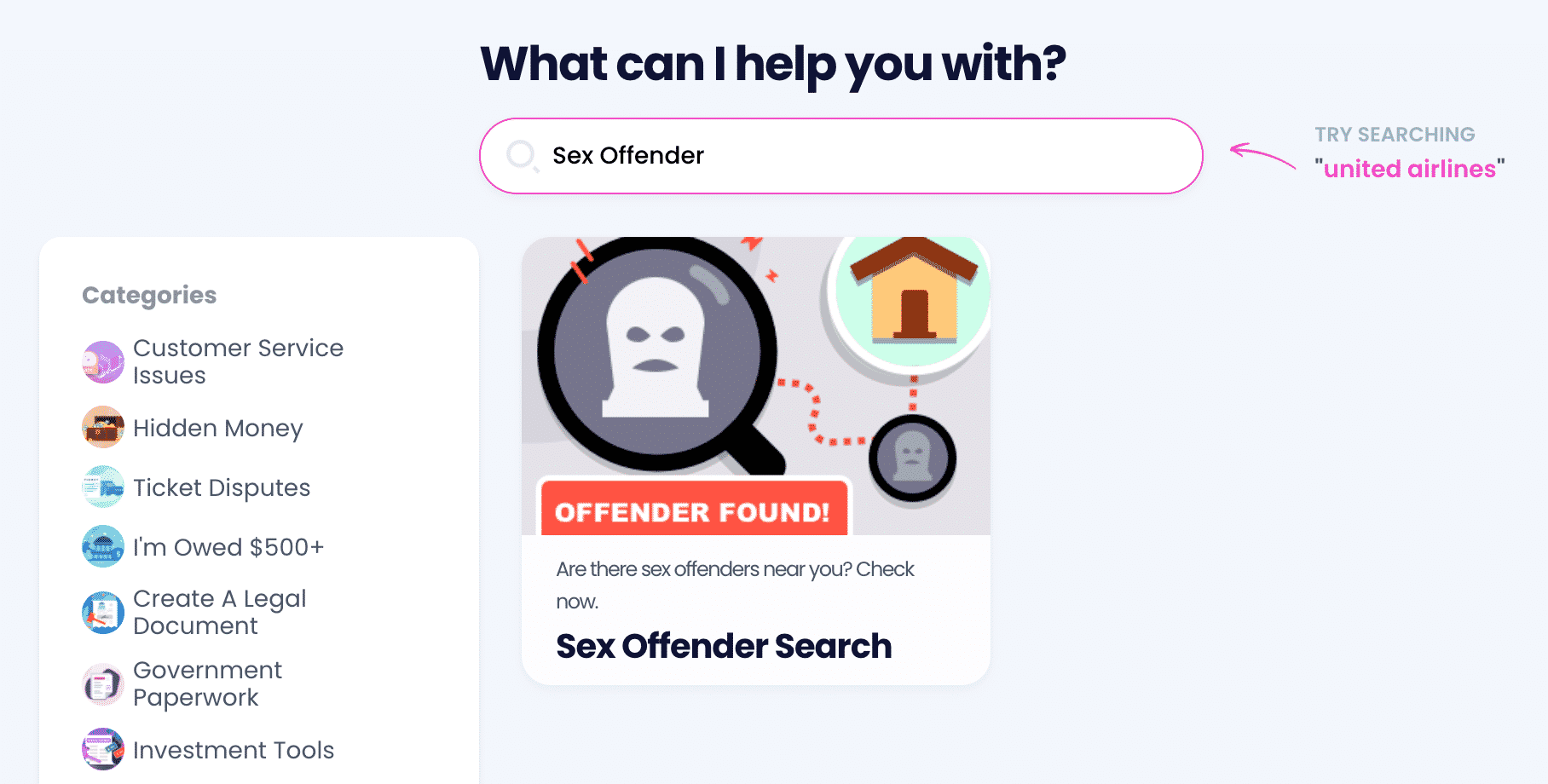 Use DoNotPay's Sex Offender Alerts
Registered sex offenders can be unstable and dangerous, whether they are male or female. DoNotPay has a tool that can keep you informed of sex offenders in your area. It can perform one-off checks for specific offenders or send you weekly updates based on your preference.
To use our product, follow the instructions below:
Click on the Sex Offender Search feature
Enter the necessary search parameters
Select the weekly scan option if you want to receive automated updates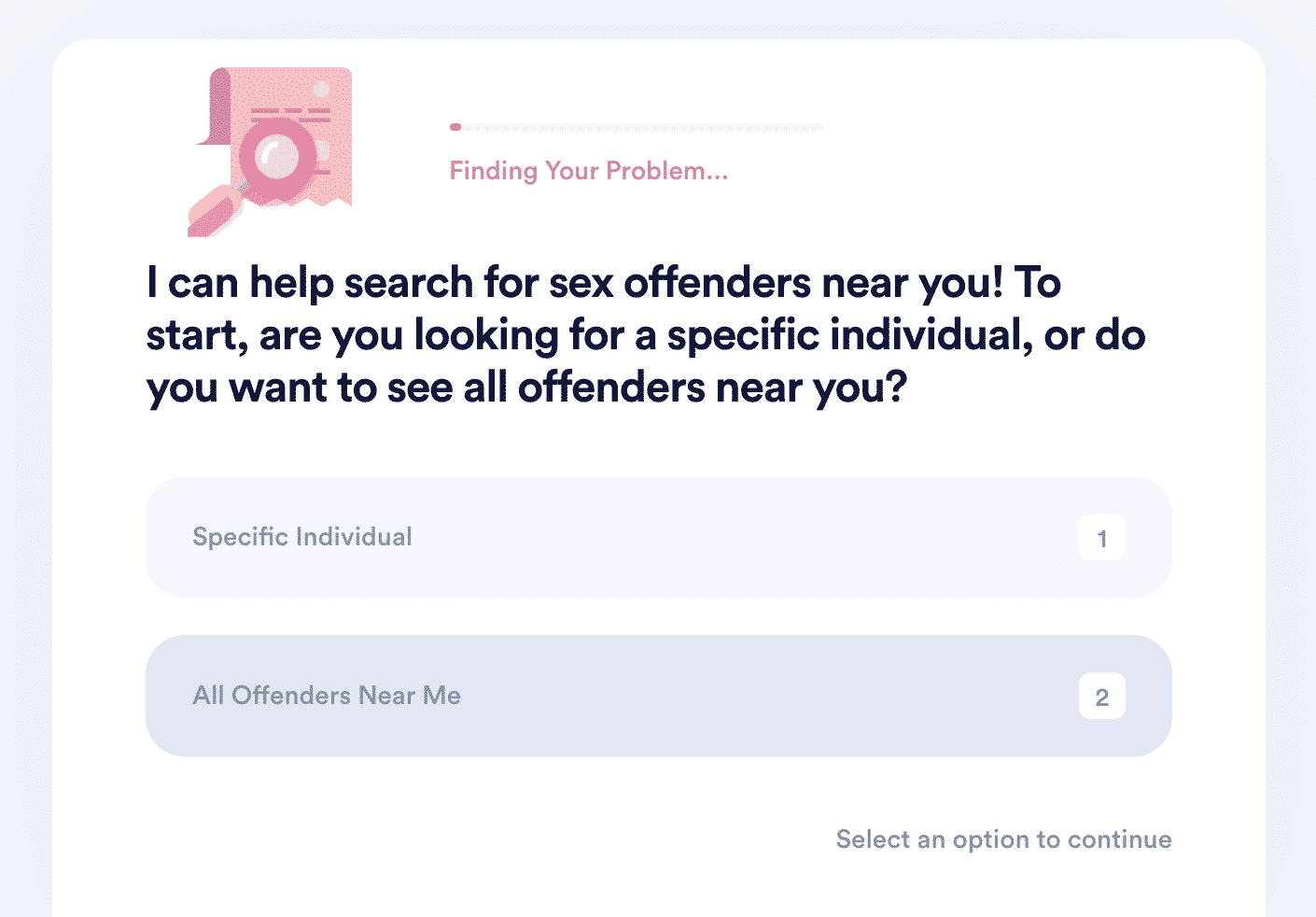 Tackle Any Legal Task With Our Lawyer App Like a Pro!
Why bother with tedious legal tasks on your own when you can let DoNotPay cut your work in half? No more worrying about how to draft legal documents or sue a company in small claims court—we'll guide you through it effortlessly!
There is no shortage of tasks our Al-powered app can help you with. Once you sign up, you'll learn how to:
Fight Scammers in a Few Clicks!
Is your phone buzzing incessantly, and you can't take it any longer? Use DoNotPay to stop annoying robocalls and fight scammers with ease!
Having a company spam you with unwanted emails about their products isn't uncommon, but that doesn't mean you have to put up with it. DoNotPay helps you create a burner phone number, fight email spam, and stop spam text messages in a snap!
You can also find our features super useful when requesting a refund, filing insurance claims, and locating your missing USPS, UPS, or other parcels.