Take a DC CDL Practice Test To Pass the Real Exam Without Any Problems
If you would like to operate a commercial motor vehicle (CMV) in Washington, DC, you will need to obtain a commercial driver's license (CDL). To get it, you need to take the DC CDL exam.
DoNotPay can help you prepare for it fast with our DC CDL practice test. 
What Is the DC CDL Test?
If you reside in the District and want to become a professional driver, you will have to take the DC CDL exam. Your CDL shows you possess the experience, knowledge, and skills that are required to operate commercial motor vehicles (CMVs). 
To receive a DC CDL, you will have to pass general knowledge and skills tests. Your CDL is valid for eight years.
Who Qualifies for the DC CDL Test?
If you would like to check whether you are eligible to take the DC CDL test, you can check out the following criteria:
Eligible
Ineligible
You need to be:

At least 18 years of age to get an intrastate CDL

At least 21 years old to receive an interstate CDL

A U.S. citizen/non-U.S. citizen with a Permanent Resident Card

You must provide:

A valid DC non-commercial driver's license (NCDL)

Proof of your U.S. citizenship/lawful permanent residency

A Department of Transportation Medical Certification

A report on your ten-year driver's history

You have:

Some medical conditions

A scheduled hearing on moving violation tickets

Criminal convictions in the previous three years 

Unresolved citations 
To get the DC CDL exam, you must take the knowledge tests, get a CDL learner permit, and take the CDL road skills test. 
When taking the CDL knowledge tests, you will have to submit the following documents:
Only a certified medical examiner can conduct your medical examination and complete the MER and MEC. You can look for a medical examiner in the Federal Motor Carrier Safety Administration registry.  
What Does the DC CDL Exam Cover?
To get a DC commercial learner's permit (CLP), you will first need to pass the knowledge tests. The basis for your CDL preparation is the DC CDL manual containing all the required rules and regulations you need to become familiar with. 
Once you have prepared well and are ready to take the knowledge test, you should visit the DC DMV Brentwood Commercial Driver License Center at the following address:
1205 Brentwood Road, NE
Washington, DC 20018
Before taking the knowledge test, you will have to pay a fee. You do not have to schedule an appointment for the DC CDL test, but make sure you get there at least two hours before their closing times. Here are the center's business hours:
Tuesday/Thursday/Friday/Saturday: 8.15 a.m.–4 p.m.

Wednesday: 9.15 a.m.–4 p.m.
When you pass the CDL knowledge tests, you will get a CLP that is valid for one year and cannot be renewed. You need to have your CLP for at least 30 days to take a DC CDL road skills test, which you need to schedule online. 
How To Prepare For the DC CDL Test?
You will have to score at least 80% in the DC CDL general knowledge test, which means you need to study the DC CDL manual hard and try to memorize the rules and regulations from it. As the manual is over 150 pages long, it will take some time to review it. 
How do you know when you are ready to take the actual test? Take a DoNotPay's DC CDL practice test to see how much you have learned and what parts you need to go back to and cover again. 
Not only can we help you pass the CDL exam, but we can also assist with the preparation for other government exams. We provide guidelines on how to schedule a DMV driving test and pass the written driving test. 
Take a DoNotPay's CDL Practice Test in DC To Reach a High Score in the Actual Exam
DoNotPay helps you prepare for the DC CDL test fast! We will assist you in prepping for the DC CDL exam and obtaining your CDL in no time. Here is what you should do:
Open DoNotPay in a

web browser

Pick the practice test by entering

CDL

or

commercial driver's license

 

Choose the test you wish to take

Specify the number of questions you want to cover in your test—10, 20, or 30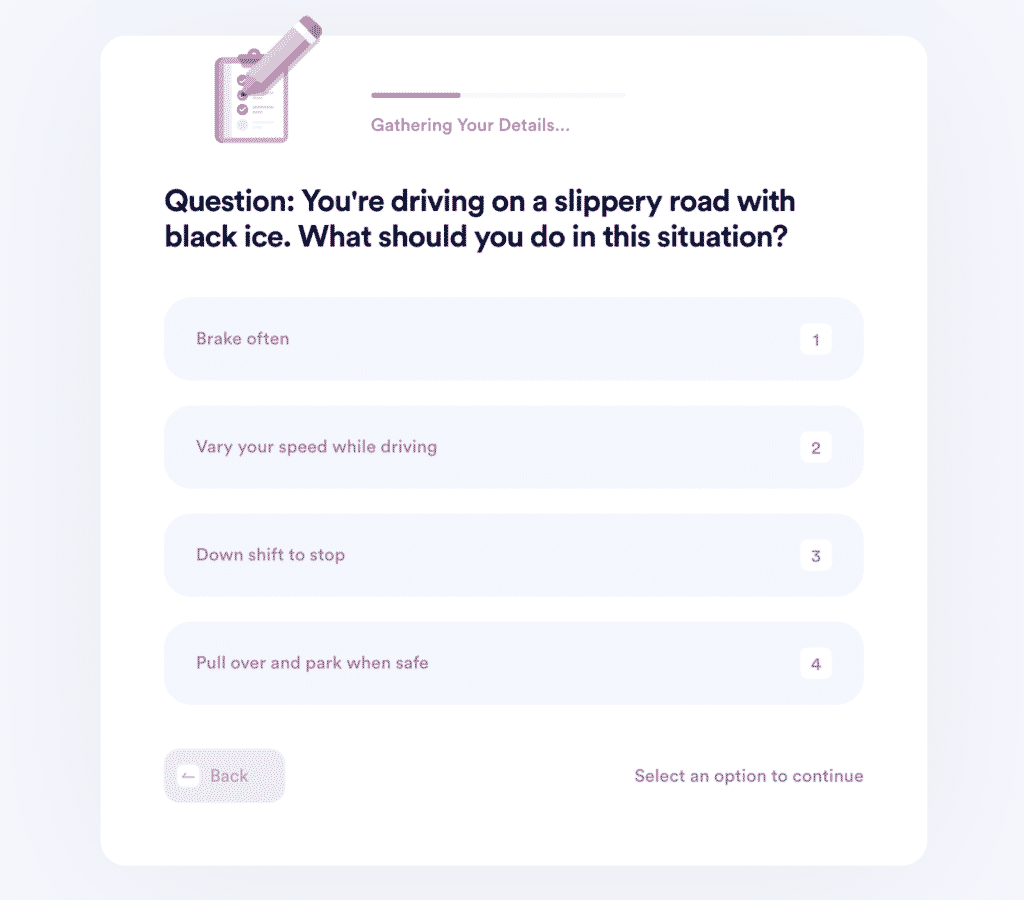 We provide a convenient way for you to test your newly-acquired knowledge as you can go back to each mistake you make and retake the DC CDL practice test at any time.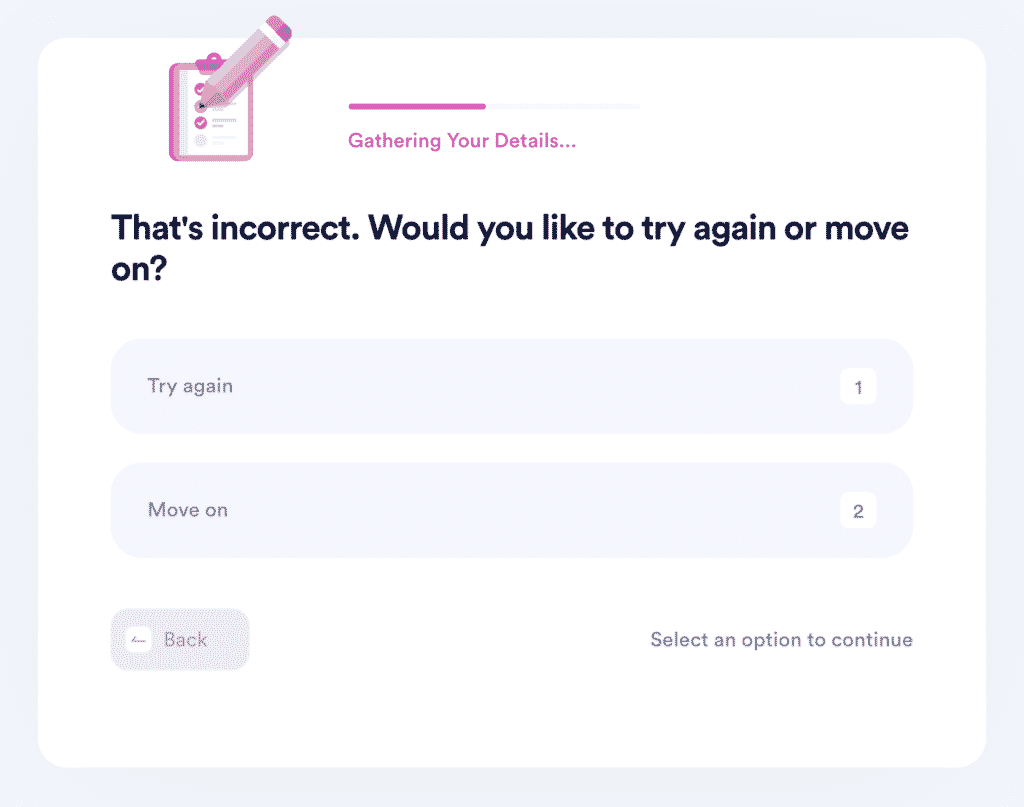 We can help you with various government tests, such as CompTIA, postal, CCAT, DMV, U.S. citizenship, ASVAB, notary, or HAZMAT test. You need to pick a test you would like to practice for, and DoNotPay offers up-to-date useful practice tests that will help you ace the real test.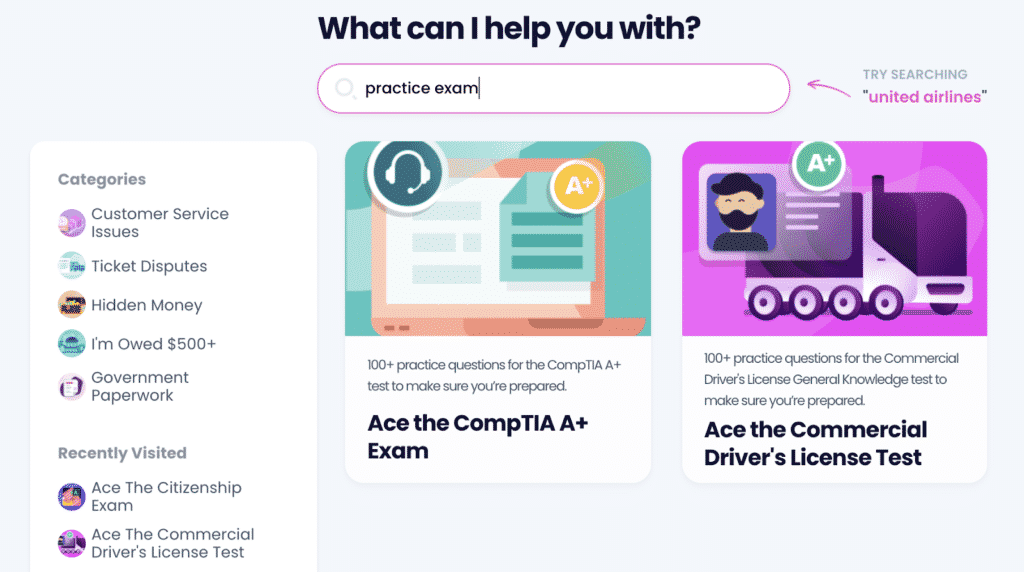 We can assist with other DC-related matters, such as help you claim your lost assets, get George Washington University fees waived, or dispute your parking tickets.    
Clear Out Your Daily Tasks Fast With DoNotPay
Are your parking tickets piling up, but the process of appealing them is way too complicated? Do you struggle to pay your bills but are not sure how to get an extension? Is it time to extend your driver's license, but reaching the DMV is a nightmare?
DoNotPay will turn all of these dreadful tasks into easy-to-do items you can check off your agenda quickly!
Get rid of spam emails, texts, and calls quickly using our AI-powered app!
Learn how to secure compensation from airlines, get your college fees waived, claim your lost funds, or reduce your property tax—all with a few clicks!
Subscription Issues? DoNotPay Can Help!
If you are looking to test out a service, think twice before disclosing your payment info. Companies will often ask you for your credit card details even when signing up for a free trial—they charge you once the trial expires. 
Use our virtual credit card, and don't worry about unwanted charges! 
Our credit card gets automatically approved for any free trial, but it rejects any real charges since there is no money on it.
DoNotPay will locate and cancel all your unwanted subscriptions without you having to deal with customer service reps.
We can also help you request refunds from companies or take them to small claims court if they refuse to cooperate.