Fast and Easy Way To Check Your Wegmans Gift Card Balance
Once used, it's easy to forget about a gift card. Still, you don't have to lose those last few bucks you may still have on your Wegmans Food Markets gift card.
Not sure how much money you have left? Don't worry—DoNotPay is here to change that! Our step-by-step guide will show you how to check your Wegmans gift card balance and get your cash back.
What Are Wegmans Gift Cards?
Wegmans gift cards are a great alternative for purchasing groceries at Wegmans Food Markets. They can be loaded with any amount between $5 and $500. Wegmans treats their gift cards as cash and doesn't offer returns in case they're lost, stolen, or in a damaged condition.
Own a Wegmans Gift Card? Check Your Balance and See How Much Money You Have Left
Wegmans Food Markets offer several ways of performing a gift card balance check. You can do it:
Online
In person
Via phone
How To Check a Wegmans Gift Card Online
If you want to conduct a Wegmans gift card check online, you will have to:
Visit the company's official website
Scroll to the bottom of the page
Find the Gift Cards icon in the lower-right corner of the screen
Click on the Purchase Gift Cards/Check Balance window
Enter your gift card number and PIN
Complete the captcha and hit Check Now
How To Check a Wegmans Gift Card in Person
Prefer to check your used gift card balance in person? You can do it by:
Using the Wegmans store locator
Visiting the nearest store
Giving the employee at the cash register your gift card
Asking them to check your remaining gift card balance
How To Check a Wegmans Gift Card via Phone
Would you rather avoid physical contact when checking your gift card balance? You can call Wegmans customer support instead. Dial 800-848-1555 and:
Wait for the customer service rep to pick up
Tell them your gift card number and PIN
Ask them to see how much funds you have left on your gift card
Note that the Wegmans customer support team works from 8 a.m. to 7 p.m. EST during the weekdays and from 8 a.m. to 7 p.m. on weekends.
DoNotPay Cuts Your Work in Half and Does a Wegmans Gift Card Balance Check for You!
Forget about waiting for a customer rep to pick up or traveling to check your gift card balance in person! DoNotPay offers the easiest solution—doing the work for you!
All you need to do is complete our quick guide, and you're all set:
Click on the

Check Gift Card Balance

feature

Upload photos of your gift card (front and back)
We'll get in contact with Wegmans and inform you about your remaining balance in next to no time!
What Can You Do With Extra Funds on Your Wegmans Gift Card?
Now that you've checked your remaining Wegmans gift card balance—check out the table below to see how you can use it:
Ways To Use the Remaining Balance
Details
Using the gift card at a Wegmans market
Use your gift card at any of the 107 Wegmans locations across the states. If you don't have enough balance on it for the desired purchase, you can wait for a sale
Selling the gift card online
You have two ways of selling your gift card online:

List it on a marketplace—Go to an online marketplace and put your card up for sale. This will require some patience as your card won't be sold right away
Sell it to a reseller website—Find one of the numerous websites that deal with gift card exchange and sell your card for cash quickly

Visiting a gift card exchange kiosk
If you're located in a state that has gift card exchange kiosks, you can visit one and get money for your used card that way. All you have to do is insert the gift card into the machine, and you'll receive money for it
Can You Get Cash Back for Your Wegmans Gift Card?
Wegmans gift cards are redeemable for money if you live in Puerto Rico or one of the 11 U.S. states that have cash back policies. The trick is that the amount on your card mustn't go over a limit set by the state. For example, if you live in Maine or Colorado, you can get $5 off your gift card, and if you're from California, you can get $10.
You will also need to explain the law to the Wegmans employee at the store or a customer support rep. By using DoNotPay, you leave all the work to us as we'll forward a cash back request to a Wegmans store in your name.
DoNotPay Helps You Redeem Your Wegmans Gift Card for Money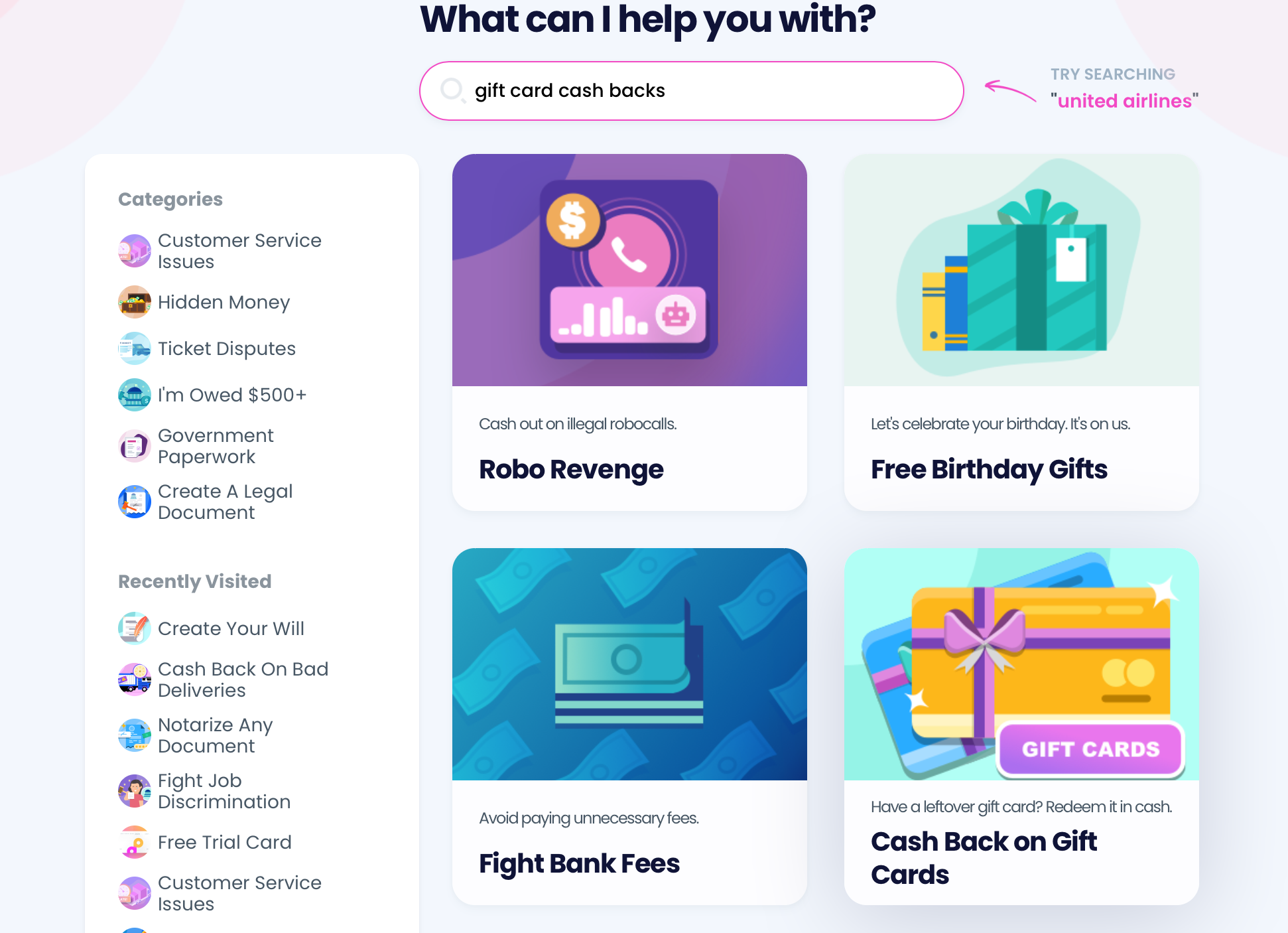 Whether you live in a cash back state or not, DoNotPay can help you redeem your gift card for money! With our Gift Card Cash Back product, you'll be able to turn your remaining card balance into cash in a few clicks. Here's how it works:
Select the Gift Card Cash Back product
Answer some easy questions about the gift card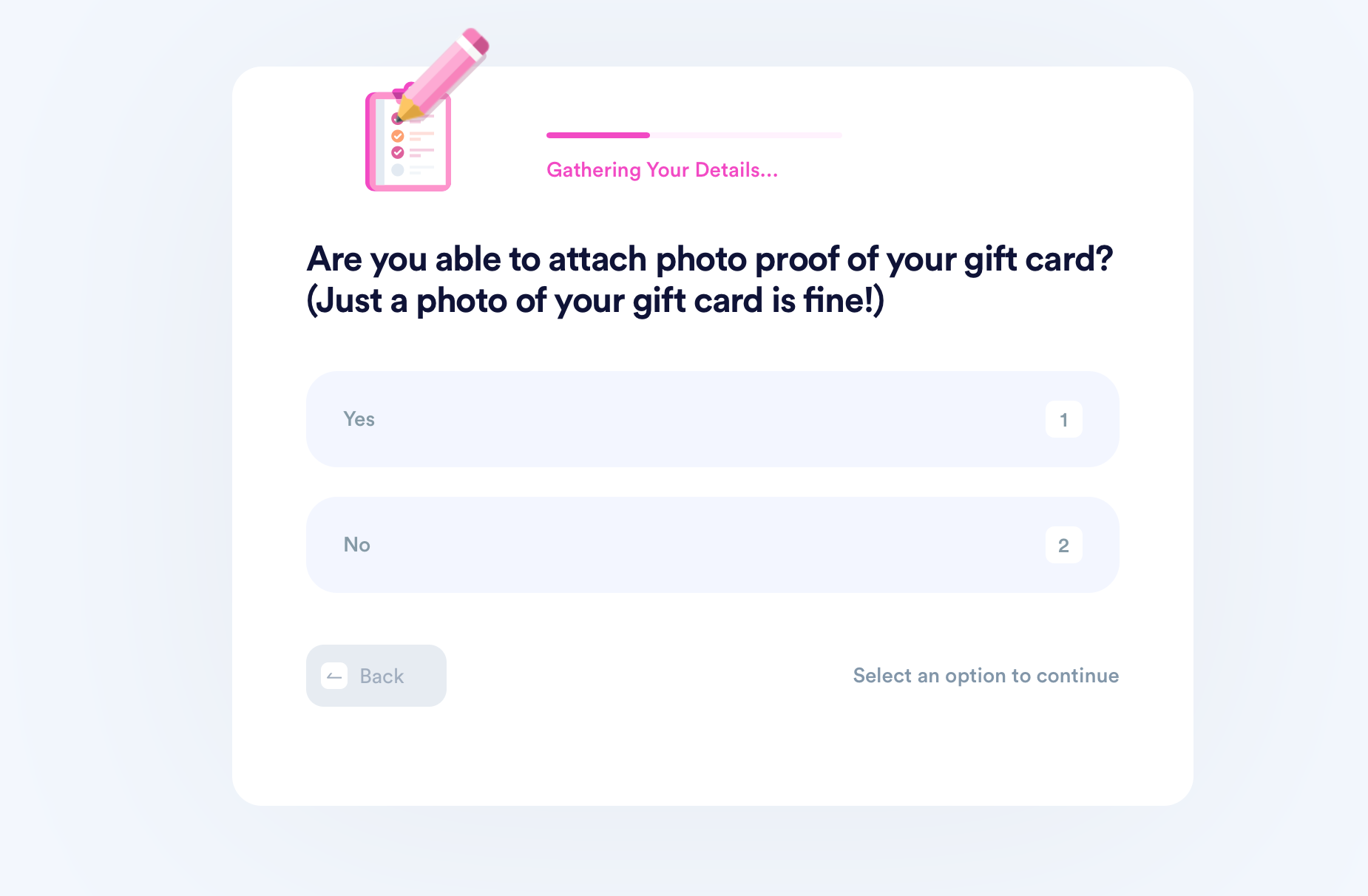 We'll send your cash back request to a Wegmans store in one of the cash back states. You can expect to receive your money within two weeks.
Did you know that DoNotPay has a knowledge base with numerous articles regarding gift cards? Find out how to:
DoNotPay Resolves Both Bureaucratic and Legal Issues
One of our app's best qualities is its versatility. You can use your personal AI-powered assistant to overcome both legal and bureaucratic obstacles without breaking a sweat. No more waiting in lines or breaking the bank due to sky-high lawyer fees!
Take a look at what you get access to for a low monthly fee:
Drawing up tailor-made legal documents

Applying for property tax exemptions
Can DoNotPay Do Anything Else?
The world's first robot lawyer is capable of so much more! No matter if you want to find your unclaimed money, apply for clinical trials, get rid of email or text spam, prepare for a government test, fight workplace discrimination, or get gift card cash back, DoNotPay can help!
What are you waiting for? Sign up for DoNotPay now to enjoy our nifty products!