Is the Chase Virtual Credit Card the Right Choice for You?

Chase Bank is one of the larger banks in the United States. They are everywhere and offer a variety of benefits to those who have an account with them. Therefore, many people want to know if Chase virtual credit cards are available and whether they are a good option for them. DoNotPay has all the information you need about Chase Bank and any virtual card number from Chase. This includes helping you to decide if it is the right choice for you.
What Is the Virtual Credit Card by Chase?
Chase Bank is ideal for anyone looking to have easy access to:
Personal Banking
Checking Accounts
Savings Accounts
Credit Cards
Mortgages
Home Equities
Auto Loans
Investing
Business Banking
However, in answer to the question, "Does Chase offer a virtual credit card?", the answer is "No". Instead, they can provide you with a Chase virtual card number you can use at Chase ATMs.
Is the Chase Card Virtual Number Easy to Use and Safe?
Since there is no option to have Chase generate a virtual credit card, their website has tips and tricks to keep you safe when buying online merchandise. For instance, they recommend that you:
Use Your Card Only at Secure Websites You Trust
Log Out When You Have Completed Your Purchase
Increase Your Password Strength with a Password Manager
Keep Devices Up to Date
And Use Virtual Credit Cards from Other Companies
This proves that there does not seem to be any likely option, even in the future, for you to have a Chase virtual credit card number.
How to Get a Chase Virtual Card Number
If you are content without a Chase virtual credit card, and you have an account with Chase already, you can use a Chase ATM with your Smartphone. This will require you to:
Use the Mobile Wallet App for Chase Bank
Access It When at an ATM
Choose Your Personal Virtual Chase Debit Card
Locate the Wi-Fi Symbol on the ATM and Tap It with Your Phone
Enter Your Pin as You Normally Would
Though the card-less ATM withdrawal can be beneficial, it also comes with a few downsides. Primarily, it does not work with other ATMs and is not something you can use for online shopping the way you could use a virtual credit card number from Chase.
If you want to know more about what Chase has to offer, here is the list of the cards they have:
| | | | |
| --- | --- | --- | --- |
| Type of Cards | Bonuses | Annual Fee | Earnings |
| CHASE FREEDOM UNLIMITED® | $200 bonus plus 5% gas station cashback offer | No | Earn 1.5% cash back on all other purchases |
| CHASE FREEDOM FLEX SM | $200 bonus plus 5% gas station cashback offer | No | Earn 5% cash back on rotating quarterly categories |
| CHASE SAPPHIRE PREFERRED® | Earn 60,000 bonus points | $95 Annual Fee | Earn 3X on dining and 2X on travel |
Skip the Hassles of Signing Up for Virtual Credit Cards With DoNotPay

Although a Chase virtual credit card is not possible, you don't have to go without it. DoNotPay offers a free virtual credit card that does not require you to deposit money. It also does not require you to fill out a lengthy application since approval is instant. No hassles and no headaches.
To take advantage of DoNotPay's virtual credit card, you need only to complete a few steps.
Login at DoNotPay Online
You can visit DoNotPay online or through an Easy-to-Use App. Account creation is easy and all transactions you make are 100% secure.
Locate Virtual Credit Cards
A simple search through the many services provided by DoNotPay will take you to the Virtual Credit Card product.
Request a Generated Virtual Credit Card Number
Click the section that says you want a virtual credit card number to be generated and input any information that may be required. One part is choosing whether you want it to be Visa or MasterCard.
Use Your Virtual Credit Card
Visit the website or service that you want to try out using your generated card number. It will have all valid information, including:
A 16-Digit Number
CVC Codes
An Expiration Date
A Name and Address (This Does Not Have to Be Your Own)
Use the Card for anything. It is your card for the time that it is available to use.
In a Few Minutes, the Card Number Will Be Erased
Since it is a virtual credit card, the card and all information attached will be deleted from the DoNotPay system within just a few minutes. You will have enough time to use it, and then it will be gone.
Where Can the DoNotPay's VCC Be Used?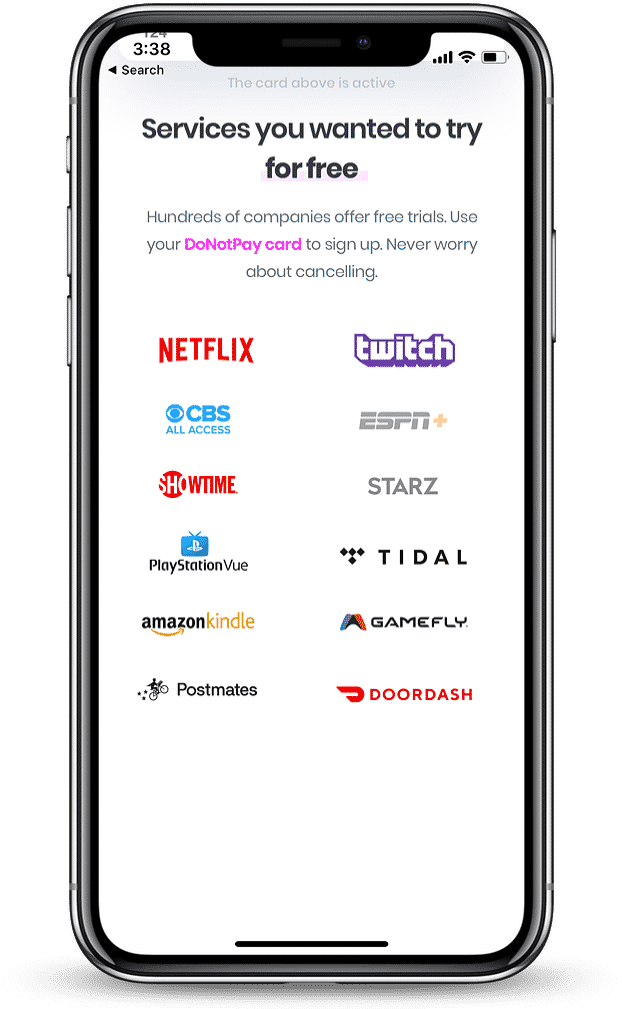 You can use the DoNotPay Virtual Credit Card with many companies you want to have a free trial with. This means you can use it for:
Beyond these services, you can also shop online without giving stores or other entities your banking or credit card. It is easy, fast, and safe, no matter what you plan to do with your temporary card.
Other DoNotPay Services That Are 100% Safe to Use
DoNotPay is an online robotic lawyer that is the first of its kind. Therefore, there is no real limit to the services that they can provide for you. Some of the most popular services offered include:
Not only does DoNotPay know the truth about the Chase virtual credit cards, but they can also provide other necessary information and services to all who visit us. DoNotPay can help you with them all. You simply have to visit online and browse our extensive selection of services.