Cancel All You Can Books the Easy Way
All You Can Books is a platform that gives you unlimited access to over 40,000 ebooks, audiobooks, and language courses. The website says that you can keep the material that you download during your free trial—which lasts for 30 days—even if you decide to cancel the service. 
After the free trial expires, you can use the platform on all major devices.
All You Can Books has plenty of negative reviews online, so it's no surprise that you want to cancel the service. With DoNotPay, you can terminate your subscription in the blink of an eye.
Use DoNotPay and Cancel All You Can Books in Just a Few Steps

DoNotPay is specialized in handling the processes you find boring and frustrating. Using the DoNotPay app for cancellation is easy and requires minimal time and effort. You can use our app to cancel any service in a few steps!
Here's how you can cancel All You Can Books with a few clicks:
Sign up for DoNotPay in your

web browser

Go to the

Find Hidden Money

tab

Enter

All You Can Books

in the text box and confirm
When you complete these steps, the rest of the work lies with DoNotPay, and you don't have to waste your time writing emails and making phone calls. 
You will be notified by the app as soon as the cancellation process is finished.
Among many other services, we can help you cancel:
How To Cancel All You Can Books on Your Own
To cancel the All You Can Books subscription, you can contact the company via phone, email, or its website.
| | |
| --- | --- |
| Can You Cancel Via | Yes/No |
| DoNotPay | Yes |
| Email | Yes |
| Phone | Yes |
| Company Website | Yes |
| Live Chat | No |
| Letter | No |
Cancel All You Can Books via Company Website
If you want to cancel your All You Can Books subscription through the company's website, follow these steps:
Go to the All You Can Books website

Go to the

Contact Us

page

Fill in the required fields

Explain that you want to cancel the subscription

Ask the representative for a confirmation email
Cancel All You Can Books via Email
The second way in which you can cancel the All You Can Books service is by sending an email directly to help@allyoucanbooks.com.
Cancel All You Can Books via Phone
If you want to talk to a company representative, dial +1 877-859-7527.
They are available 24/7—even on holidays. 
If you are having trouble getting in touch with customer support, DoNotPay can help you out. Our app is capable of waiting out the phone queues and redirecting the call to you when an agent answers. Check out how we handled Amazon's phone line.
Has All You Can Books Charged You After You Canceled Your Subscription?
Many customers have complaints about the All You Can Books service—from its book selection to its cancellation policy.
Most of the complaints are about customers being charged even after they cancel the subscription. Some customers also state that they were charged after the free trial ended, despite having canceled it on time.
No matter the cancellation method you decide to use, remember to ask for a confirmation email as proof in case you get charged after you cancel the service.
DoNotPay can help you monitor your subscriptions, and you can sue any company with our app in case they wrong you. 
Free Trial Expired? DoNotPay Protects You From Being Charged!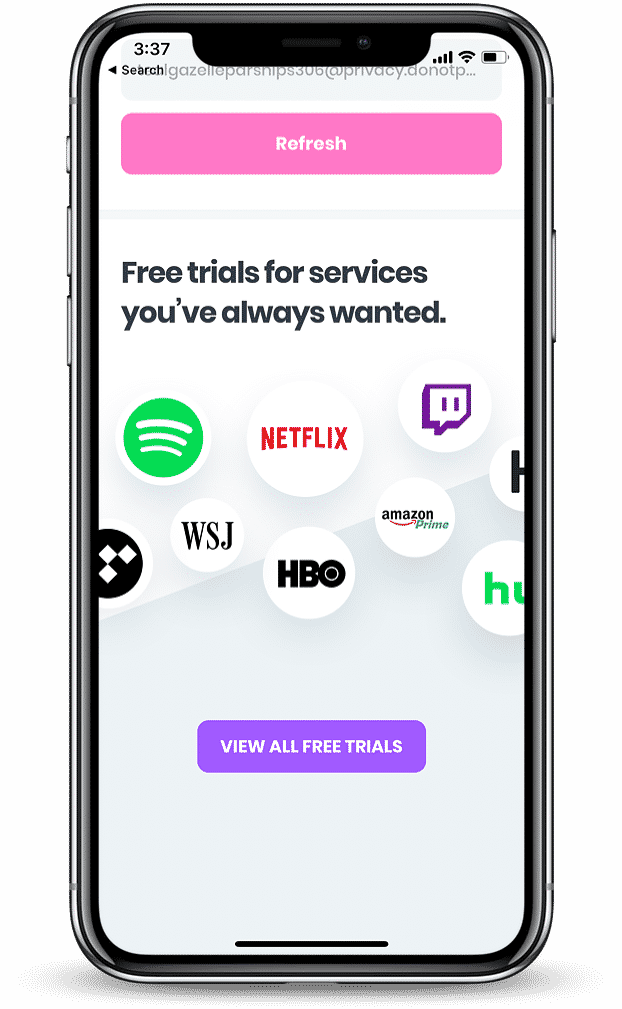 People often forget when their free trials expire, and they get charged for services they never actually used. This happened to some of the customers of All You Can Books.  
When you decide to subscribe and figure out whether you like the service or not, instead of using your real card, DoNotPay offers you the possibility to use our virtual credit card.
Most companies don't inform you that your free trial is about to end, and once it does, your card gets charged because the membership renews automatically.
DoNotPay's virtual credit card prevents this from happening. Since there are no funds on our virtual credit card, companies won't be able to charge you. Once they figure out that your virtual credit card has no money on it, they will unsubscribe you on their own, and you won't have to deal with anything.
We can also create a temporary email account that you can use to sign up for subscription services without the drawback of having your personal inbox cluttered by spam or promotions.
The advantages of using our app's virtual credit card are that it:
Gets approved on free trial pages

Stops subscription charges

Cancels unwanted subscriptions for you
If you opt for DoNotPay, you will be able to sign up for a myriad of free trials, including:
All You Can Books Wronged You? Sue Them!
In case All You Can Books charges you even after you cancel your subscription, our app can help you sue them and get the just treatment.
DoNotPay is known for being the world's first robot lawyer, and our service was approved by the American Bar Association's Louis M. Brown Award for Legal Access. 
To get our assistance, all you need to do is sign up for DoNotPay in any web browser. Rely on DoNotPay to assist you in dealing with paperwork and winning your case in small claims court.
DoNotPay Helps You Scam Scammers

DoNotPay helps you stay safe from scammers and fraudsters! 
We have developed a Virtual Credit Card product that helps you sign up for free trials without revealing your real banking information to any suspicious company. We've joined our most popular feature with a Burner Phone functionality that allows you to verify online accounts with a temporary phone number. 
That way, you'll be free to enjoy services while they're free of charge, eliminate the possibility of robocalls, robo texts, and spam emails from the shady companies, and forget about canceling the subscriptions altogether—our product does it for you!
DoNot Pay can even shield you from cyberstalking and online harassment and get you compensation for the crime you've suffered. We'll even help you take individuals or businesses to small claims court by drafting the relevant paperwork for you, accessing any public records that might bolster your case, and supplying you with a court script that you can read to the judge on the day of the hearing.
DoNotPay Is Helping You Out Left and Right
Not only can DoNotPay handle bureaucratic nuisances on your behalf, but we can make your daily life easier too!
No more waiting in endless phone queues to make a warranty claim for a faulty product or wasting the day away in mile-long DMV lines—our app will do the hard work for you! We'll call the reps of any company—even major airlines—and schedule appointments on your behalf in a matter of minutes!