How 'Bout Them Apple Shows—How To Sign Up for an Apple TV Free Trial
Apple TV is a line of media player programs developed by Apple. It can stream content from iTunes, Apple TV Channels, and Apple TV+.
Apple TV+ is an on-demand web television and video service that Apple TV users can sign up for. Users that aren't sure if they want to subscribe to Apple TV+can try the free trial option first. It's a great way to gauge the quality of the featured series and movies, without having to pay anything beforehand.
Does Apple TV+ Offer a Free Trial?

Yes, you can sign up for a free Apple TV+ trial before moving to the paid version of the subscription. First-time users can enjoy seven days of content for free.
How Do I Sign Up for the Apple TV+ Free Trial?
Signing up for the Apple TV+ Free Trial is pretty straightforward. Here's how you do it:
Visit the Apple website and navigate to the

TV+ page

Press the

Try it free

button below the

Free 7-day trial

option

Click on

Start Your Free Trial

and press continue on the pop-up window that appears

Sign in with your Apple ID or create a new one

Confirm your billing information, add a valid payment method, and submit
Complete the steps, and you can start using your seven-day Apple TV+ free trial.
Is There Another Way To Get a Free Trial for Apple TV+?
Customers that purchase an Apple device are given a free year of Apple TV+. The purchased device must be able to run the latest version of iOS, iPadOS, or macOS to be eligible for this trial.
The free trial isn't activated upon purchase automatically. The user has to sign up and redeem the offer to start using Apple TV+. The offer is available for up to 90 days after buying an Apple device. Once the 90 days are up, the trial stops being available. The year-long countdown starts only after you've signed up for the trial.
You can sign up for the one-year free trial on the Apple website. Use the following steps to do it:
Visit the Apple TV+ page

Press

Check Eligibility

under the

Buy an Apple device

option, located to the left of the

Free 7-day trial

option

Sign in to and open the Apple TV app

On eligible devices, you'll see an option to

Redeem your Apple TV+ promotion.

Click on it

If the option isn't available, press

Watch Now

and select

Apple TV+

after scrolling down

Tap the trial option and fill out your billing information when prompted
You can use the Family Sharing option to let up to five family members use your Apple TV+ trial. If you decide to cancel at any point, the service will immediately stop working, and you won't be able to sign up again.
Why Is Apple TV Making Me Pay When I Have a One Year Free Trial?
The Apple TV+ free trial can only be used to watch content from this particular service. If you try to watch a show that is featured on the iTunes Store or Apple TV Channels, you'll have to pay the regular cost for the content.
Students Can Get Apple TV+ for Free by Signing Up for Apple Music
If you're a young, avid fan of music and use Apple's music platform, you might be able to use Apple TV+ for free. College attendees in the U.S., Canada, and Japan that have an Apple Music subscription get Apple TV+ free of charge. Log in to your Apple account to see if you're eligible for this bundle.
These are the different ways you can try Apple TV+ for free:
Free Trial

How To Sign Up

Benefits

Regular 7-day free trial

Find the Free 7-day trial option on the Apple website

Straightforward sign-up process

Same features as the regular subscription

One-year free trial

Purchase an Apple device and redeem the promotion

Shareable subscription

Lasts a year

Free Apple TV+ for students

Sign up via Apple account

Lasts as long as the Apple Music subscription

Further discounts for Apple Music
Does the Free Trial for Apple TV+ Auto-Renew Into a Paid Subscription?

Yes, you'll be charged for a paid subscription right after the free trial ends. If you want to use the trial but not pay once it auto-renews, you should cancel it at least one day before it's due to end.
Many users forget to cancel their free trials and end up paying for a month of Apple TV+ by accident. If you cancel immediately without using the service and Contact Apple about the mistake, you might be eligible for a refund. Check Apple's refund policy to see if you can get your money back after canceling.
DoNotPay's Virtual Credit Card Keeps You Safe From Auto-Renewals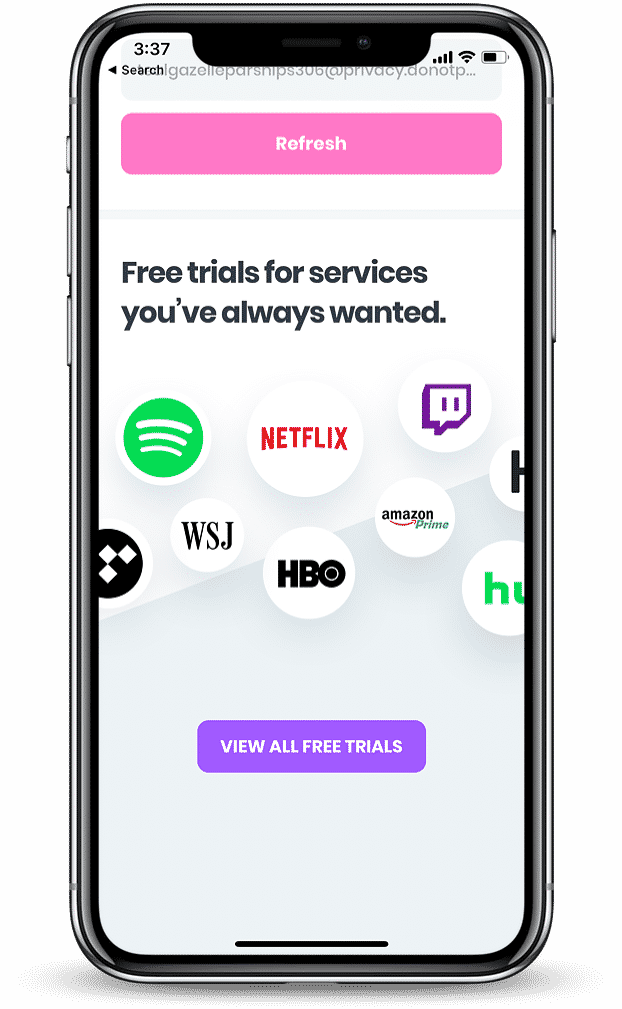 People often forget about the free trials they sign up for and end up paying for the subscription once it auto-renews. It's easy to miss a small charge every month, but the numbers add up quickly. One study showed that the average American spends more than $300 a year on subscriptions they don't use. It's money that could be better spent elsewhere.
DoNotPay offers a convenient solution—a virtual credit card. It's not difficult to set up and you don't have to pay a dime to use it. Here's how it works:
Our app

generates

a one-time credit card number

You use the number to sign up for a free trial

The free trial runs out, and you aren't charged because there are

no funds

on the

virtual credit card
Start using DoNotPay and its free virtual credit card after opening the app in your .
You can turn this into a new instant-approval virtual credit card whenever you want to try out a service that requires your credit card info. It helps you avoid charges and lets you sign up for trials stress-free.
How Much Does Apple TV+ Cost After the Free Trial Is Over?
After your free week is over, the Apple TV+ plan will cost $4.99 per month. If you enjoy other Apple services, you can purchase bundles that include Apple TV+, Arcade, iCloud storage, and Apple Music, which come with significant discounts for each service.
What Else Can DoNotPay Do for Me? Apple TV+ Trials Are Just the Start

Our handy robot lawyer app has quite a few tricks up its sleeve. We help our users streamline daily tasks and challenges that would otherwise take too much time. Think of DoNotPay as a personal bite-sized legal assistant that can make it easier to dispute parking tickets, sue people for harassment, and even lower your bills.
Want to brush up on your airline passenger rights? DoNotPay has all the information you need. When your flight is postponed, we can help you claim compensation for the delay.
To start using DoNotPay, open the app in your . Take a look at the list of tasks we simplify:
Disputing traffic tickets

Fighting speeding tickets