Browsing With Protection—Starting Your Kaspersky Free Trial
Kaspersky is an internet security company that offers protection from hacks, malware, phishing emails, and data leaks. It cooperates with other software companies and hardware vendors to optimize their protection. 
It's considered one of the more effective and trustworthy protection software companies, but that doesn't mean every user will be satisfied with the results. This is why the company offers free trials for most of its software. We'll show you how to sign up for the free trials and help you avoid being charged after they're over.
Kaspersky Free Trial Overview
Kaspersky offers a couple of different free trials for its internet security services. Here are some Kaspersky software pieces you can try out:
Anti-Virus

Internet Security

Total Security

Security Cloud
You can download a free trial of most Kaspersky programs. The trials generally last 30 days, but coupons and special promotions can give you even more time to use the software for free.
How To Get Kaspersky Protection for Android?
Android device users can sign up for Internet Security for Android for free, but the program provides limited protection from malware and other threats. 
The paid version of the program—Kaspersky Internet Security Premium for Android—offers better protection and guarantees a higher level of privacy. 
While the latter doesn't have an official free version, Kaspersky will occasionally offer promotions for the program. If you can get your hands on a promo code, you will be able to use Internet Security Premium for three months. It gives you all the benefits of buying the software, except for free technical support.
Is There a Kaspersky Antivirus Free Trial?
Yes and no. Kaspersky's basic antivirus kit is completely free. It's similar to Avast in the sense that you don't have to sign up, and you can get the most basic protections for no cost. The Kaspersky Rescue Disc feature is also free to use.
There's also a premium version of Kaspersky Antivirus that requires you to sign up and give your credit card information. 
How To Get a Kaspersky Internet Security Free Trial
Signing up for Kaspersky free trials is simple and straightforward. You can find download links for every program that Kaspersky offers on their home products page. Under every product, you'll see two options:
Buy Now

Free 30 Day Trial
The latter will take you to a page where you can download the installer and get your free version of the software. 
Here's how you sign up for a free trial:
Go to the

home products

page

Choose the

Kaspersky software

or package you wish to try out

Choose your region from a dropdown list when redirected to a new page

Press the

Download Now

button

Follow the installation wizard's instructions and choose where to download your free trial program
Does the Kaspersky Antivirus Free Trial Version Auto-Renew Into a Paid Subscription?

Yes, every Kaspersky license is extended automatically at the end of the trial. Kaspersky will send you an email before your subscription expires to notify you of the upcoming charge. 
Cancel two days before the end of the license period to avoid having your subscription renew. 
You can disable auto-renewal before you download the free trial version of the programs or protection suites. If you have auto-renew enabled, you can disable it at any point from your account settings. 
If you were unknowingly subscribed to Kaspersky after your free trial ran out, you can cancel the service within 14 days of the renewal and receive a full refund. 
How To Avoid Kaspersky Free Trial Auto-Renewal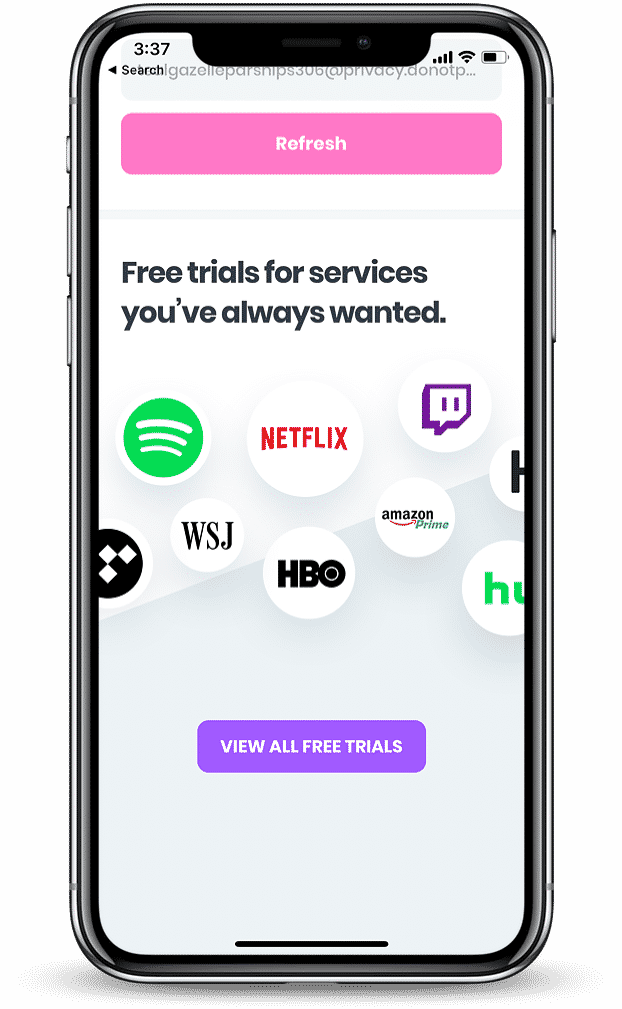 Kaspersky's auto-renewal isn't a unique feature. Most subscriptions today have free trials that renew into paid subscriptions. It's beneficial to businesses, as plenty of users forget about their subscription but continue being charged every month. Some companies make it difficult to cancel while subscribed, which only adds to customers' frustrations. 
DoNotPay offers a solution in the form of a virtual credit card that you can use to sign up for free trials. You can start using the virtual credit card after signing up for DoNotPay in your web browser. Here's how it works:
DoNotPay generates a random credit card number and info 

You enter the card's info when signing up for a free trial as if it were your own card

You can start using the service once the card gets accepted 
To a merchant, this card is indistinguishable from a real credit card. It has no funds, so it's not valid for any real transactions, but it can be used for free trials. When the free trial expires, you won't be charged because there are no funds available on the card, and you'll be unsubscribed automatically.
How Much Does Kaspersky Cost After the Trial Ends?
There are multiple Kaspersky packages and suites you can try out for free. If you're satisfied with your free trial, you might want to try out the paid versions. Kaspersky offers improved versions of the free trials' protective features. Here are some of the more popular Kaspersky protection suites and their prices:
Subscription

Pricing

Features

Kaspersky Internet Security

One device for one year—$44.99

One device for two years—$62.24

Three devices for one year—$59.99

Three devices for two years—$89.99

Five devices for one year—$74.99

Five devices for two years—$112.49

Internet banking protection

Privacy protection

Kaspersky Total Security

One device for one year—$59.99

One device for two years—$82.49

Three devices for one year—$74.99

Three devices for two years—$104.99

Five devices for one year—$112.49

Five devices for two years—$172.49

Digital protection for kids

Safe & simple access to passwords on devices

Data protection and safe storage

Kaspersky Security Cloud

Three devices for one year—$71.99

Three devices for two years—$122.39

Five devices for one year—$79.99

Five devices for two years—$135.99

Advanced privacy tools

Data leak protection

Cloud-based security for phone optimization
Let DoNotPay Handle Your Day-To-Day Issues

Signing up for free trials charge-free is just one of the tasks DoNotPay simplifies. Our handy robot lawyer app can help you with a wide variety of daily tasks and challenges. Ever thought about disputing a parking ticket? Most people don't know where to start, which is why DoNotPay exists to step in and streamline the process. When you want to claim compensation for a delayed flight, our app will show you how to do it. We help our users with everything from mundane challenges, such as lowering their bills, to suing their stalkers.
To explore all the different features of DoNotPay, open it in your web browser. Take a look at a list of tasks our robot lawyer app simplifies:
Fighting speeding tickets

Disputing traffic tickets