Can I Send Stamps to an Inmate?
As if having a loved one in jail isn't difficult enough, keeping in touch with them can be challenging as well. Writing letters is one of the most popular ways to be in contact with someone in jail, although people may find it difficult to address the letters properly and abide by all inmate mail rules and regulations.
Those rules are different depending on the state, type of prison (e.g., federal or state), and correctional facility. This is why the question, "Can I send stamps to an inmate?" doesn't have only one answer.
We'll shed some light on how inmates can get a hold of stamps and how their friends and family can help them.
Do Inmates Have Stamps in Jail?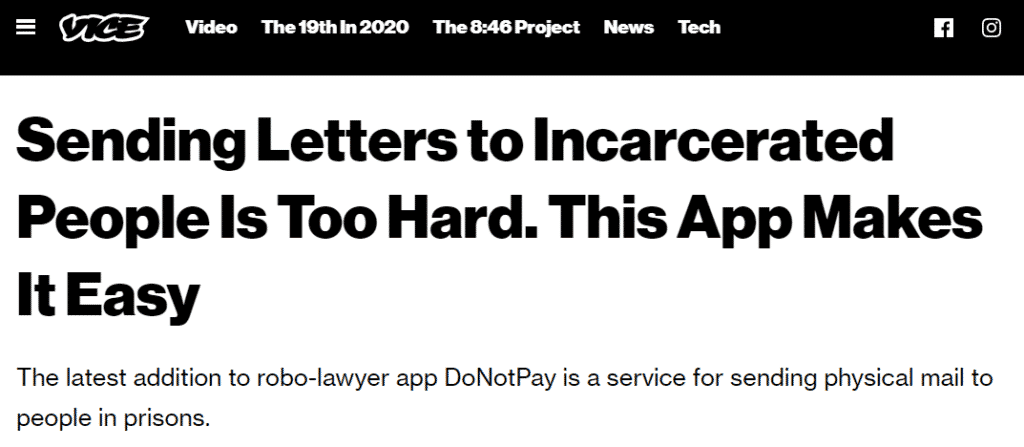 For an inmate to be able to write and send letters to their friends, pen pals, or family members, they need to have paper, pens, envelopes, and stamps—all the necessary writing supplies.
Most prisons provide inmates with stationery so that they could send one to two letters a week. If a prisoner wants to send letters more often, they need to bear the cost of stamps and other essential items.
Ways of Sending Stamps to Prisoners
Before sending stamps to an inmate, you should check whether their correctional facility allows mailing stamps and if there are any restrictions.
Here are some common guidelines. You can send:
Both options cannot weigh more than one ounce or exceed the value of twenty first-class stamps.
Whether you send stamps to an inmate in an envelope or an inmate package, the most important part is addressing it properly.
Check out what you need to write on the envelope or package label:
The Center
The Top Left Corner

The inmate's first and last name and their Inmate ID number

The correctional facility's full address

City, state, and ZIP code

The sender's first and last name

The sender's address

City, state, and ZIP code
How Do Inmates Get Stamps?
Stamps could be considered contraband in some jurisdictions, such as Washington and New Hampshire. There were many reports on drug smuggling in envelopes and under postage stamps, which is why some prisons don't accept mailed stamps.
The prison staff check every inmate letter and package, and if they find any contraband, it will be confiscated, thrown away, or returned to the sender.
Aside from the stamps inmates get for the one or two free letters a week, how can they get more stamps?
Prisoners can buy stamps at the prison commissary. This is a shop inside a prison that sells coffee, snacks, hygiene items, and writing supplies. Prisons usually allow inmates to go to the commissary once a week or once every two weeks.
Inmates have a commissary account that acts like a bank account, and they use funds from it to purchase items.
Family and friends can send inmates money in different ways, depending on what the correctional facility allows. The most common method is sending funds via MoneyGram or Western Union.
Things You Can Send to Inmates
An inmate package or letter doesn't always have to contain something they need. Besides stamps, you can send gifts or care packages to a prisoner to make them feel loved and supported. Don't forget to follow these rules even when you come up with creative mail ideas for inmates:
Items You Can Send to Inmates
Items You Cannot Send to Inmates

Letters

Photos

Postcards

Greeting cards

Magazine clippings

Newspaper snippets

Clothes for court appearances

Pens

Drugs

Jewelry

Weapons

Cigarettes

Cosmetics

Hardback books

Any items with illegal, violent, or sexual content

Letters with perfume, stickers, glitter, or paper clips
Writing to Inmates Is Easy With DoNotPay

One of the ways to contact an inmate is to send letters. The prison staff inspects the letters before they reach inmates, but there's still something special and personal about the written word.
DoNotPay streamlines the process of writing, sending, and receiving inmate letters. Before we let you in on our AI-powered system, you may need to find an inmate to write to.
Locate an Inmate Quickly Using DoNotPay
Your incarcerated loved one may have been transferred, or you might have lost their address. This is where DoNotPay comes in. With a few simple steps, we'll help you find them.
Open DoNotPay in your and do the following:
Select

Connect With an Inmate

Click on

Locate Someone

Enter the inmate's full name and the state they are in

Answer a few more questions

Tap on

Submit
Send Inmate Letters via DoNotPay
How does sending letters with DoNotPay work? You type out your letter on our website, we print it out, and send it to your incarcerated loved one. This way, all you have to focus on is the content of your letter.
Using DoNotPay to send letters to prison comes with more benefits, such as:
DoNotPay is convenient to use with only a few simple steps to follow before we mail your letter. Open DoNotPay in a , select the Connect With an Inmate feature, and take these steps:
Click on

Send a Personalized Letter

Type in the prisoner's name

Enter their Inmate ID or Booking Number

Compose your letter and add a picture if you wish
Receive Letters From Inmates via DoNotPay
Thanks to DoNotPay's Virtual Mailbox, you won't have to dig through your mail to find your incarcerated loved one's letter. We know a better way:
The inmate sends a letter to our address

We digitize it and upload it to your Virtual Mailbox

You get a notification and can access the letter immediately
Other Ways To Contact a Prisoner
Writing to a prisoner is a great way to keep in touch. Studies have shown that inmates who kept close contact with their loved ones had better chances of adapting to life upon release, as well as fewer chances of reoffending. Here are more ways you can contact a prisoner and show them you're there for them:
Resolve Other Issues With DoNotPay's Help

DoNotPay can answer more of your prison-related questions. You may want to know more about prison marriage, federal inmate phone calls, marrying an inmate in county jail, or sending magazines to inmates through Amazon.
That's not all we can do for you. We understand how difficult it is to have a loved one in jail and provide for them. On top of everything, you might have to worry about dealing with bills. Don't despair—we can offer you some solutions for managing your water, electric, or medical bills.
Visit DoNotPay in your , and we'll also help you: