A Guide to Sending Gifts for Prisoners the Easy Way
Sending gifts to someone in prison is a bittersweet task, as you need to find a way for your sign of affection to reach your loved one behind bars. Faced with numerous restrictions and regulations, you might get confused, especially if this is the first time you are in such a situation.
We will clarify the process of sending a gift to your friend, family member, or a prison pen pal you met on websites such as Love a Prisoner or Meet-an-Inmate.
Do I Send or Bring a Gift to an Inmate Directly?

You should know that you will never be allowed to send a gift yourself or bring it to the facility during inmate visitation hours.
The jail authorities allow only the parcels that were sent by an approved third-party seller/provider. This implies that you need to place an order with the merchant and send it to the facility where your loved one serves their sentence.
To make sure that your sign of affection gets delivered, find out the inmate's ID number, as you will need to state it as a part of the delivery address. It's a special code that every inmate gets once they arrive at a particular correctional institution. You also need to include it when addressing and writing letters to inmates.
What Can You Send to an Inmate as a Present?
Prison rules and regulations regarding mail and packages depend on the state and the particular facility. Some prisons have more lenient rules, while the institutions where convicts who committed serious crimes are held have stricter regulations.
The table below shows a brief review of the physical items you can or cannot send as a gift to your incarcerated friend or family member:
Items You Can Send as a Gift
Exceptions and Prohibited Items

Drawings

Musical instruments

Clothes and footwear

Certain kinds of jewelry

Most types of photographs

Watches and watch bands

Food and drink care packages

Cosmetics and hygienic products

Sheets, bedspread, and coverlets

Most books, magazines, and newspapers

Arts & crafts tools—pens, pencils, colors, brushes, stationery, sketchbooks, etc.

Items made of metal

Items containing codes or symbols

Publications or letters that involve escape plan insinuations

Books, magazines, and newspapers with explicit content

Jewelry with sharp edges that might be used to attack and hurt a person
If you aren't sure whether a certain facility will accept the item you would like to send, you can phone or the authorities and inquire about it.
Can I Send Money to an Inmate as a Gift and How?
Attempts to send cash or checks within a package or give them to the inmate during the visitation hours are strictly prohibited.
You can deposit a certain amount of money into their commissary account. This allows them to make purchases in prison canteens and within the facility, but also to contact you, as they can make calls using those funds.
There are several ways you can deposit cash into the inmate's trust account. We present the most popular methods in the table below:
Service
Instructions
Processing Time

Log in to your WU account

Choose the

Pay inmate

option

Enter the required details

Choose the payment method

Wait for a confirmation email

Up to four hours

Log in to your JPay account

Select

Send Money

within the

Navigation

bar

Select a transfer category and click on

Continue

Choose the desired payment method

Enter the necessary card details and the amount you want to deposit

Check the provided info and submit the payment

Up to two working days

Log in to your MoneyGram account

Choose the

Pay Bills

tab

Type the name of the facility

Enter the amount you want to deposit

Complete the rest of the form

Click on

Review and Send

Ten minutes

Log in to your Access Corrections account

Choose the

Send Money

tab

Select the state and the particular facility

Fill out the rest of the required fields

Submit the payment

Up to five working days
What Are Inmate Care Packages and How Can I Send One?
Inmate care packages are specific parcels provided by third-party sellers that contain various types of goods such as food, clothes, footwear, cosmetics, and other necessities for inmates.
You can order them as gifts from any approved distributor, but before you place an order, check which sellers cover the particular facility. Most prisons prescribe a limit of parcels per quarter.
Some of the most popular U.S. companies that send care packages and prisoner gifts to inmates are:
The procedure is similar to placing an order for yourself—the only difference is that you need to add a prisoner ID number next to the name of the inmate on the envelope. Use the physical address of the prison and make sure not to make any spelling mistakes, as a single one might be enough for the gift to be returned.
Will Anyone Open the Gift Before It Reaches the Recipient?
As per general safety regulations, every item mailed to a particular prisoner needs to go through a security check. This means that the jail officials must open the parcel and inspect its contents before they let your loved one have it. The procedure includes scanning, metal detector checks, etc.
Under no circumstances should you try to smuggle forbidden items to prison. If the officials discover such an attempt, you may receive a permanent ban on visiting and sending packages, and the prisoner may face additional restrictions.
Top Your Gift With a Letter Using DoNotPay

Would you like to add a special touch to your gift with a heart-warming message? DoNotPay helps you create a personalized message for your incarcerated loved one.
All you need to do is:
Open DoNotPay in any

Select

Connect With an Inmate

and choose the

Send a Personalized Letter

option

Provide the necessary information about the inmate

Type your message in the required field or choose one of our templates
Our app sends your letter to the chosen facility in printed form quickly. You can also attach a digital photo to the message if you feel like, provided that it's in accordance with the rules of the prison.
Make sure you choose whether you want to receive responses from the inmate by selecting Allow Replies or Don't Allow Replies. DoNotPay has created the section named Virtual Mailbox that enables you to get digitized replies to your letters. This is how it works:
The inmate writes a letter and sends it to our address

DoNotPay turns it into a digital message

A ready-to-read digital message appears in your

Virtual Mailbox
How To Track Down an Inmate With DoNotPay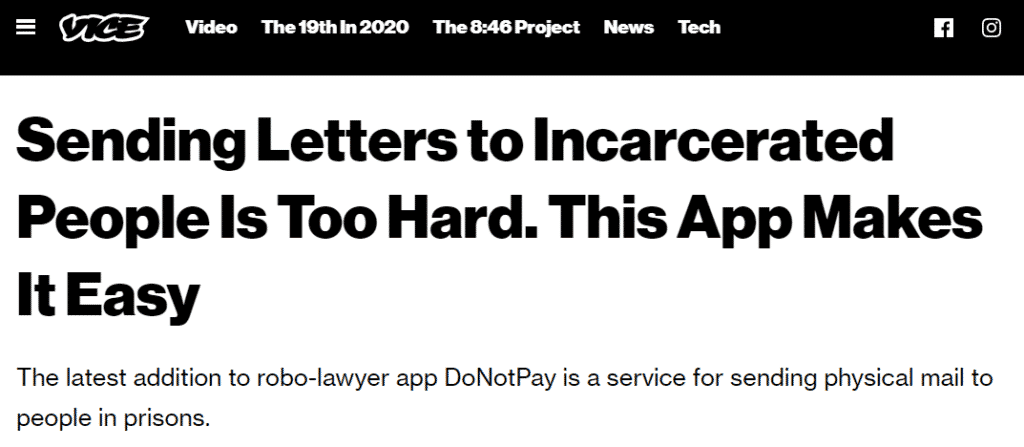 Whether you want to write to a prisoner or send them a package, it's important to know where they are being held. If you have any doubts regarding the exact whereabouts, you can locate them with DoNotPay in the following way:
Open DoNotPay

Select

Connect With an Inmate

and choose

Locate Someone

Type the inmate's full name and the state where they are imprisoned
Upon completing these steps, you will get the exact location of the prisoner, and then you will be able to continue with your mailing plans.
More Difficult Situations? DoNotPay is Coming Your Way

Apart from teaching you how to deal with inmate mail rules and regulations, DoNotPay can also help you with numerous other issues. These include inmate calling services, writing creative letters to prisoners, sending care packages all around the USA, and other methods of contacting inmates.
Have you changed your mind, and you wish to request a refund from MoneyGram or WesternUnion? We do it for you! Our learning base also offers answers to other questions, such as whether you can go to jail for chargebacks, what qualifies as a harassment charge or what the penalties for this kind of crime are in New Your and other U.S. states.
Take advantage of our practical advice by accessing DoNotPay from your . Our app can assist you with:
Fighting speeding tickets

Disputing traffic tickets