Write the Perfect Letter Using Our Sample Letters of Encouragement to Inmates
Don't know how to contact an inmate or how to address a letter to them? No need to bite your nails—DoNotPay has a platform for writing letters to inmates that is simple to use and provides all the answers you need.
You need to send your love and support to an imprisoned loved one? Our awesome feature enables you to write any prisoner in a few simple steps.
Why Should You Write
Letters of Encouragement for Prisoners
?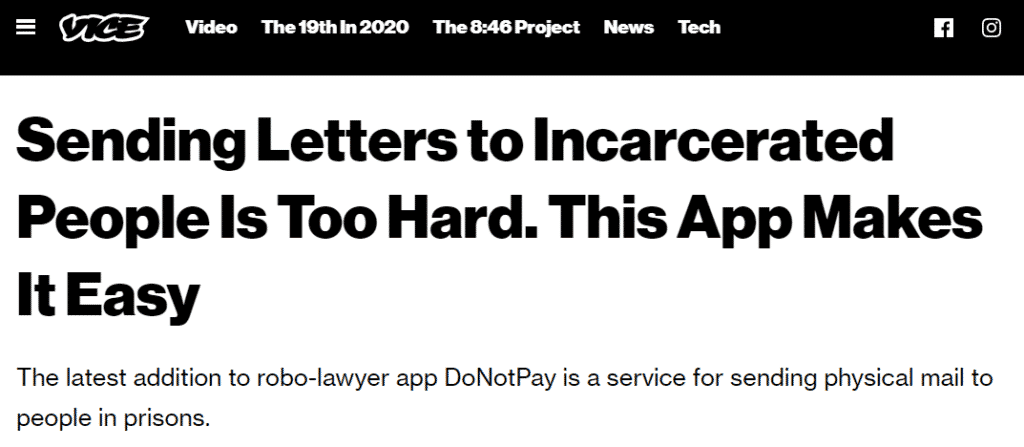 Prison life is difficult—inmates deal with loneliness, isolation, cruelty, coldheartedness, and self-doubt. Prisoners face daily challenges that people who have never been incarcerated can't understand.
No matter what crimes they committed, they are still human beings who deserve some hope and encouragement. This is why some people meet inmates to be their prison pen pals—they believe that anyone can change.
By writing encouraging letters to inmates, you can:
Lift their spirits

Help them find faith

Give them hope

Make them feel less lonely

Help them survive

Give them something to look forward to

Let them know that they're still loved

Make them try harder to be rehabilitated
The majority of the prisoners who had contact with their loved ones stated that it was the light at the end of a tunnel for them. Some of them even said that they wanted to change their ways, and they eventually did.
What To Say in
Letters of Encouragement for Prisoners
Be honest about your inmate's situation—they know that they're incarcerated, so denying it will be awkward for both of you. What you shouldn't do, though, is to be too inquisitive about why they're in prison—let them open up on their terms. When writing a letter that should radiate your support and encouragement, be sure to include some of these:
Anecdotes/Funny stories

—You may describe an event from your personal life or include something you heard from your friends
Inspirational quotes—

Any inspirational quote will do because prisoners tend to lose their sense of self-worth. Make their day with some of

these quotes for inmates
Religious quotes

—If your friend, pen pal, or family friend is religious, you can consider sending them passages from the Bible. You can even send them the whole book if it doesn't have hardcovers
Word games—

Word games can keep your inmate entertained and eager to receive another letter from you. Keep in mind that any kind of coded messages won't be approved, and the prison will return the letter
Love quotes—

Sending love letters to your partner in prison is tricky because any explicit content will be returned. Don't put perfume or kiss the letter because it may increase the prisoner's frustration. You can write about your longing and say that you'll wait for them when they are released. This might motivate them to keep going
Here are some general guidelines for what tone you should set in your letters:
What You Should Sound Like
What You Shouldn't Sound Like

Optimistic

Honest

Hopeful

Understanding

Patient

Judgemental

Pessimistic

Pushy

Desperate

Impatient
Check Out This
Sample Letter of Encouragement for
an
Inmate
This is an example of an encouragement letter for a family member:
[Your name]
[Your address]
[Your phone number]
[Name of the recipient]
[Inmate ID]
[Prisoner unit]
[Address of the correctional facility]
Dear [insert name here]
We hope you are well and that you're holding up. We're sure that life in there gets you down sometimes, but you're strong, and you can do this! Here's a beautiful quote I found the other day: "The four walls that surround you can never take away your freedom. Freedom lies inside every man and woman, regardless of their position in this world."
We are with you every step of the way!
Love [insert your name here]
XOXO
What Not To Include in an Encouragement Letter When
Writing to Someone in Prison
There are strict inmate mail rules and regulations on what you can and can't write in letters to inmates. Your letter will be checked upon its reception by the prison officials.
Some of the forbidden content is:
Confetti and glitter

Cash and gift certificates

Explicit or sexual photos

Embellished gift cards

Perfumed letters
DoNotPay Can Help You Send a
Letter to a Loved One in Prison

When sending letters to inmates, one small mistake can mean that your letter won't reach its destination. If you use an inadequate envelope, make a spelling mistake, forget the inmate ID, or write down the wrong unit number, you'll get your letter back with the "Return to sender" stamp.
There's also the queuing-at-the-post-office nightmare that makes you reconsider performing this noble act.
Don't give up just yet! We have a solution for you that doesn't involve leaving your house. You can use our platform to send letters to your loved ones or pen pals in prison. DoNotPay has the Connect With an Inmate feature that enables you to:
Send an encouraging letter to an inmate

Find your loved one if you don't know which facility they're in

Receive their response in a digitized form via Virtual Mailbox
The best part is that we don't require detailed information about your inmate—prisoner ID, birthday, or location—if you don't have it. We can help even if you provide nothing but the inmate's full name.
Create an account by opening DoNotPay in any and start writing now!
How To Send a Letter of Encouragement to a Prisoner With DoNotPay's Assistance
After you sign in to your DoNotPay account, follow these instructions to send your letter:
Find the

Connect With an Inmate

feature

Choose the

Send a Personalized Letter

option

Enter the required information

Inform us of the prisoner's unit (if you don't know this, skip this step)

Write the letter
After you hit enter, you'll be able to upload a photo and change the style of your letter. We will also offer you to opt for our Virtual Mailbox feature that enables you to receive a response from the inmate through DoNotPay.
Find Your Friend, Family Member, or Pen Pal With the Help of DoNotPay
DoNotPay's search tool enables you to locate your loved ones in all the correctional facilities—federal, state, county, and ICE detention centers. To locate your inmate, open DoNotPay in your , and follow these five simple steps:
Open the

Connect With an Inmate

feature

Select

Locate Someone

Enter the inmate's full name and the state they're in

Provide some additional information (if you have none, skip this step)

Click on

Proceed
DoNotPay Helps You Maintain Your Relationship With the Virtual Mailbox
DoNotPay's Virtual Mailbox makes receiving letters significantly easier and safer. Letters can get lost in the whole delivery process, but they can't disappear if they're in a digitized form.
You will receive your loved one's response letters in your Virtual Mailbox once they're digitized.
DoNotPay Can Help With Various Everyday Issues and Chores—See What We Offer

DoNotPay's purpose is to help out people who can't manage legal and administrative issues on their own. We can solve a variety of other issues you might have when it comes to contacting inmates, such as how to send them books, pictures, and iCare packages or how to call them through the most popular service providers like Securus, ICSolutions, or GTL.
When you open DoNotPay in your , you'll find various other features we can assist you with, such as:
Disputing traffic citations

Fighting speeding tickets