How To Use Meet-An-Inmate Dating App and Get New Prisoner Pen Pals
Inmate love stories might sound like a movie scenario, but such cases are surprisingly common both in the USA and worldwide.
According to the statistical data shown in The New York Times, prison relationships and marriages have flourished since New York State authorities decided to allow them in 1989.
The phenomenon of non-incarcerated people falling in love with prisoners and deciding to date them keeps arousing the interest of many experts and raises numerous questions.
Meet-An-Inmate is one of the most famous prisoner dating apps established in 1998. As this service is still popular nowadays, we share our best tips for getting in touch with its users and finding your significant other on such platforms. This article might also be useful if you want to start to write letters to inmates for any reason, such as finding pen pals or making new friends.
Relationships Between Inmates and Other People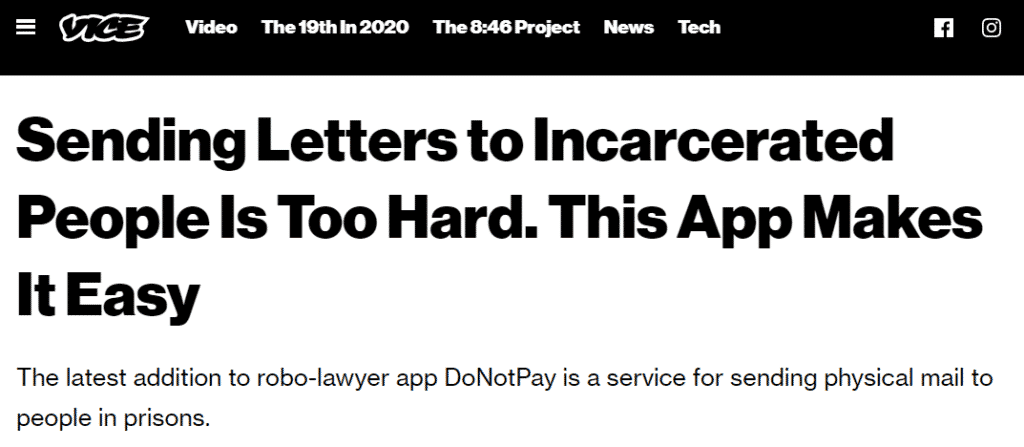 Some of the most frequent types of prison romances include:
The relationships between inmates and prison workers such as guards

The relationships between inmates and prison nurses, psychologists, and other medical workers that have contact with prisoners
Many more cases include people who have never made a single offense and who live their lives outside the prison walls but choose to date inmates.
These people mostly get in touch with prisoners via specific pen-pal apps or platforms. The reasons for contacting an inmate may vary—these might be curiosity, compassion, or desire for unconventional and exciting relationships. After some time, non-incarcerated persons might start calling, texting, or visiting inmates and develop deeper relationships with them.
How Does Meet-An-Inmate Function?
This website functions as any other dating app. Inmates can communicate with their potential future partners, but also with some new friends. The only difference is that the contact methods aren't as flexible as on traditional dating apps.
Sending and receiving emails is usually prohibited in prisons, but nowadays, you can use special electronic mail services such as JPay to write to a prisoner. This is one of the platforms that enable Meet-An-Inmate users to answer the digital letters they receive.
Here's what the procedure of finding an inmate pen pal and getting in touch with them via this platform looks like:
Go to the official Meet-An-Inmate website

Go through the available inmate profile databases

Read more about the people, check out their interests, and choose those who seem the most compatible with you

Send them a digital or physical letter—if everything goes well, they will respond soon, and your correspondence can go on
There are two ways to send letters to users that caught your attention:
To the prison

Via an email service
The method you must use depends on the information provided by the user, as both may not be available on their profile. You also need to include their prison ID to your letter regardless of whether it will be a digital or a physical one.
Let DoNotPay Help You Exchange Letters With Your Prison Pen Pals

If you have an exact address of the prison where your pen pal is, DoNotPay can help you send them a printed version of your digital letter.
Our app gives you a chance to compose a personalized message online, and we forward it to the desired recipient on your behalf, so you don't have to address it manually. Some special features include amazing templates perfect for wishing your inmate pen pals happy holidays or birthdays.
To compose a special letter for your incarcerated loved one, follow these instructions:
Create a profile on DoNotPay using your

Type

Connect With an Inmate

in the search box on your profile page and click on

Send a Personalized Letter

Provide the necessary details, including the name of the inmate, the prison, and the inmate ID number

Write a message in the specified field

Feel free to add photographs or attachments that don't violate the specific jail rules

Choose a template for your letter (optional)
After all the steps are completed, DoNotPay takes care of the rest and ensures the letter is sent right away.
You can also select the Allow Replies option to enable the person to answer your letters. If you do so, the following will happen:
The prisoner will write a response and send it to us

We will turn it into a digital letter

We will send it to your

Virtual Mailbox
Using this feature, you will be able to access all the responses you get with a few clicks and keep the communication going.
What Are the Main Benefits of the Meet-An-Inmate Platform?
Meet-An-Inmate offers various inmate profiles and numerous benefits. Here are some of them:
The number of prisoners you can contact isn't limited

The signup is free. The inmates pay if they want to remain listed on the website
The profiles contain all basic information about inmates, including their race, height, hobbies, religion, and occupation

The possibility of searching the whole database by age, state, or the order in which they joined the platform is available to everyone

The platform advocates positive vibes and respectful relationships, presenting prisoners as ordinary people who have their hopes, interests, and worldviews regardless of their ethnicity or the crimes they have committed
Are There Any Similar Services I Could Try?
The number of prisoner dating sites and apps might shock you, as well as their vast databases of versatile profiles. Here's a short list of the most popular alternatives to Meet-An-Inmate along with their prominent features:
Website/App
Benefits

Advanced research mode available

Incarceration reason provided on users' profiles

Employment profiles available

Possibility of helping the inmates with their housing or educational costs after they get out of jail

Featured profiles available

Super detailed account descriptions

Women only

The membership is free

The prisoners don't get charged
How Can DoNotPay Help You Locate an Inmate?
DoNotPay also offers an outstanding inmate locator, thanks to which you can find the most accurate address of any prisoner. The search system we created will make browsing much easier as it requires only two pieces of information.
Here's what you should do to locate a prisoner using DoNotPay:
Open DoNotPay and find

Connect With an Inmate

Go to

Locate Someone

Enter the full name of the inmate and the state
Not only is this a quick method, but it's also the most efficient one, as you won't have to waste your time searching through every prison's records. We will provide a precise location or narrow down the search significantly.
What Else Can DoNotPay Do?

Do you need more tips for sending books, magazines, and other gifts to prisoners? We have your back! You can also explore inmate calling services from providers such as Securus or ICSolutions and find out more about inmate packages and prison mail rules and regulations.
Apart from inmate-related services, our app has much more to give since it keeps developing new features.
You can access our amazing knowledge base from any and take advantage of our tips related to:
Fighting speeding tickets

Disputing traffic tickets