American Heart Association Robocalls—How Do Robocallers Take Advantage of the AHA Members
Did you know that Americans received a whopping 58.5 billion robocalls in 2019, according to USA Today? The number of persistent calls is increasing by the day, and although some of them can be useful, others pose a great risk to your safety.
Not only are these calls annoying, but they are also costing U.S. citizens a lot of money, scamming them out of billions of dollars per year. Illegal robocalls pretend to represent a company and try to steal their targets' personal and financial information.
Lots of well-known organizations, such as the American Heart Association (AHA), are having issues with robocall scams. Fraudsters are trying to trick the AHA members by convincing them they are the organization's representatives. If you are familiar with American Heart Association robocalls, read on to see how they work and which pretext the AHA scammers use to trick people.
How Do Robocalls Operate?
Robocalls are automated calls that deliver pre-recorded messages. In pre-internet days, phone calls were transmitted over a landline, but now, with a few clicks on the computer, robocallers can autodial tens of thousands of calls simultaneously!
People stopped answering their phones at some point and started using blocking apps to keep the robocalls at bay. That made it difficult for robocallers to get through. So, their solution was to make call after call and try to reach as many people as possible.
Their process of reaching a great number of people consists of a few steps. Robocallers:
Record the message they want to deliver

Obtain leads lists

Find a phone provider

Transfer phone numbers from lists into a computer software

Send thousands of messages in a short time and wait for a callback
If you are dealing with scammers, once you dial back, you will talk to a real person who tries to talk you into giving them your personal and financial details.
If you think that buying targets' phone numbers is challenging for robocallers—you are wrong. If they don't succeed in acquiring numbers from legitimate brokers, they will turn to shady operators, and soon have the lists in their hands for just a few thousands of dollars. Even robocallers in a country overseas can legally buy U.S. phone numbers.
To protect people from scammers and a vast number of calls, the Federal Trade Commission (FTC), the Federal Communications Commission (FCC) don't allow organizations to make a call unless they meet some requirements, such as:
Making calls before 8 a.m. and after 9 p.m.

Providing proper identification

Not placing telemarketing calls to numbers which are on the National Do Not Call Registry

Giving the customer an option to have their number taken of the company's calling list
What Is the American Heart Association?
The AHA is a non-profit health organization in the U.S. that is dedicated to reducing heart diseases and strokes. It consists of 51 independently incorporated affiliates with 2200 divisions. The AHA is considered the most trusted source of information on cardiovascular disease and stroke in the world.
The AHA's life-saving mission has helped lots of people improve their health. To accomplish their goals, the organization strives to provide their members, as well as the public in general, with reliable information.
In the last few years, fraudsters started reaching out to the AHA members, which made people start distrusting the AHA. The fake robocallers also started asking for people's sensitive info, which caused the targets to worry about their safety. Let's learn more about these scammers and how you can protect yourself from them.
American Heart Association Robocall Scam
The AHA distributes information via phone and email, and it can sometimes contact you through its LinkedIn Recruiter tool too. This Association routinely contacts its applicants by these channels, but it will never ask for your personal information such as your account password, Social Security number, or personal identification number (PIN).
While the organization is doing its best to help as many people as possible educate themselves on heart diseases and healthy living, scam robocalls have thrown confusion among the members.
Scammers are trying to take advantage of the organization's good communication with its clients. Their goal is to use the trust that members have in the AHA to their own ends.
How Do American Heart Association Robocall Scammers Work?
Although scammers have lots of creative ways to scam you out of your money, they have a similar approach for all organizations, including the AHA.
The message they send to the association's members is fake but compelling enough to make people believe it. Fraudsters target everyone but will try to push a free medical alert system to older adults in particular. If they reach out to you, they'll say that you:
Are eligible for a medical alert system

Satisfy conditions for a system upgrade

Will receive it as a gift from a family member or a friend
The message will ask you to press a key on your phone if you want to talk to a live operator who will provide more information.
If you believe the story and press the key, you will soon hear a real person's voice on the other end. The operator will try to con you into sharing your sensitive information to get the process started.
If these robocallers get a hold of your credit card number, they will use it for identity theft or withdrawing money from your bank account.
What Makes American Heart Association Robocalls Illegal?
If you learn to recognize illegal robocalls, you will never fall into their trap. Scammers use their creative ways to get a hold of your sensitive info.
What you need to remember is that the association representatives aren't allowed to call you and ask for your personal and financial information. No legitimate organization will ever ask for your bank details or your Social Security number over the phone.
DoNotPay Can Help You Get Back at Scammers

DoNotPay has been helping people manage their bills and cope with credit card issues for years. The great news is that now you can rely on our app in case you want to sue robocalls in small claims court.
Just because fraudsters managed to extract information from you, it doesn't mean that you should despair. DoNotPay offers the Robo Revenge option, which has done an incredible job fighting these pests. With this new feature to our app, not only can you put some money in your pocket for a change, but also stop these annoying robocalls once and for all!
Robo Revenge can help you sue robocall scammers for up to $3,000. It doesn't take much to complete the whole process as it takes only a few steps:
Log into DoNotPay via the

Tap on Robo Revenge option

Get a free DoNotPay

free virtual credit card

Provide scammers with

virtual credit card number

instead of your real credit card number

Let Robo Revenge access the fraudsters' names and location as soon as they attempt to withdraw your funds

File

a

robocall lawsuit

with the the scammers' details we provide
Your virtual credit card is not attached to your personal credit card, which means that fraudsters will have no access to your funds, and it is impossible for them to take your money.
Robocallers know that they have committed a felony, and they will try not to take the whole to court. They will usually offer an out-of-court settlement, and you will get lots of money in compensation.
How Else Can You Protect Yourself from Robocalls?

Although DoNotPay's Robo Revenge is unique in its battle against robocalls, there are still a few other steps you can take to protect yourself from receiving the calls.
Do not pick up the phone

Do not provide unknown callers with your personal and financial details

Put your number on the National Do Not Call Database
Do Not Pick Up the Phone
Some people are so sick of these calls that they have decided to mess with scammers, but you shouldn't do this. Although it can be satisfying for a few minutes, talking to fraudsters can still pose a great risk. In some instances, they will not ask for your personal information but will record your voice, which later they can use to authorize some charges over the phone.
If you receive an unsolicited call from a phone number you don't recognize, let it go straight to voicemail. Saying Yes is a big No in the conversations with scammers.
Do Not Provide Unknown Callers With Your Personal and Financial Details
To get a hold of your personal and financial information, scammers will try to conceal their identities by claiming they are AHA representatives.
Once you answer a scam call, you will hear a pre-recorded message or be patched with a con-artist. In either case, they will try to lure you into giving your bank account numbers through elaborate deception.
Remember that the AHA will never ask you for personal or financial details over the phone. The AHA will contact you by email or by phone, but only routinely.
Put Your Number on the National Do Not Call Database
Once you register your number in the National Do Not Call Database, telemarketing companies aren't legally permitted to dial it. Scammers who decide to bypass the law are obliged to make amends to you. You can also report robocalls that flout this law.
Some organizations, such as government agencies, can make a call even if you put your number in the registry. You can find all the exceptions here. If you're worried about expiration details, worry not—DoNotPay has got you covered!
While some domestic robocallers will operate within the law, most of them will try to conceal their identity and keep on calling, and the same goes for foreign robocallers. This means that Do Not Call provides only partial protection.
You can check if your number is in the Do Not Call Database here. To see if your registration went well, you can:
Call 1-888-382-1222

Verify your registration online

Make a call via TeleTypewriter at 1-866-290-4236
Do Not Rely on Caller ID
Sometimes you receive a call from an unknown number, yet it seems familiar. If the first three digits of the number are the same as yours, and the number looks like it's from the same area code, you are most likely being robocalled.
Scammers use a method known as spoofing, where they mask the real number they are calling you from and make it look local. This means that their number can be spoofed to look like the AHA's, just like it can look like your neighbor's. Fraudsters manipulate numbers to make it look like a legit organization's calling you, when in fact, it could be anyone else!
Can You Block Robocalls on Your Phone?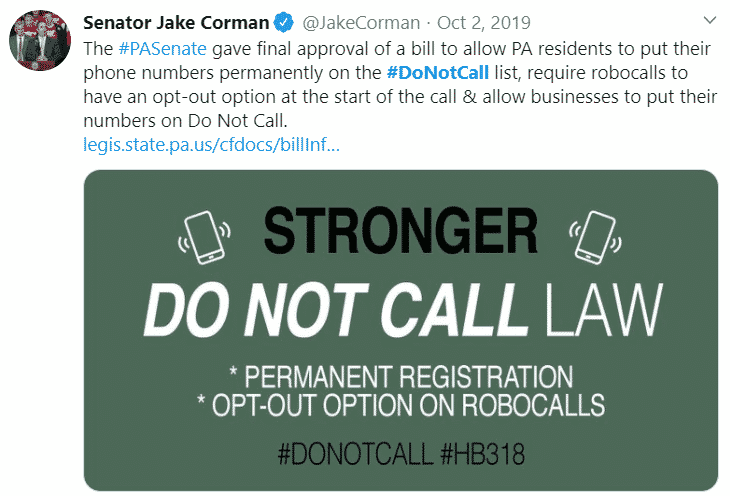 Apart from registering your number in the Do Not Call Database and using Robo Revenge to fight back against robocalls, there are some things you can do on your own.
If you are receiving annoying calls on your mobile phone, check the built-in call-blocking features on your device. Also, you can use your provider's call protection to block all unwanted robocalls.
How to Block Numbers on Android Devices
Android phone users have two options—to block one number or all unknown calls.
Below you will see a step by step procedure for blocking one number:
Find the Phone app

Tap on Recent Calls

Choose the number you want to block and tap on it

Click on Block or Report as spam

Confirm it
This is how you can block all unwanted calls:
Go to the Phone app

Tap on Settings

Click on the Blocked Numbers

Enable Block Unidentified Numbers switch
How to Block Numbers on iOS Devices
iOS devices offer two options for their users—blocking one undesired caller or silencing all unknown contacts.
Below you will see a step by step procedure for blocking one number:
Go to your Phone app

Click on Recents

Tap on the info icon which looks like a circled "i" letter

Choose option Block this Caller

Confirm it
This is how you silence unknown calls:
Go to Settings

Tap on Phone

Enable the Silence Unknown Callers switch
Use Your Provider's Call Protection
Another solution is to check with your provider which robocall blocking service you can use. In the table below, you will see which protective features large phone providers have in their offer.
Carrier

Robocall Blocking Service

The First Orion technology has enabled T-mobile to inspect the call you are receiving and

to label it as "spam likely"

on your display. Another option is to log into your account or dial #662# on your phone to use

Spam Block

service.

This provider offers a

Call Protect app

, which is free for both Android and iOS smartphones. The premium version of this app is available for $3.99 a month, and it will provide you with

advanced caller ID services as well as reverse number lookups

.

To

stop unwanted calls

, you can use Verizon's Call Filter app. It shows scam calls, and both Android and iOS users can install it. Call Filter Plus will cost you $2.99 a month, and

provide additional services, such as a personal blocklist or a spam risk meter

.
Can Robocalls Be Legal?
Even though they can be annoying, some robocalls have a legal right to reach out to you. Some of them can come from representatives of government institutions, and if you choose to ignore their calls, it can only make the situation worse.
Here's how you can differentiate between legal and illegal robocalls.
| | |
| --- | --- |
| Legal Robocalls | Illegal Robocalls |
| Debt collectors are allowed to call you if you have an unsettled debt. These calls are legal, and we recommend you to answer them. These calls will be informational only and won't ask for any sensitive info. | If the alleged debt collectors ask for your personal or financial details, you should know that you are talking to scammers who are trying to scam you out of your money. Some might offer to lower your bills or help you pay the bills, but it's all a scam. |
| Robocalls that inform you of delayed flights or rescheduled appointments are legal. | Robocallers that claim you have won a prize in some competition are illegal. |
| Any organization or agency that has received your written consent to call you is legally allowed to send robocalls your way. | Without your written permission, companies are not permitted to make telemarketing calls. |
| A message from political candidates who are campaigning for office is legal. | If the caller ID on your screen says a familiar organization such as the AHA is calling you out of the blue (especially if you're not even a member), there's a chance that the number is spoofed. Answer the call to be sure, and if anything seems suspicious, hang up right away. |
Ask DoNotPay for Help
DoNotPay can help you with much more than just deal with robocalls. Be it canceled flights or unfair traffic tickets—DoNotPay has the solution you need! All you need to do is log in via the . Here's what our app can lend you a hand with:
Disputing traffic tickets

Fighting speeding tickets