Get the Body You Always Wanted—Start Your
Weight Watchers Free Trial
Weight Watchers (WW) is a program designed to help people lose weight and create healthy habits—within their comfort zone. According to Weight Watchers, if you follow their plan, you can lose up to 1-2lbs a week. With such promising results, it comes as no surprise that they have around 4.2 million subscribers.
If you find yourself in a difficult situation regarding your health, you're not alone. Fortunately, you can try Weight Watchers for free and see if their program works for you.
Is There a
Free Weight Watchers Trial
?

Weight Watchers offers free trials to its new users. New customers get all the benefits that the paying members do. Weight Watchers program has three subscription plans:
Digital

Workshops and Digital

Coaching and Digital
The Digital Plan
The digital plan offers you unlimited access to the WW's app that contains:
Food plans

Water and weight tracking

More than 8,000 recipes

Workout plans without the equipment

Guided meditations
Weight Watchers rewards you for attaining healthy habits by giving you Wins, which you can later exchange for rewards. You'll get 24/7 support from coaches and other WW members on WW's Connect social network.
The Workshops and Digital Plan
With the Workshops and Digital plan, you can attend both Virtual Workshops and Live Workshops in Studio locations that function as support groups. The workshops have coaches who are experienced in nutrition and weight loss. They can help you set your goal and stick to it. Every week there are around 5,000 Virtual Workshops and about 500 Live ones.
The Personal Coaching and Digital Plan
A free trial, unfortunately, isn't available for this plan. The personal coaching plan enables you to choose from more than 600 personal coaches and have 1:1 support from them. They will require information about your goals and lifestyle, and you and your coach will create a personalized weight-loss plan together. They'll also be there whenever you need motivation.
The digital app ensures that you have 24/7 guidance and support.
How Can You Get a
Free Trial of Weight Watchers
?
Getting a Weight Watchers free trial is simple, but there is a difference between the two plan's free trials. Follow these steps to sign up for the Digital plan:
Go to the Weight Watchers website

Click on the three blue lines in the upper right corner

Select

Pricing

Chose the

Digital Plan

Tap on

Continue With Digital—

this will redirect you to the checkout page

Select

Continue With This Plan

Create an account

Enter your payment information

Input your credit card information

Type in your billing information

Tap on

Next Step

Verify your account
In order to start your Workshops + Digital Plan free trial, do the following:
Enter your

ZIP Code

Click on

Get Started

Tap on

Continue With This Plan

Create an account

Input your payment method

Give your credit card information

Type in your billing information

Select

Next Step

Verify your account
Will Your
Weight Watchers Free Trial
Renew Into a Paid Subscription Automatically?
The Free trial of Weight Watchers lasts for 30 days, and after that period, the service will  upgrade into a paid subscription automatically. 30 days might be a long enough period for you to decide whether you want to stay a Weight Watchers member, but it's also conveniently long enough for you to forget to cancel. 
Wouldn't it be easier if you had someone else cancel Weight Watchers for you? DoNotPay can do that for you in a matter of minutes. You can go to the website and follow these steps to cancel:
Sign in to your DoNotPay account

Click on the

Find Hidden Money

option

Enter

Weight Watchers

as the service you're canceling
All of this hassle can be avoided before you even start your free trial. DoNotPay can help you sign up for any trial without your credit card number and save your money—with our virtual credit cards.
Stop the Automatic Renewal With DoNotPay's Virtual Credit Card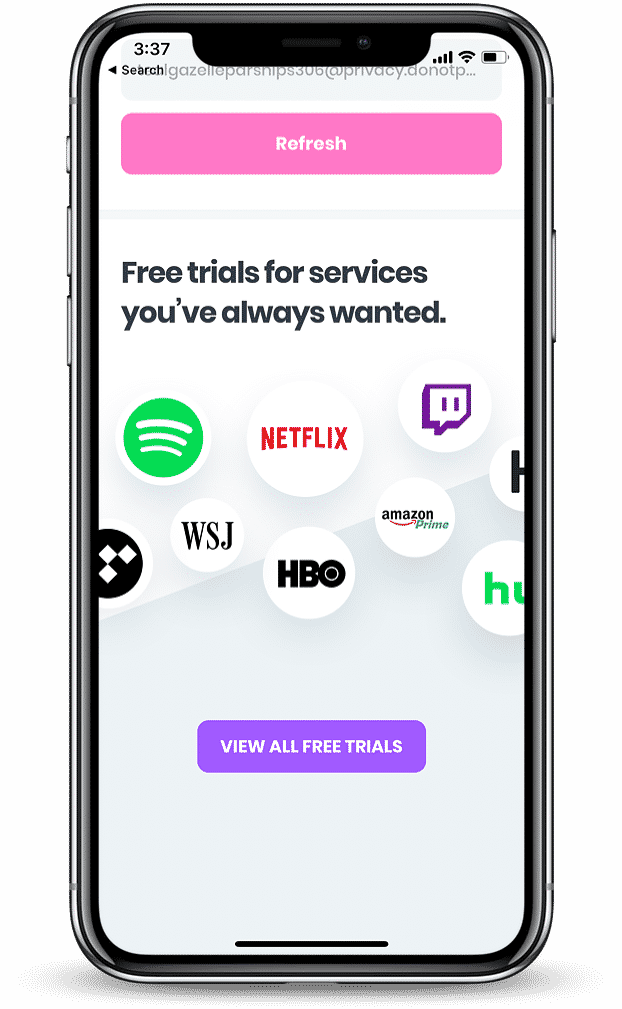 DoNotPay's free virtual credit card is a randomly generated credit card number that is in no way linked to your real account. The beauty of our virtual credit cards is that they have no deposit—so you can't be charged—but they will get instant approval because they seem authentic to the merchant. 
When you open DoNotPay in your web browser, this is what we will do:
How Much Does the Weight Watchers Subscription Cost After the Free Trial?
Weight Watchers have three plans. See the plans in the table below:
| | |
| --- | --- |
| Plan | Price |
| Digital | $3.22/week |
| Workshops + Digital | The price depends on the user's location |
| Coaching + Digital | $12.69/week |
With the second plan—Workshops + Digital—the price depends on your location. You will need to enter your ZIP code in order to get the full price of the plan.
How Will Weight Watchers Charges Show Up on Your Statement?
The charges made by Weight Watcher might look something like this on your statement:
| | | |
| --- | --- | --- |
| WEIGHTWATCHERS.CO.UK 0845-345-1500 | PaymentTo WeightWatchers International | WEIGHT WATCHERS UK, LTD, 0845-345-1500 GB |
| WEIGHTWATCHERS.CO.UK | PAYPAL *WEIGHTWATCH | WEIGHTWATCHERS.CO. |
| WEIGHT WATCHERS UK | WEIGHTWATCHERS.COM 800-221-2112 NY | WEIGHT WATCHERS UK LTD 0845-345-1500 GB |
| WEIGHTWATCHERS.CO.UK 0845-345-1500 GBR | WEIGHT WATCHERSUK LTD MAIDENHEAD GB | WEIGHT WATCHERS UK LTD 0845-345-1500GBR |
| WEIGHTWATCHERS.CO. 0845-345-1500 | WEIGHTWATCHERS.COM 800-651-6000 | WEIGHT WATCHERSUK LTD, MAIDENHEAD |
| WEIGH AHEAD ABERYSTWYTH GBR | CREDIT FROM WEIGHTWATCHERS.CO.UK | WEIGHT WATCHERS UK 0845-345-1500 |
| WEIGHTWATCHERS.COM INC 800-221-2112 NY | WEIGHT WATCHERSUK, LTD, MAIDENHEAD GB | WEIGHT WATCHERSUK |
| WEIGHTWATCH, ERS.CO.UK, 0845-345-1500 GB | Debit Purchase - Visa Weightwatchers.c800-221-2112ny | CREDIT FROM WEIGHT WATCHERS UK LTD |
| WEIGHTWATCHERSUK LTD 0845-345-1500 | WEIGHT WATCHERS UK LTD 0845-345-1500 GBR | WEIGHT WATCHERSUK LTD MAIDENHEAD |
| WEIGHT WATCHERSUK LTD | WEIGHT WATCHERS UK LTD | |
Have Weight Watchers Violated Your Consumer Rights? Sue Them in Small Claims Court

DoNotPay can help you sue any company in small claims court, and Weight Watchers is not an exception. We were honored with the ABA Brown Award for Legal Access, which attests to the quality of our app. 
If Weight Watchers happen to wrong you—by doing something like overcharging you or billing you after you've canceled your membership—you can file a lawsuit. This is what DoNotPay will do for you:
Use the information you give to collect evidence for your case

Fill out your legal claim

Create a script that will include the details of your claim and the damages you seek
You can use this script during your hearing to bolster your claim with all the particulars of your case.
Paying for Services You Don't Know About? Not on DoNotPay's Watch!

A survey about the total number of America's subscription services showed that about 84% of Americans pay up to $240 a month for their memberships. The shocking detail here is that most of them don't know about it. 
This could also happen to you if you forget to cancel your Weight Watchers free trial before it expires! Fortunately, DoNotPay has a solution. We can monitor your subscriptions for you—all you need to do is connect your email or credit card account to our app, and we will:
List your subscriptions

Highlight the ones you never use

Unsubscribe you from the ones you tell us to
Let DoNotPay Trim the Fat for You

DoNotPay will act as both your personal assistant and robot lawyer depending on your wishes. Our app might not be able to create healthy food plans, but we can help you cut down on your expenses. 
We can help you get a refund from a company that offers no refunds. We can cancel other weight-loss services for you, such as Noom, Isagenix, and SkinnyFit. 
Open DoNotPay in your web browser, and we'll assist you in:
Appealing you traffic tickets

Disputing speeding citations