How To Get a Free VPN Trial With No Credit Card Information Needed
A VPN stands for Virtual Private Network, and it allows users to connect to websites securely, without an internet service provider (ISP) tracking their activity. VPNs also allow you to access websites that are restricted in your area and step around any censorship. This means you're free to surf the web without any eyes watching you and monitoring your every step. You can even change the location of your computer to unlock content available only in certain countries. Some of the most well-known VPNs on the market include:
Which Service Can Offer Me a Free VPN Trial Without Asking for a Credit Card?
Not many VPNs offer free trials, but some guarantee a trial period where you can cancel any time and get your money back hassle-free. ExpressVPN won't give you a free trial but will guarantee you the fastest speeds and 30 days to ask for your money back if you're dissatisfied. 
This also goes for NordVPN and many other big players in the field. Finding a trustworthy, free VPN trial with no hidden costs and no commitment is getting more and more difficult.
CyberGhost Free Trial
CyberGhost is one of the rare providers that you can try for free and without handing over your credit card details right away. Keep in mind that you only get one day of service, no strings attached. Instead of handing out your credit card info, you only need a valid email address to verify your account. Users with iOS devices can test CyberGhost for up to seven days before they're charged. You can access all features during the trial period, so you get the full experience.
PrivateVPN Free Trial
PrivateVPN also has a very generous offer. You get seven days of free service, without having to provide credit card details. The trial is available on any device, and you get full access to all features. If seven days wasn't enough to make up your mind, you can also get your money back within the first 30 days of paid service. 
How Do I Access the Best VPN Free Trial With No Credit Card Info Getting Exposed?

After reading about the benefits of having a VPN, you're probably ready to try one. The good news is there are ways to take a VPN for a test drive without giving away any credit card information. Others offer a trial period of around 30 days where you get a money-back guarantee. The most popular VPNs work this way, such as:
If you don't feel like providing companies with your credit card number, you can try a commitment-free trial with VPNs like CyberGhost.
How To Start the CyberGhost Free Trial
Here are the steps you need to take to get started on your free trial:
Open the CyberGhost website and go to the

free trial page

Click the

Start your free trial

button

Wait for the setup to download. Once it's done, click to launch the app

Click

Sign up

and provide the required information to create an account, such as your email address

Open the inbox of the email address you registered with. Find CyberGhost's email and confirm your new account. Look for

Activate trial

and click on it

Click on the

Connect

button to complete the process
If I Keep Using the Service After the Free Trial Runs Out, How Much Will It Cost Me?
CyberGhost isn't the most affordable VPN out there. With the price set at $12.99 per month, it costs significantly higher than the average VPN. There are more appealing deals available, but they require a long-term commitment. Choose your plan wisely if you don't like to commit to one service for too long.
| | |
| --- | --- |
| Plan | Pricing |
| 1-month plan | $12.99 |
| 6-month plan | $47.94 or $7.99 per month |
| 18-month plan | $49.5 or $2.75 per month |
Should I Worry About My Free Trial Automatically Renewing Into a Paid Subscription?
What happens if I forget to cancel before the free trial runs out? Depending on the service, you could be charged for the upcoming month or even more. If you signed up for a free trial without providing your credit card details, then you won't be charged. 
Only a minority of VPNs don't require credit card information before starting the trial. Others will ask you to choose a plan in advance and bill you automatically if you don't cancel. Most offer a certain period where you can ask for a refund after the initial purchase, but if you fail to cancel your account during that time frame, you will be charged.
A DoNotPay Virtual Credit Card Can Help You Avoid Auto-Renewals and Keep Your Money Safe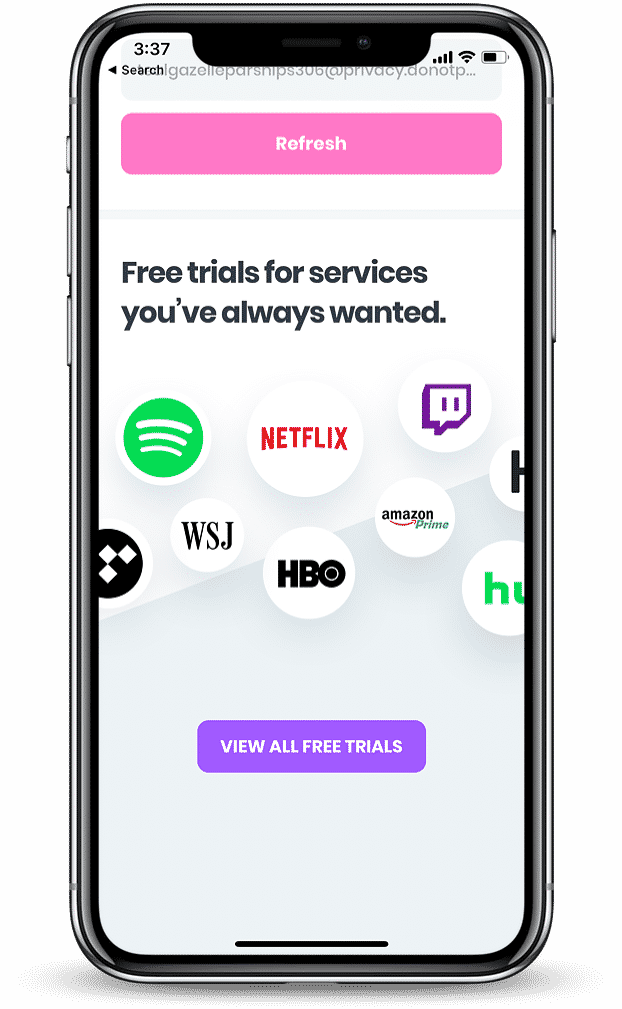 It's much easier to forget to cancel a subscription on time than you might think. If you forgot to cancel the VPN service, you're stuck paying for it until the deal you picked expires, which can take anywhere between a month and several years! 
So how do you get out of this? Easy—with the help of DoNotPay's virtual credit card. The app provides you with a free virtual credit card which can be used to sign up for any free trials. 
DoNotPay generates a random card number and expiration date for you to use. To companies, it looks just like any other credit card, and they won't be able to tell the difference. Once the trial expires, you will be unsubscribed automatically because there's no money on the card for the company to take.
You can also get a throwaway email account to put as your email address when applying for trials. You can find the app in just a few clicks in your web browser.
Learn What Other Annoying Situations DoNotPay Can Help You Get Out Of

Sure, virtual credit cards are useful and save me money, but is that all DoNotPay is good for? Don't worry, your trust isn't misplaced. DoNotPay can do so much more for you than just make sure your free trials don't end up denting your budget. Anyone could use some extra help with paying their bills, stopping the ever-flowing flood of spam emails, or even getting rid of a stalker ex! 
The only effort you need to put in is finding the app in your web browser. It's a lot less energy than you would need to tackle all of these common problems on your own! 
If you're still not convinced, feel free to take a quick look at this list of everyday tasks we can simplify: