Need help paying bills? DoNotPay is here for you
Did you know that 40% of Americans struggle to pay at least one basic need? A rising number of people can't pay bills on time and need help in this never-ending struggle. Covering the basic monthly expenses (electricity and water) is already challenging, let alone when you add your cable and Internet, not to mention medical bills.
Looking for assistance to pay bills has become a common practice. A minor unexpected expense is enough to disrupt your budget. Before you know it, you realize you don't have enough to pay the bills, and you risk being disconnected. To avoid this, or an even worse scenario, you need to find help on time, and you need to know where you're looking for assistance. Your first stop should be DoNotPay, and you won't have to look any further.
You can use our app if you need help paying bills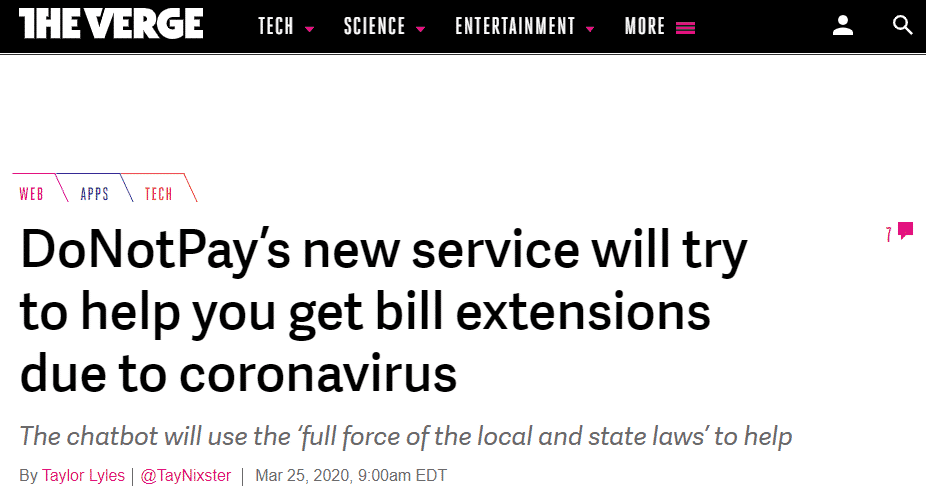 Whether you need help paying rent and utility bills, cable and Internet, or medical expenses, DoNotPay can help you out. Our app is designed to save you from all kinds of troubles, including overdue bills that you don't know how to cover with your limited income. You can use DoNotPay and get things done in no more than 48 hours. Here are a few simple steps to take when you rely on your trusted robot lawyer:
Log in to DoNotPay via the

Tell us what bills you're having trouble paying (electricity, cable, medical, etc.)

Tell us your full name, email, and home address

Tell us what exactly your problem is and how you want it solved
After you take these steps, all the rest is up to us. You get to sit back and just wait for our confirmation.
Before you give a single penny, check for errors
One of the greatest problems with monthly billing statements is that they are so complicated that you don't even understand what you're paying most of the time. You just see the amount due, pay it, and repeat the same next month. It's high time you changed that. When you know how to spot potential errors, you can avoid the risk of paying a wrong bill or one wrongfully charged.
Before you pay that suspiciously expensive bill, it is crucial to remember that some kinds of mistakes are more likely to happen than you may think at first. There is a wide range of common errors that you should be on the lookout for, such as these:
| | |
| --- | --- |
| Most common errors | Explanation |
| Wrong billing information | The first thing to do when you receive a billing statement should be to check whether the name, address, and billing date are correct. If these are wrong and you don't spot the mistake, you can easily pay someone else's bill. |
| Duplicate items | Listing the same service twice (and, of course, charging you twice) can be either an honest mistake or an attempt to wrong you. Either way, a single duplicate item can change the total amount significantly. |
| Wrong services listed | Make sure you read the statement carefully to check if you have received all the services that are listed and that they are charging you. There might be an expensive service you've never used, in which case you need to talk to your service provider about it. |
| Charges that your insurance should cover | This is a common error on medical bills, which are already high enough, right? The safest thing to do is to ask the hospital in question to provide you with a fully itemized bill so you can see if they deducted the charges that your insurance provider should cover. |
What can you do when you're struggling with bills?

Whether you're looking for help for low-income families or you need programs suitable for single mothers, there are various ways to cope with your accumulated bills. Depending on your situation and the service provider that you're having trouble with, you may want to consider the following options:
Check with your service provider what payment plans they have on offer

Ask about potential discount schemes

Turn to organizations that help pay bills
Check with your service provider what payment plans they have on offer
If you don't know how to get help paying utility bills (or any other bill for that matter), you can start by asking for a special payment plan. Many service providers have different payment plans for different groups of people in need, such as those coming from low-income families, people going through financial hardship, or those with children. Contact your service provider and explain your situation to check if there's an option that suits you. Paying your bill in installments can help you a lot when you have accumulated debt.
Ask about potential discount schemes
Even if your service provider doesn't have a payment plan that meets your needs, there might be a convenient discount scheme. In addition to early payment discounts, there are plenty of other options. These differ from one provider to the other, though, so make sure you contact yours to ask for more details. For instance, you can get a discount for some services based on the number of your family members. Cell phone service providers usually offer a discount for every family member that switches to their service. Be it 5% or 20%—it's worth asking, so don't shy away. The worst thing that can happen is that they turn you down, in which case it's time to move on and look for another solution.
Turn to organizations that help pay bills
If none of the previously mentioned options works out, you can turn to charities and organizations that help pay bills. Luckily, there are plenty of places where you can find financial help to pay bills. Here are some of these:
| | |
| --- | --- |
| Organizations providing financial aid | How they can help |
| | American Red Cross offers help to a wide range of people in need, including those impacted by natural disasters, military members and their families, people in need of emergency help, low-income families, and many others. They have local branches all over the country, so the chances are that you can find them wherever you are. Keep in mind, though, that not all Chapters provide help with utility bills, so make sure you ask your local branch about this type of assistance before you rely on them. |
| | This charity organization provides financial assistance to people all around the country, no matter their religious affiliation. There are more than 3,000 locations where people in need can turn to ask for cash assistance or some other form of help and resources. They have programs for those looking for help with paying bills, rent, housing, food, etc. Catholic Charities helps more than 15 million people every year. |
| | This national charity organization provides help for families in need, regardless of their religion, race, gender, or age. Among many services, they offer assistance for energy bills and rent. Depending on the location, the services on offer may slightly differ, though. Some locations provide direct help with utilities, rent, food, and medications. Others may only be able to provide referrals to charities and non-profit organizations that can do more to help in some particular situation. |
| | If you come from a low-income family, and you need assistance with phone and Internet bills, the Lifeline Program for Low-Income Consumers might be just the right choice for you. To be eligible for the program, you need to provide proof of low income. Another possibility to qualify for Lifeline is to provide proof that you use some other federal assistance program, such as Medicaid, for instance. |
DoNotPay can help you ask for an extension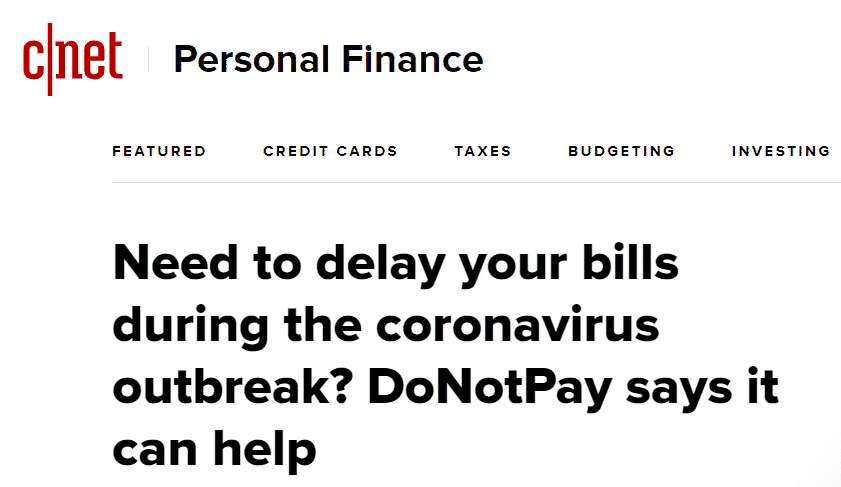 Is your due date for paying the bills getting closer and you don't have enough money to cover them? You're probably thinking how wonderful it would be to postpone it just for a week or two. Here's some good news—you can ask for an extension date. This is, in fact, quite a common solution among those looking for emergency assistance with bills. To ask for an extension date, you can do the following:
Talk to your service provider in person

Contact customer support

Write an extension letter
Even though it might not seem so, writing a letter is your best option. Do you think that it will take too long to get the job done if you go about it this way? Not when you have DoNotPay at your disposal. When you rely on our app, the entire process won't last longer than two days. This is what asking for an extension looks like with us:
You log in via a

You provide us with personal information and explain why you need an extension

DoNotPay generates an extension letter and sends it on your behalf
Quite easy, isn't it? Once everything is done, we will send you a confirmation that the process has been successfully completed
Ask your service provider to waive late fees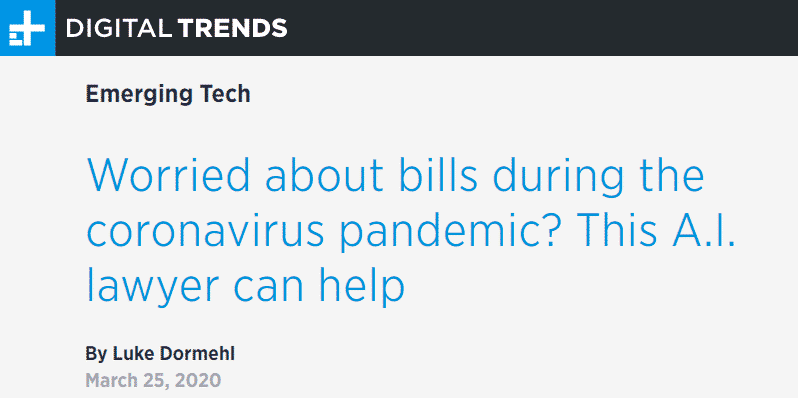 The next most common option is to ask for a waiver on late fees for your late payments. In this case, too, you have several options to choose from, such as:
Going there in person

Calling customer service

Asking a lawyer or financial advisor for help

Sending a waiver letter
Similarly to the previous option, sending a letter is the right way to go. While turning to an expert does come with plenty of benefits, you shouldn't forget that this is also the most expensive solution. Why would you make the situation even more difficult by adding these expenses? If your budget isn't enough to cover your bills, how are you going to afford a lawyer or a financial advisor?
That's when DoNotPay comes into play. You don't have to trouble yourself learning how a waiver letter is written—our app can compose a waiver letter and send it on your behalf. We just need you to provide a short explanation of your situation. We will need to include this in the letter, so your provider knows on what grounds you're asking for a waiver.
Use your credit card to pay bills if it's an emergency
Using a credit card to pay bills is certainly an option. It's not the best one, though. The main reason why you should avoid this solution is that you can damage your credit score. This is essential to know when you have huge bills to pay. It is also crucial to avoid using your credit card too frequently. If, for instance, they didn't approve your request for an extension and your service provider is about to disconnect you, it's better to pay with your credit card than not pay at all. But don't forget to think of a better way to go about it the next time.
Apply for a loan if nothing else works
Not being able to pay your bills can be rather frustrating. In such a situation, people tend to jump to the conclusion that a loan is the best solution. Be careful not to make the same mistake. Just because a loan will help you pay all the accumulated bills, it doesn't mean that your problem is solved. You will still owe the money, right? Paying off a loan can turn to a much more troublesome endeavor than paying accumulated bills, so look for a long-term solution instead. If you need help paying bills asap, it's better to turn to churches that help with bills, for instance.
Be prepared for what follows if you don't pay the bills

If you don't find help early enough, you may not be able to pay your bills in due time. Even if it comes to this, you can always ask for financial assistance to settle the debt. But before you do that, you need to do some research to be prepared for potential actions the service provider in question may take.
If you don't pay your phone, Internet, or cable bill, you will most likely be disconnected. The same goes for gas and electricity. When it comes to unpaid water bills, they probably won't disconnect you.
Regardless of their first step, if you still don't pay what you owe, most service providers will then let a debt collection agency deal with you. Their final resort is to take you to court, so be careful and try to avoid this scenario. You don't know how to deal with a collection agency? Here are some crucial points to keep in mind:
Find out more about how debt collectors do their job

Don't forget to keep a paper trail

Offer to pay as much as you can at the moment
Find out more about how debt collectors do their job
Depending on the situation, not every collection agency will have the same power, so be sure you learn more about the actions your assigned debt collector is and is not allowed to take. If, for instance, they are not allowed to take you to court without your service provider's authorization, that's something you should know, right?
Don't forget to keep a paper trail
The only way you can be fully protected from any wrongful attempt to make you pay more for the overdue bill is to have proof. Make sure you have a paper trail of every single payment and everything else regarding your debt process, so it's clear how much you really owe.
Offer to pay as much as you can at the moment
Even if you can't pay the entire debt at once, that doesn't mean that there's nothing to do. If you have enough money for any portion of the full amount, bring that up to see what your collection agency can do for you. They may accept your offer to pay a part of the debt for a start, and then you can figure out a plan for the rest of the money to be paid in some reasonable time.
DoNotPay Keeps Your Info Safe From Scammers!
There are many drawbacks to sharing your private information online, especially when you are not sure whether the website that asks you to do so is a reliable one. To bypass all the risks and play it safe, you can use DoNotPay's virtual credit card generator. Our product helps you protect your identity and bank account from cyber criminals.
The next time suspicious websites ask you to provide your banking information, fire up DoNotPay's generator and feed them the bogus credit card number. Our virtual credit cards are made up of randomly selected numbers, tied to a dedicated temporary email address, and linked to a fake name! They also contain no funds, so you won't have to pay for any service unless you choose to.
The best part is that companies will have no way of telling our card from a legit one, so you're sure to pass their check-ups and avoid being charged for unwanted subscriptions!
DoNotPay can provide assistance in many other situations
If you happen to find yourself stuck in any bureaucratic issue, DoNotPay has got you covered. We created our app with two goals in mind—to help people deal with seemingly minor problems that can cause a lot of trouble and to help them get the justice they deserve. Here are some situations when you only need your robot lawyer to make it all a breeze:
Disputing traffic tickets

Fighting speeding tickets