How to Get an ExpressVPN Refund Presto
ExpressVPN is a virtual, network-providing service that offers a security and privacy tool to mask users' IP addresses and encrypt their traffic. It offers services for all types of devices and paid subscriptions as well. 
Whenever you pay for something, there are situations when you may need to request refunds. Keep on reading to find out how DoNotPay can help with your ExpressVPN refund request!
How Can I Get an ExpressVPN Refund With DoNotPay?

The most convenient way of requesting an ExpressVPN refund is with DoNotPay! All you need to set up your DoNotPay account using your web browser and follow the instructions below:
Go to the Get Protected option under the Chargeback category

Enter your bank's details

Type in the payment details you want to have refunded

Enter your ExpressVPN purchase details

Verify the information

Choose whether to send the demand letter yourself or have DoNotPay do it for you
DoNotPay does all the work in the background! It sends additional documentation to improve your case. Your request is faxed to your bank automatically, and it sends all the necessary VISA and Mastercard codes. It also gathers evidence that is vital for getting that refund.
Can I Get ExpressVPN Refunds On My Own?
You can submit an ExpressVPN refund request by yourself, but bear in mind that DoNotPay works in your favor more than any other option. 
If you prefer doing the work on your own, there are a couple of ways of going about it:
| | |
| --- | --- |
| Can You Request a Refund Via | Yes / No |
| DoNotPay | Yes |
| Email | Yes |
| Phone | No |
| Letter | No |
| Website | Yes (Live Chat) |
| In-person | No |
There aren't too many options for getting an ExpressVPN refund on your own—you can either email them or use their Live Chat on the website.
How to Request an ExpressVPN Refund via Their Live Chat?
If you want to use ExpressVPN's Live Chat agent, you can do so any time because they offer 24/7 support. Just follow the steps below:
Go to ExpressVPN's website

Click on the Need Help button in the bottom right corner

Describe the issue

Send your refund request 
Requesting ExpressVPN Refunds via Email
You can also do that via email. It is important that you describe the issue if you are requesting a refund after more than 30 days of registering. Send your request to support@expresvpn.com.
No matter how you submit your request, if it is approved, you will receive it on the original payment method. 
What Is the ExpressVPN Refund Policy?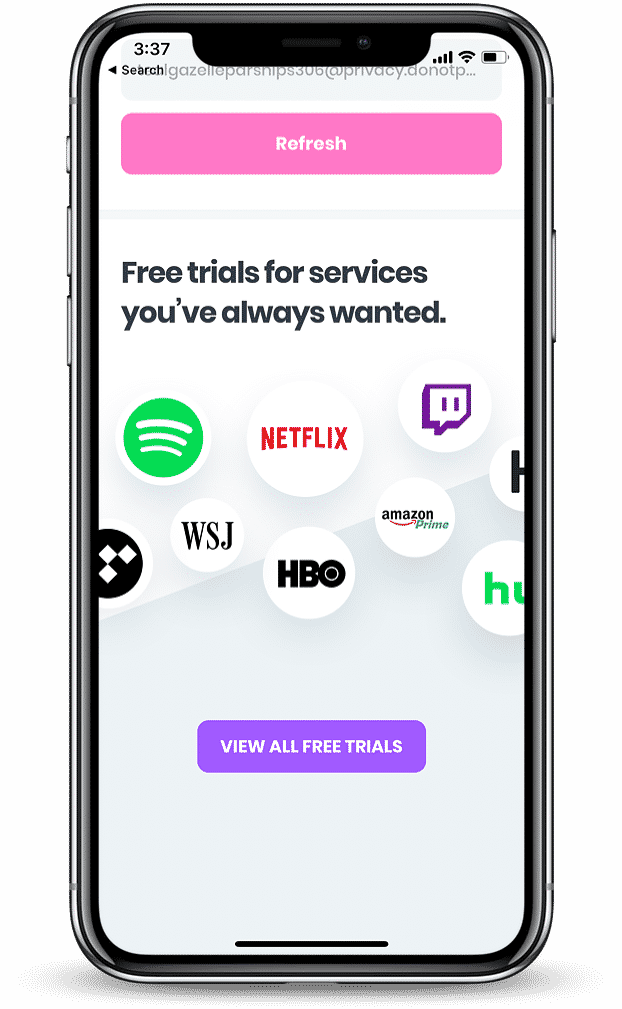 ExpressVPN offers a 30-Day Money-Back Guarantee instead of a free trial. This means that you need to pay for the cost of the subscription, and if you do not like it, you can get a full refund within 30 days. If you upgrade your account or add another one during the first 30 days, you will not be able to claim the refund—this option will be waived.
If you subscribed via iTunes as an in-app purchase, you will not be able to use the 30-Day Money-Back Guarantee. You can only ask Apple Support for a refund.
Depending on your subscription duration, the price is approximately ten dollars a month. You can choose one of the available plans:
$12.95 for a one-month subscription

$9.99 for a six-month subscription

$8.32 for a 12-month subscription
Remember to keep an eye on your subscriptions if you haven't started using our virtual credit card! They are a bigger waste of your money than you think. If you like using free trials, be sure to use DoNotPay's credit card to avoid losing money on auto-renewable subscriptions.
Getting refunds on ExpressVPN after the first 30 days is tricky, but not impossible. If you can prove to their support that the service was not usable or available during your subscription period, you can get a refund. Before you can even request one, you have to try and fix the issue with their help in a timely manner.
In this instance, ExpressVPN may offer you a pro-rated refund during the period you couldn't use it.
How Long Does It Take to Receive an ExpressVPN Refund?
It usually takes up to seven days for you to receive an ExpressVPN refund. All refunds are processed to the original form of payment and in US dollars, so some amounts may differ. If you paid in another currency or with Bitcoin, there could be conversion differences in the refunded amount.
Are There Any Issues With ExpressVPN Refunds I Need to Know About?
There are issues you can encounter with ExpressVPN. One Reddit user had their subscription upgraded to yearly automatically. It caused them to lose over $130 on subscriptions. They contacted ExpressVPN's customer support and received a refund after a week.
Another Reddit user had a more serious issue with this service. They subscribed to check the app out and decided it was too expensive. When they wanted to cancel it, a warning sign popped up saying they can request a refund only after a whole year expires. The user did not think that it mattered whether they chose a monthly or a yearly subscription because ExpressVPN offers full refunds within the first 30 days. That user did not get a refund and was not satisfied with ExpressVPN's service.
This was not an isolated incident! A Reddit user from China did not get a refund within 30 days after subscribing for a full year either. The ExpressVPN refund policy does not state you are not eligible for a 30-Day Money-Back Guarantee if you pay for a yearly subscription.
Can I Check My ExpressVPN Refund Status?
If you want to check the status of your ExpressVPN refund, you can do so by contacting their customer support team. Either use their Live Chat online or send them an email to support@expressvpn.com. 
Users who paid for the subscription using iTunes as an in-app purchase can't check their refund status on ExpressVPN. They will need to check the refund status with Apple support since they have to submit their request there as well.
It should take no more than a week to have the refunded amount in your bank account.
What Else Can DoNotPay Help Me With?

DoNotPay is the best virtual assistant you can turn to. Leave the boring legal and bureaucratic issues to us! DoNotPay can simplify canceling subscriptions like NordVPN, getting refunds for Avast or Amazon Prime, suing scammers for robocalls, and much more. You just need to sign up in your web browser. 
Check out how DoNotPay can make your life easier by: