Everything You Should Know About USDA FOIA Requests
The United States Department of Agriculture (USDA) is one of many federal agencies covered by the Freedom of Information Act (FOIA). Since 1966, this law has enabled citizens to demand, inspect, and copy the records managed by government bodies, unless they fall under a few FOIA exemptions.
If you haven't had any experience with requesting public records so far, we can teach you all about composing your first USDA FOIA request. Our articles explain the meaning of the FOIA in detail and answer all related dilemmas and questions.
Which Institutions Belong to the USDA?
The USDA consists of 14 agencies:
Forest Service

Rural Development

Farm Service Agency

Risk Management Agency

Food and Nutrition Service

Foreign Agricultural Service

Economic Research Service

Agricultural Marketing Service

Agricultural Research Service

Food Safety and Inspection Service

National Agricultural Statistics Service

National Institute of Food and Agriculture

National Resources Conservation Service

Animal and Plant Health Inspection Service
What Does Your USDA FOIA Request Need To Contain?
Your USDA FOIA request needs to be in writing so that you can provide a precise description of the records in question. The USDA doesn't provide any templates, which means you must do your best to compose a letter clearly and concisely.
Here are the details you should include in your request:
Personal details

Full names of the authors of the requested records if possible

Detailed description of the requested information

Approximate

fees

you are ready to pay for the desired records
Requesting Public Records Under the USDA FOIA by Yourself
All USDA agencies that hold public records have a specific mail and email address to which you can submit your FOIA request. All you need to do is pick the one whose records you need and send your petition.
The table below shows a few examples of USDA FOIA request contact information:
USDA Agency

Address
Email

Kevin Lynch

FOIA Officer

Braddock Metro Center II

1320 Braddock Place

Alexandria, VA 22314

Margaret Scofield

Acting FOIA Officer

1400 Independence Avenue, SW

Yates Building

Stop 1150

Washington, DC 20250

Lolita Barnes

National FOIA/PA Officer

1400 Independence Avenue, SW

South Building

Stop 0706

Washington, DC 20250-0706
You can find contact information for all other USDA agencies on the official USDA Departmental Management website.
The department offers an online request form too, which is the same for all agencies. You can use this service by following the instructions below:
Visit the

FOIA Public Access Link (PAL)

Create an account

on the platform

Select the option for submitting an online form

Choose the agency to which you want to send your petition

Complete the required information

Submit your request
How To Check the Status of Your USDA FOIA Request
You can check the status of your submitted request on the FOIA Public Access Link. Here's what the procedure looks like:
Go to the FOIA PAL website

Log into your account

Find the

Check Request Status

in the toolbar

Provide your FOIA request tracking code
Bring Your FOIA Request to Perfection With DoNotPay
Composing a FOIA request by yourself has never been an easy undertaking—every detail matters. Failing to include all the required details and not doing your best to describe what you need is reason enough to expect rejection.
If you don't feel like writing a request letter is something you would do well, we can swoop in and save the day! DoNotPay has created a convenient FOIA feature that will make your request procedure much easier and quicker.
You don't need to look for specific law regulations anymore or bother to explain too much. All you need to do is answer a few questions our chatbot asks you, and our app will create and send a request letter in your name!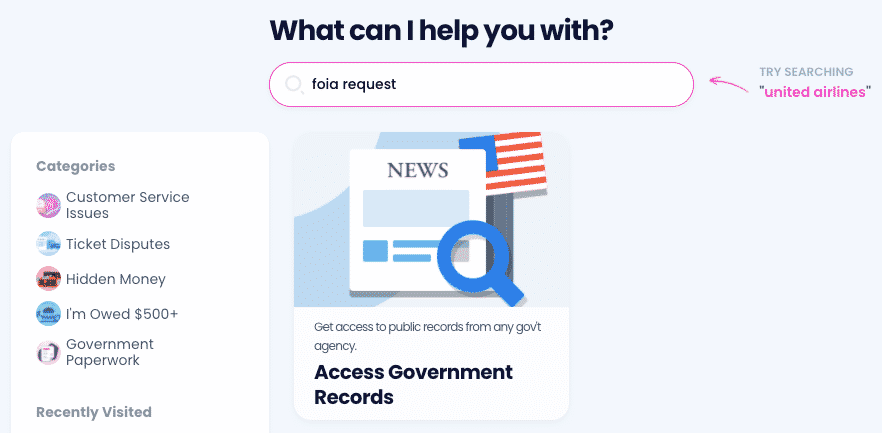 Here's how our service works:
Visit DoNotPay in your

Locate the

FOIA

service by typing keywords in the search box—

FOIA

,

public records

, etc.

Pick

State Agency

or

Federal Agency

, depending on the nature of your request

Enter the institution name and the names of the records you are requesting

Indicate whether you need a fee waiver or

expedited processing
We will make sure your request reaches the chosen institution in record time!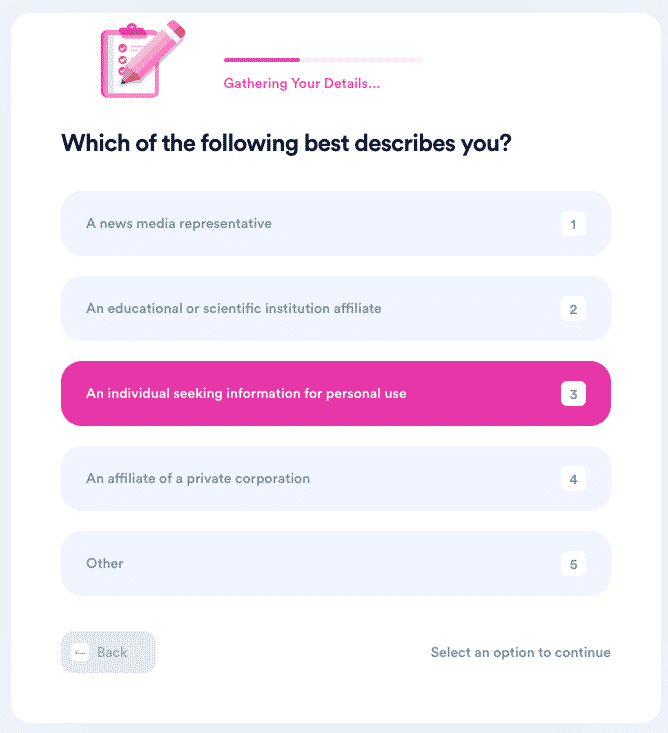 Get the Best Out of DoNotPay's Law Database
Besides helping you with your USDA FOIA request, can submit petitions to numerous state and federal institutions across the USA, including:
Don't miss our easy-to-follow procedures for demanding Army, Navy, police, and Air Force records in Texas, Maryland, Michigan, New York, or West Virginia. Our learning center awaits you with valuable guides on:
DoNotPay Offers a Variety of Services
DoNotPay is the ultimate virtual assistant that takes over all those annoying tasks you don't want to deal with!
Need to schedule your DMV appointment? Want to get your college fees waived? Have to draft a legal doc quickly?
We can do all that and much more!
Our app waits on the phone line with customer service of any company for you, reports robocalls, and helps you file lawsuits in small claims court.
We can also help you deal with your parking tickets, get rid of spam emails and texts, or find and sign up for reputable clinical trials!
Keep Your Money in Check With DoNotPay
How often do you sign up for a free trial and then forget to cancel it before it expires? Unexpected charges are the worst, but you can prevent them if you use our free trial card. DoNotPay's virtual credit card is not connected to your bank account, which means that no money can be taken from it.
We can also help you get refunds for unsatisfactory purchases or compensation from airlines for delayed or canceled flights.
In case you are struggling with warranty claims, bill payments, insurance, or tax reduction, DoNotPay can solve these issues as well.
Our app also has the largest database of unclaimed assets in the United States, so you can find and claim your lost funds quickly.