A Guide to Submitting a
USPS FOIA
Request Fast
Aiming to secure the transparency of its institutions' activities, the U.S. government introduced the Freedom of Information Act (FOIA) in 1996. The FOIA allows you to seek information from federal and state agencies' records. 
If you want to access the United States Postal Service records, you must file a FOIA request. DoNotPay can help you submit your USPS FOIA request in minutes. Use our guide to better understand what the FOIA means and how to get the information you need.
Everything You Need To Know About the USPS Public Records
The U.S. Postal Service holds some of its public records readily available in their FOIA Library. In case you can't find the information you need in the FOIA Library, you need to submit a FOIA request to access the documents. 
You can search for any information apart from specific FOIA exemptions. If you are not seeking records on yourself but someone else, you should fill out the Privacy Waiver.
Do You Need To Pay Any Fees for the USPS FOIA Request?
USPS requires you to pay a FOIA fee. The amount you will have to pay depends on the:
Number of pages in the documents you seek

Time required to process your request

Type of fee category—educational, commercial, or news media
If the information you seek is in the public interest, you might get a fee waiver. USPS won't grant fee waivers for commercial FOIA requests.
How To Make a
USPS FOIA Request
on Your Own
You can use different methods of submitting a USPS FOIA request, including the following:
| | |
| --- | --- |
| Can I Submit My Request Via | Yes/No |
| DoNotPay | Yes |
| Online | Yes |
| Email | Yes |
| Mail | Yes |
| Fax | Yes |
| Phone | Yes |
| Special Carrier | No |
How To Submit a USPS FOIA Request Online
You can find the Freedom of Information Act request form on the USPS website. To access the form, you need to:
Register

on the USPS website

Search for the online form

Fill out the form with your contact information

Provide concise details about the documents you are requesting

Submit your request
Make a USPS FOIA Request via Email
You can submit a USPS FOIA request by sending an email to FOIA12@usps.gov. Make sure to include precise information about the records you seek as well as your contact details. 
Other Ways of Requesting Access to USPS Records
If you want to obtain certain information from the USPS records, you will need to submit a FOIA request to the appropriate service center. You can contact the center by mail, fax, or phone. Depending on the documents you seek, you can send a request to one of the following centers:
Center
USPS HQ FOIA Requester Service Center
USPS Field FOIA Requester Service Center
U.S. Postal Inspection Service
USPS Office of Inspector General

Address

Manager Records  Office

U.S. Postal Service

475 L'Enfant Plaza SW RM 1P830

Washington, D.C. 20260-1101

USPS Field FOIA Requester Service Center

St Louis General Law Service Center

1720 Market Street RM 2400

St Louis 

MO 63155-9948

Office of Counsel

U.S. Postal Inspection Service

475 L'Enfant Plaza, SW, RM 3301

Washington, D.C. 20260-1101

U.S. Postal Service Office of Inspector General

1735 North Lynn Street 2nd Floor

Arlington VA 22209-2020

Fax

(202) 268-5353

(650) 578-4956

(202) 268-4538

/

Phone

(202) 268-2608

(314) 345-5894

(202) 268-7004

(703) 248-2410
If you are not sure what to include in your FOIA email or letter, you can use a FOIA request template. Submitting the USPS FOIA request by yourself can be tiresome and time-consuming. If you want to avoid the hassle, use DoNotPay.
DoNotPay—The Fastest Way To File a USPS FOIA Request
DoNotPay can expedite the FOIA request process for you. With our easy-to-use app, you can submit a USPS FOIA request in no time! All you need to do is:
Use any

web browser

to set up your DoNotPay account

Enter our

FOIA

feature

Type in

USPS

and provide information about the documents you seek

Indicate whether you want a fee waiver or expedited processing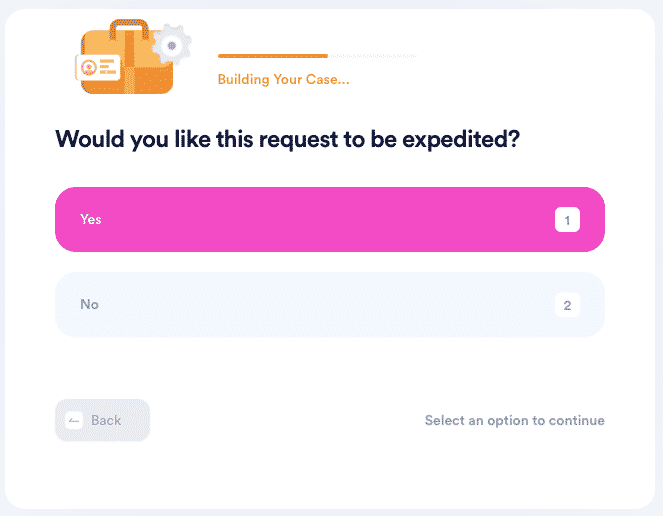 Once you submit your details, we'll compose a FOIA letter and send it to the appropriate USPS FOIA center. In case your request gets denied, you can always file a FOIA appeal.
How Long Will You Have To Wait for the USPS To Respond?
The USPS needs 20 business days to respond to your FOIA request. In the case of unpredictable circumstances, the Postal Service might prolong the response period for another ten business days. Use DoNotPay to learn how to check your FOIA status and see whether your request has been approved.
Use DoNotPay To Submit FOIA Requests to Any Agency
Do you need to retrieve documents from other agencies? We can assist you! DoNotPay is an award-winning app that can help you send FOIA requests to any state or federal agency. We have an extensive database of federal and state public records, acts, and laws.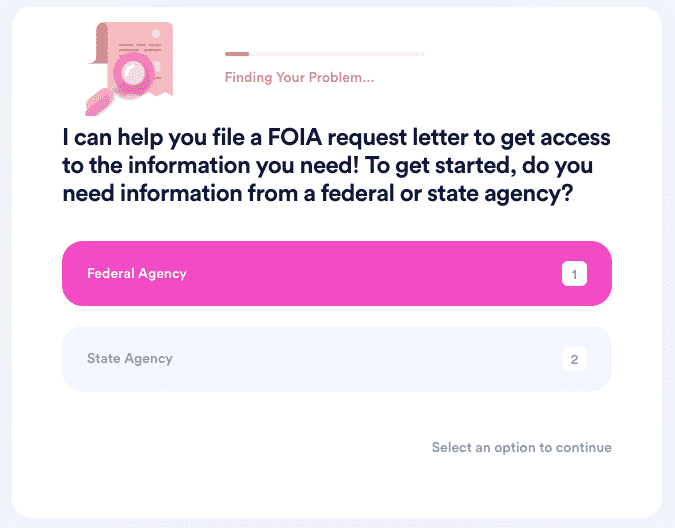 With our app, you can submit FOIA requests to:
What Else Is Hot About DoNotPay?
DoNotPay can do so much more for you! 
With our assistance, you can claim compensation for canceled or delayed flights, request refunds and chargebacks for unsatisfactory purchases, file warranty claims for defective products, and even overturn unjust parking tickets!
Our app can locate unclaimed funds that exist under your name, the best clinical trials for your needs, and public records that you couldn't identify on your own.
Outsmart Scammers With DoNotPay
Are you troubled every time you think about subscribing to a service because you fear your personal information will leak and your privacy will become invaded?
There's no need to fret anymore as DoNotPay has come up with a way to shield you from hackers, scammers, and identity thieves alike. 
Check out how you can use DoNotPay and browse the internet care-free:
Open DoNotPay in your web browser

Locate our

Virtual Credit Card

generator

Use the made-up card number to sign up for any

free trial

Move forward to our

Burner Phone

product

Use the temporary phone number to verify any online account

Enjoy the trial without worrying about

canceling it

—the service will do it on its own
Signing up for services with DoNotPay's hacks frees you from ever falling victim to a serious crime, such as identity theft, and liberates you from the bothersome and never-ending spam calls, texts, and emails that you never explicitly agreed to receive.