The Breakdown of the ICE FOIA

Since the FOIA was adopted in 1966, federal agencies' records have become available to all citizens and different organizations. The workings of agencies such as the CIA, FBI, State Department, and Immigration and Customs Enforcement (ICE) are not top secret anymore!
If you want to gain insight into the ICE FOIA and all its rules and regulations, you are in the right place. DoNotPay will help you find out how to request ICE records and write a top-notch FOIA request letter!
How Do FOIA ICE Requests Work?
According to the FOIA, the records of all DHS components—USCIS, CBP, OBIM, and ICE—must be available to the general public to the greatest extent. That doesn't mean that ICE is obligated to disclose all records upon request.
ICE holds information relevant to law enforcement, and those records are sensitive. Disclosing some of them could endanger law proceedings and national security.
To prevent that from happening, Congress defined certain FOIA exemptions and exclusions, and they involve:
Classified informant's records

An ongoing criminal law enforcement investigation documents

FBI's intelligence, counterintelligence, and international terrorism files

Any information protected by the

Privacy Act of 1974, 5 U.S.C. § 552a
What Is the Cost of Filing an ICE FOIA Request?
The law authorizes ICE to charge a fee for searching, reviewing, and copying the requested records. Here is an overview of the requesters' categories and applicable charges:
Commercial use requesters

are charged for search time, request review, and duplication of the document

News media, scientific, and educational requesters

have to

pay for the duplication of more than 100 pages

Others must pay for the search that surpasses two hours and for the copying of more than 100 pages
The total amount usually doesn't go over $25. If it does, ICE will allow you to narrow down your request and reduce the fee. If you have a specific amount in mind, you should indicate it in your request letter and point out that you will not go above it.
Fee waivers are available for requesters who can prove that the disclosure of the requested document is in the public interest.
What Should My ICE FOIA Request Letter Look Like?
ICE provides general instructions about what your FOIA request letter should contain. Following the guidelines will improve your chances of receiving the document in record time. Take a look at the ICE FOIA request letter requirements:
The document must be in writing

You have to include identity proof, verification of guardianship, accompanying persons, and amendment request if you are looking for a document under the Privacy Act

The request letter has to contain as detailed a description of the record as possible

You shouldn't forget to add your telephone number to other personal information

An

Affirmation/Declaration form

should be added to your request if you are seeking a document about another person
How To File ICE FOIA Requests on Your Own?
ICE offers a few ways to submit a FOIA request. The table below provides detailed information on all possible methods:
The ICE FOIA Request Method
Details

Mail

Send your request to the following address:

FOIA Office

U.S. Immigration and Customs Enforcement

500 12th Street, S.W., Stop 5009

Washington, D.C. 20536-5009

Fax

Fax your letter to:

(202) 732-4265

Email

Mail your request to

ice-foia@ice.dhs.gov

Online

Fill out an

online form
The response usually arrives within three to five business days. If your request is especially complex, ICE may respond in 20 days or extend the deadline to 30 days.
You can use the tracking number from your response letter to check the status of your request.
If you want to ask for expedited processing, you should know that ICE will perform it if someone's life or physical safety is in danger.
File an ICE FOIA Request Letter With DoNotPay
Writing a FOIA request letter on your own is not easy. Every tiny mistake can result in ICE denying your request or claiming that the document doesn't exist. After that, all that is left for you to do is appeal their decision and waste more time and energy.
Luckily, it doesn't have to be that hard. DoNotPay can take the burden off your back by drafting and submitting the ICE FOIA letter on your behalf. All you need to do is access our app from your and:
Go to the FOIA feature by typing the keyword in our search engine

Provide information about you, ICE, and the desired format of the document

Select a fee waiver or expedited request

Hit

Enter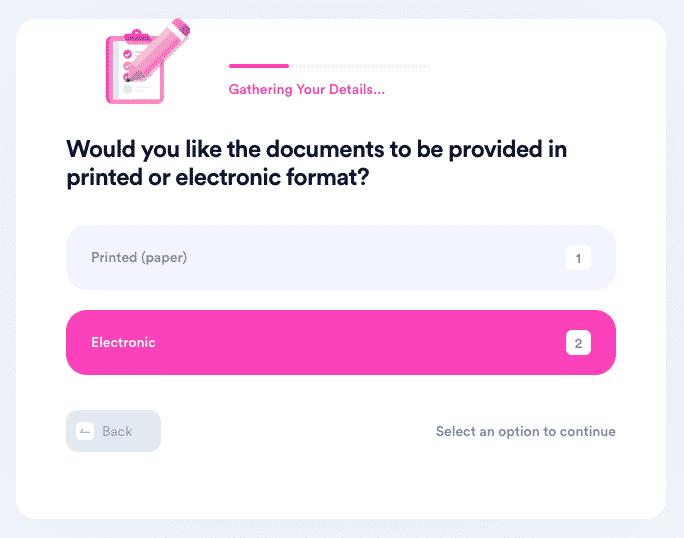 can do so much more! If you want to file a FOIA request letter to any state or local agency, we make it possible. Learn all about the meaning and significance of FOIA and use the best template or form to submit your request. Find out if you can file your requests online or submit a request letter on yourself!
DoNotPay Leads the Way Against Spammers
Browsing the internet has never been more popular than today, but you must not forget to keep your private and financial information safe. You know you can cancel any streaming service or magazine subscription easily, but that won't stop them from using your personal details for marketing purposes.
DoNotPay has a solution for that!
Is a company pestering you with incessant robocalls, spam emails and text messages? Use our Virtual Credit Card to catch them in the act and claim compensation for your troubles.
To prevent that from happening ever again, use our card to sign up for free trials—not only will you not pay a dime for the service, but you will be automatically unsubscribed as soon as the trials are up!
If you want to avoid revealing your personal phone number, we'll generate a temporary burner phone for you so the company won't have any way to reach you.
Already Been Scammed? DoNotPay Knows the Way!
If you've already made the mistake and divulged your personal info to the wrong party or experienced any other kind of crime or injustice, you don't have to sit tight and suffer the consequences. DoNotPay can assist you in taking anyone to small claims court!
We'll help you gather evidence—correspondence proving stalking or harassment took place, customer service call recordings, denied chargeback and refund claims, online fax transcripts, or proof of copyright violation. Then, we'll fill out the relevant legal documents for you and draft a court script that you can use in your hearing.