How To File a New York FOIA Request Easily With DoNotPay

The Freedom of Information Act (FOIA) is a law dating back to 1966 that makes public information available to anyone. The FOIA is applied differently in various states. The New York FOIA had a few amendments from 1974 to 2008. This state also established the specific exemptions and ways to file New York State FOIA requests.
If you're looking for an effortless and time-saving way to file a FOIA request, you've got the right website. We will help you file your New York FOIA request in under five minutes.
What Constitutes the New York State Freedom of Information Act?
Anyone can file a request to access the records of a federal agency. The records can be any type of information that a government agency holds, copies, and creates in physical form. 
Most agencies don't ask the requester to state their purpose for filing a request. New York is different—they need to consider the requester's motives. Still, there are no restrictions on how those records and documents can be used once they're in the requester's hands. 
Agencies will usually respond to requests in five business days. The New York state FOIA enables agencies to reject FOIA requests if they think the records could be used for commercial or fundraising actions. If the agency rejects your request, you can file an appeal.
You can also file a FOIA request on yourself, but you'll need to provide proof of your identity.
What Are the NY FOIA Exemptions?

Certain types of documents aren't available to the public. The NY FOIA exempts the following records from disclosure:
Inter- or intra-agency materials

Names of sex crime victims

Certain law enforcement documents

Type of information that constitutes unwarranted validation of privacy

Data that could contribute to the business or competition of enterprises
How To File a New York FOIA Request

New York has a platform with more than 50 agencies based in the State that enables users to file a FOIA request online. You can use the Open FOIL NY to file a FOIA request. The request form enables you to ask for information from more than one agency in a single request.
To file a request using Open FOIL NY, follow the steps below:
Visit the website

Click on

Open FOIL NY Online Form

Choose the agency you're requesting the records from

Tap on

Add Agency

if you need records from more than one agency

Enter your basic and contact information

Type in the detailed information about the document you're requesting

Upload a document that will support your FOIA request

Choose the format you want the answer in

Set the limit for the fee

Check the box(es) next to the reason(s) for filing the request

Click on

Continue to Review
You can't check your FOIA request status on Open FOIL NY. You need to contact the specific agency you requested the information from to learn more about the status of your request.
How To File the
Freedom of Information Act
Request in
New York
With DoNotPay

The Freedom of Information Act is an integral part of U.S. law because it grants the public access to the government's operations. It turned out to be especially useful when a study exposed the action of money laundering in U.S. banks.
If you want to file a FOIA request in the New York state in an easy way, you can access DoNotPay from any web browser and follow the following instructions:
Type in

Freedom of Information Act

(or a similar keyword) in DoNotPay's search field

Choose the type of agency you're requesting documents from—

State

or

Federal

Provide the name of the agency and the document, along with other details, such as the author, date, record number

Indicate whether you want and are eligible for a

FOIA fee

waiver or an

expedited processing

Submit your request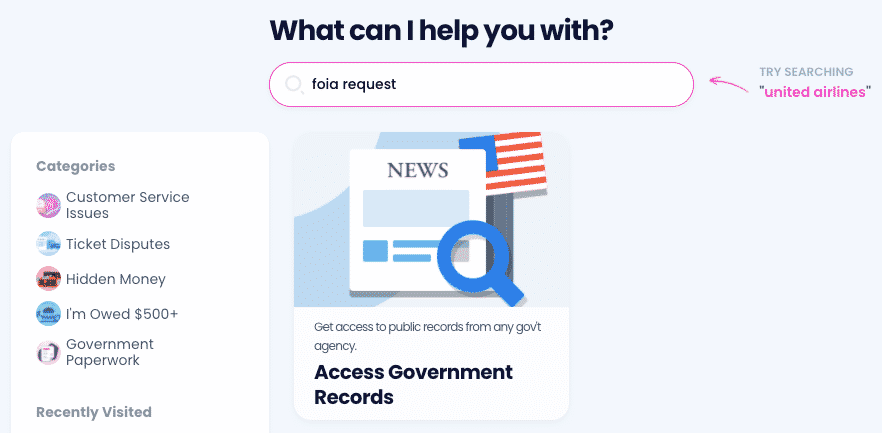 After you finish the process, we will create a request letter that will contain all the necessary information. With your permission, our platform will send the letter to the agency on your behalf. If you ever come across an agency that doesn't offer FOIA request forms, you can use this letter as a template, or you can always make your request with DoNotPay.
Check out an example of the letter: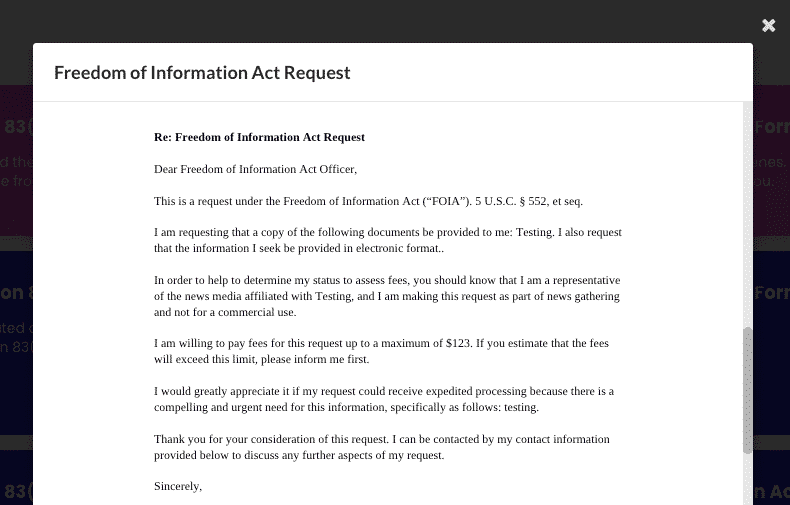 Which Other Agencies Can DoNotPay Help With?
DoNotPay can help you with any type of agency out there—state, local, or federal. We offer a wide range of options when it comes to filing FOIA requests, no matter which state or city you're in.
You can find some of the states and agencies that you can reach with our help in the table below:
Want To Avoid Tiresome Admin Processes? DoNotPay Will Handle Them
Applying for a clinical trial, free trial, copyright of your work, or any service without phone number verification is a time-consuming task many people want to avoid. Fortunately, such processes are DoNotPay's specialty.
If you feel like a company or individual has wronged you, you can sue them in small claims court. DoNotPay will handle the paperwork, and all you need to do is show up in court and win the case!
With our robot lawyer's help, you will also be able to deal with various credit card issues, deal with high bills you cannot pay, and appeal speeding, parking, and traffic tickets in no time.
Report Companies or Individuals That Won't Give You a Break
DoNotPay also makes it easy for you to report and earn off persistent robocalls, email spam, spam text messages, and stalkers and harassers. 
Once you sign up for our handy app, you won't have to deal with any of these. We'll even make it easy for you to schedule a DMV appointment or jump the phone queue when getting in touch with any company's customer service!