Everything You Should Know About the FOIA Training
According to the Freedom of Information Act (FOIA), any person can request access to federal agencies' records, with specific exemptions. To ensure the FOIA request process flows smoothly, agencies organize various training programs for their FOIA officers.
DoNotPay is here to help you learn more about the FOIA training and give you the fastest option for submitting FOIA requests.
What Is the
Freedom of Information Act Training
?
The FOIA was introduced in 1966 to secure the transparency of government records. Under this Act, federal agencies have to disclose their records to anyone who asks for them, including U.S. citizens, foreign nationals, universities, organizations, and businesses.
Since 1966, the FOIA system has changed a lot, and the FOIA personnel needs to adapt constantly. The federal agencies' employees who have to attend the FOIA training are:
FOIA officers

FOIA appeals officers

Chief FOIA officers

FOIA contacts and FOIA public liaisons

FOIA professionals
Who Organizes the
FOIA Officer Training
?
The Department of Justice (DOJ) organizes numerous FOIA training programs, such as:
Yearly training

Virtual training

Agency-specific training

Public training events and meetings
Each agency can also organize a FOIA training course for their employees. Besides the DOJ and specific agencies' FOIA training programs, you can also find training sessions and FOIA guides on the following websites:
What Do
FOIA Training Courses
Cover?
The FOIA training sessions aim to equip the FOIA officers with the knowledge relevant to their role. The Department of Justice has the most comprehensive FOIA training for government employees. Check out what courses the DOJ offers and what they cover:
DOJ FOIA Training Sessions
Description

Virtual Annual FOIA Report Training

Gives an overview of what is needed for completing and submitting Annual FOIA Reports

Is intended for FOIA professionals

Virtual Litigation Workshop

Lasts two hours

Covers the litigation strategies and the preparation of Vaughn indices and declarations

Is useful for attorneys and FOIA professionals who work on FOIA litigation matters

Virtual Introduction to the Freedom of Information Act

Lasts two and a half hours

Gives information about the entire FOIA request process—from receiving it to giving a response to the requester

The Freedom of Information Act for Attorneys and Access Professionals

Lasts two days

Covers the topics related to FOIA procedural requirements and exemptions, processing FOIA requests, FOIA proactive disclosure requirements, and the relation between the FOIA and the Privacy Act

Is intended for FOIA professionals and other agencies' employees dealing with the FOIA

Introduction to the Freedom of Information Act

Lasts one day

Gives an overview of FOIA procedural requirements, FOIA exemptions, correspondence with requesters, and documents search and review
DoNotPay Helps You Submit Your FOIA Requests in No Time
Do you need to retrieve some information from the government or state? Agencies will require you to fill out a FOIA request form or send your request in writing by email, mail, or fax. These methods of filing a FOIA request can be tiresome and time-consuming.
If you want to submit your FOIA request fast and easy, use DoNotPay! Our AI-powered app can generate a FOIA request letter and send it to the appropriate agency on your behalf. What you need to do is:
Open DoNotPay in any

Type in

FOIA

Give us your contact details

Provide information about the records you need

Answer a few questions and finalize your request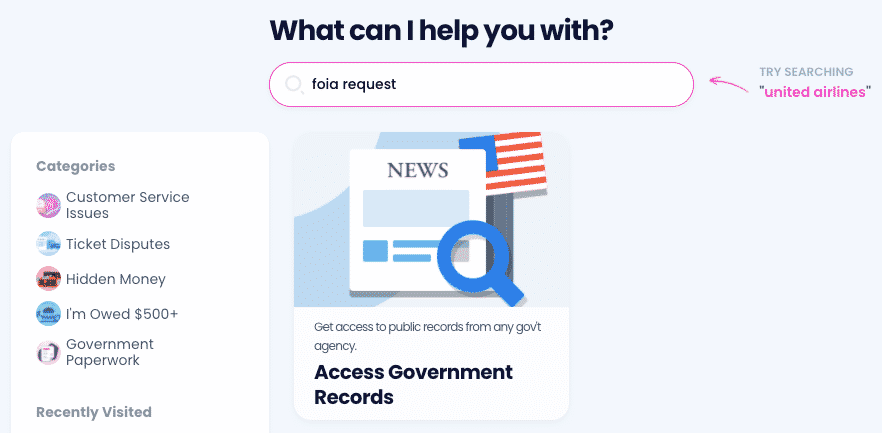 After the agency receives your FOIA request, you will have to wait at least 20 days to get a response. Some agencies might need an additional ten days if your request is complex.
You may also need to pay a FOIA fee, depending on the number of pages the required documents have and the time needed to process your request. If your search is of public interest, you can get a fee waiver.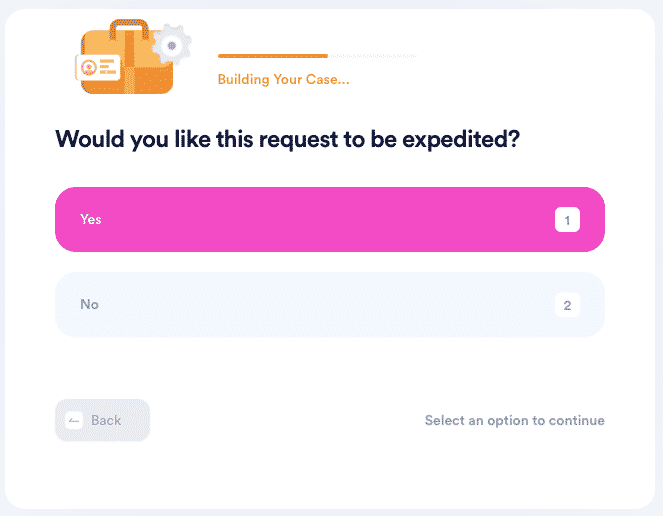 With DoNotPay, you can get a response faster and avoid fees. State whether you need a fee waiver or expedited processing when filing the request with our app. You can also use DoNotPay to learn how to check your FOIA status and file an appeal in case your request gets denied.
Submit a FOIA Request to Any Agency With DoNotPay
DoNotPay has a lot more in store for you! With our app, you can get more info about the FOIA request templates. If you want to search federal or state agencies for information on yourself or any other entity, DoNotPay can help! Use any to set up your DoNotPay account and submit a FOIA request to:
Federal Agencies
States

Internal Revenue Service (IRS)

U.S. Environmental Protection Agency (EPA)
What Else Is Hot About DoNotPay?
DoNotPay can do so much more for you!
With our assistance, you can claim compensation for canceled or delayed flights, request refunds and chargebacks for unsatisfactory purchases, file warranty claims for defective products, and even overturn unjust parking tickets!
Our app can locate unclaimed funds that exist under your name, the best clinical trials for your needs, and public records that you couldn't identify on your own.
Outsmart Scammers With DoNotPay
Are you troubled every time you think about subscribing to a service because you fear your personal information will leak and your privacy will become invaded?
There's no need to fret anymore as DoNotPay has come up with a way to shield you from hackers, scammers, and identity thieves alike.
Check out how you can use DoNotPay and browse the internet care-free:
Open DoNotPay in your web browser

Locate our

Virtual Credit Card

generator

Use the made-up card number to sign up for any

free trial

Move forward to our

Burner Phone

product

Use the temporary phone number to verify any online account

Enjoy the trial without worrying about

canceling it

—the service will do it on its own
Signing up for services with DoNotPay's hacks frees you from ever falling victim to a serious crime, such as identity theft, and liberates you from the bothersome and never-ending spam calls, texts, and emails that you never explicitly agreed to receive.