Is There a Freedom of Information Act Request Form for a Local Government?
By filing a Freedom of Information Act (FOIA) request, you demand access to available records managed by the government and get insight into the actions of its bodies. The federal FOIA contains numerous rules and regulations, but do they apply in all cases?
In this article, we are searching for the answer to the question—does a Freedom of Information Act request form for a local government exist? Check out our guide to get familiar with all the details and learn how to request any type of public records fast and easy with DoNotPay!
Who Does FOIA Apply To?
The general Freedom of Information Act, signed into law in 1966, doesn't cover state or local government bodies—it applies only to federal agencies.
Each U.S. state has a state-specific freedom of information act that applies to local government agencies. Such laws are similar to the FOIA as the authorities modeled them after it, but they are adapted to local needs.
The main difference usually lies in different regulations related to the FOIA request fees, exemptions, response time, or ways to check the status of the request.
Is There Always a Specific FOIA Request Form for Local Agencies?
Some local government bodies provide printable request forms, but it's a rare situation. Most states' public record laws don't propose official ready-made templates you can use—you usually need to compose a request from scratch by yourself.
What Should a FOIA Local Government Request Look Like?
Most state and local government bodies recommend filing a written FOIA request since it gives you enough room to specify the type of records you need.
The first step is to determine which local government agency you need to request the records from. Once you locate it, you should examine the public records law guide for that state and check whether it has any specific requirements.
The following table shows some general dos and don'ts related to writing requests that work in most cases:
A FOIA Request Should Contain
A FOIA Request Shouldn't Contain

Your personal information, including name, address, email address, phone number, etc.

Basic info about the agency in question—name and address

Preferred way of receiving the required records—physical or electronic copies

Thorough description of the records you are requesting—records names, authors, descriptions, etc.

Optional request for a fee waiver or expedited processing if you want to use such benefits

Incomplete contact information—if you don't provide enough details, the agency won't be able to get in touch with you

Unclear explanations—lack of details won't help officials track down the desired records
Writing a Freedom of Information Act Local Government Request? We Can Help
Filing a FOIA request for a specific local government body can be a true nightmare. The laws aren't always comprehensible, and people who aren't familiar with legal procedures can find them frightening.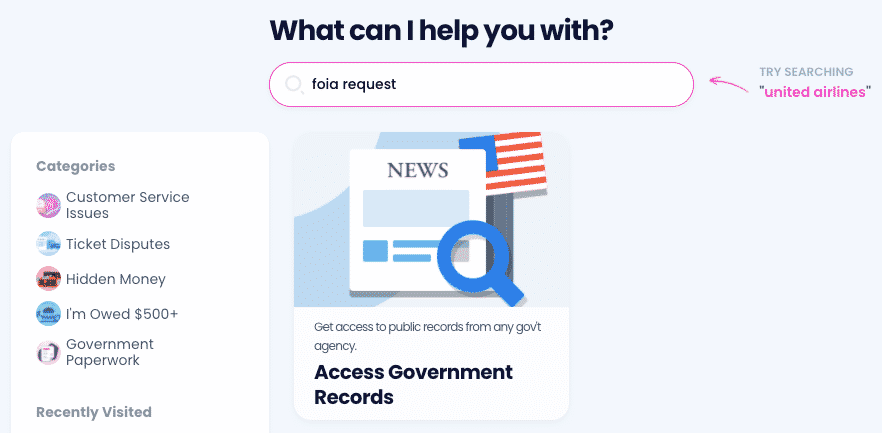 If you're not ready to write a request by yourself, DoNotPay can do it for you!
Here's what the request procedure with our app looks like:
Visit DoNotPay in your preferred

Locate the

FOIA

feature by using the search field

Select

State Agency

or

Federal Agency

Specify the agency name and provide more info on the desired records—titles, authors, descriptions, subjects, etc.

Indicate whether you want to use benefits such as fee waivers or

expedited processing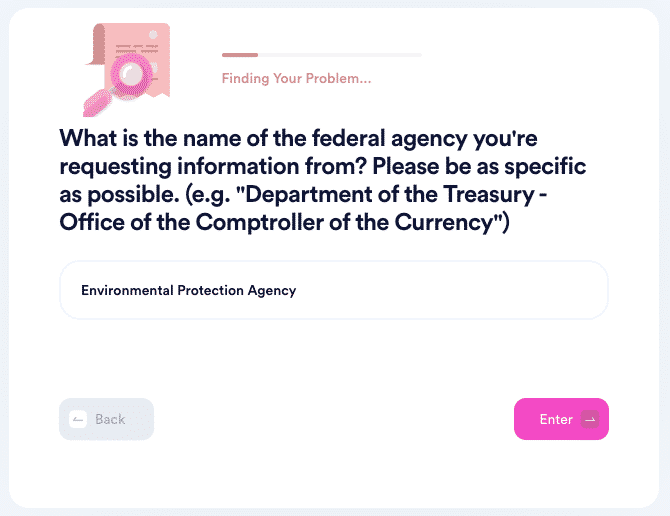 We will create a state-specific request letter based on the details you submit and send it to the institution in question. The best part is that you can use our service from your phone or computer and repeat the process as many times as you want!
DoNotPay Lets You Request Records From Any State or Federal Agency With Ease
We created a huge database that covers federal and all state and local acts and laws pertaining to the freedom of information. Thanks to that, you can request public information from:
Internal Revenue Service (IRS)

U.S. Department of Defense (DOD)
's guides provide you with answers to all FOIA-related questions, including:
If you feel like learning more about particular states' FOIA request procedures, our knowledge base is at your disposal. Check out the ways people request public records in Ohio, Indiana, Massachusetts, Pennsylvania, North Carolina, or any other U.S. state!
Need Help Fighting Bureaucracy? Use DoNotPay!
As the world's first robot lawyer, DoNotPay can help you resolve a plethora of tedious administrative issues. Our app will assist you in getting justice in small claims court, getting refunds from merchants, reporting annoying spam emails and text messages, reporting copyright infringement, bypassing phone number verification, and so much more!
You can also rely on DoNotPay's help when it comes to subscriptions. If you want to sign up for a free trial, cancel a service you no longer use, and skip the phone queue when doing so, our app will provide its assistance.
Our App Saves You Time and Money
Are you unable to pay your bills? Use the world's first robot lawyer app to cover them! Do you want to appeal your traffic or parking tickets? DoNotPay will help you appeal them in the blink of an eye.
Our app can do so much more than that, though—with DoNotPay by your side, you can sign up for clinical trials, ace government tests, claim any type of warranty, schedule an appointment with the DMV, and handle any other bureaucratic task.