All You Need To Know About the West Virginia Freedom of Information Act

The WV Freedom of Information Act (FOIA) is a law that was established in America in 1966. The FOIA ensures that members of the public can access any information concerning the workings of any government body. Filing a WV Freedom of Information Act request doesn't require a statement of purpose.
If you want to file a FOIA request, you need to know a few details about the fees, exemptions, request forms, and FOIA status checks.
DoNotPay can help you learn all that information and give you a fast and simple way to file your WV FOIA request.
What You Should Know About West Virginia Freedom of Information Act

If you want to file a FOIA request in West Virginia, you should check the instructions on the specific agency's website. Many agencies will offer the option of filling out online request forms, while others will accept requests in writing exclusively.
What Information You Can't Get—The FOIA Exemptions
You can get your hands on any information that's available under the FOIA, but the state of West Virginia exempts the disclosure of the following records:
Examinations

Trade secrets

Private information

Some historical and archeological sites

Investigations of the law enforcement

Individuals' security data about infrastructure and electronics

Financial investigations

Internal memos
The West Virginia FOIA exemptions align with almost all of the federal FOIA exemptions, except for one.
The Fees of the WV FOIA
When it comes to paying for public information, usually the first few copies are free. Each agency has its system for charging fees—it's not clear what affects FOIA fees in WV.
Agencies start charging after 100 pages of black and white copies.
How To File a WV Freedom of Information Act Request

Guidelines on how to file a WV FOIA request depend on the agency you're requesting the information from. Some general instructions apply to the majority of request processes. Find them in the table below:
The Method of Filing a Request
The Steps to Filing the Request

Online

Check if the agency already made the information you're after public

Visit the agency's website and find the

File a FOIA Request

option

Fill out the online request form with all the required information

Submit your request

Email

Go to the agency's website to find the email address that you need to send the request to

Write your request letter and include all the required information, such as your full name, agency name, details about the document you seek, etc.

Name the subject

The FOIA Request

Attach your request letter

Send the request

Mail

Write

The FOIA Request

on your envelope clearly

Compose the letter—you can use our

template

Describe the record you want

Mail the letter to the FOIA requests office of the agency
If the company rejects your request, you can file an appeal.
How To File a WV FOIA Request With DoNotPay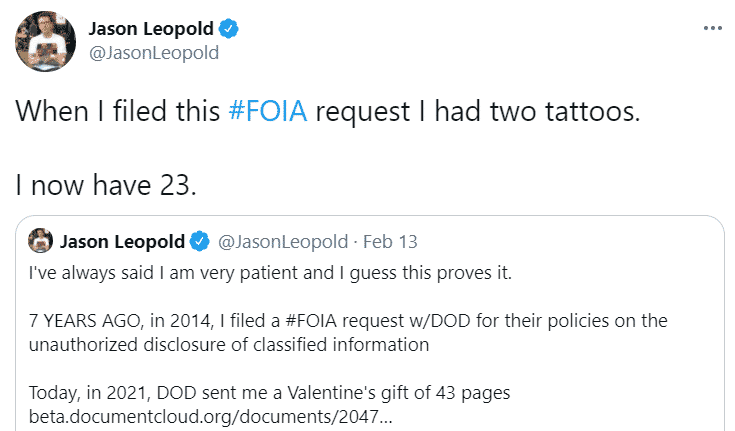 We've discovered how important the FOIA is when an activist from Austin filed a FOIA request on himself. Scott Crow accessed FBI records and proved that the Bureau had been tailing him for three years.
If you feel like there is some information you want to uncover, we can help you file a FOIA request in under five minutes. Open DoNotPay in any and follow these instructions to start the process:
Use our search feature to find the

Freedom of Information Act

product

Select one of two agency types—

State

or

Federal

Indicate in which format you would like to get the information in

Provide information about the agency's name and details about the records you're requesting, such as title, author, date, etc.

Tell us if you want a

fee waiver

or

expedited processing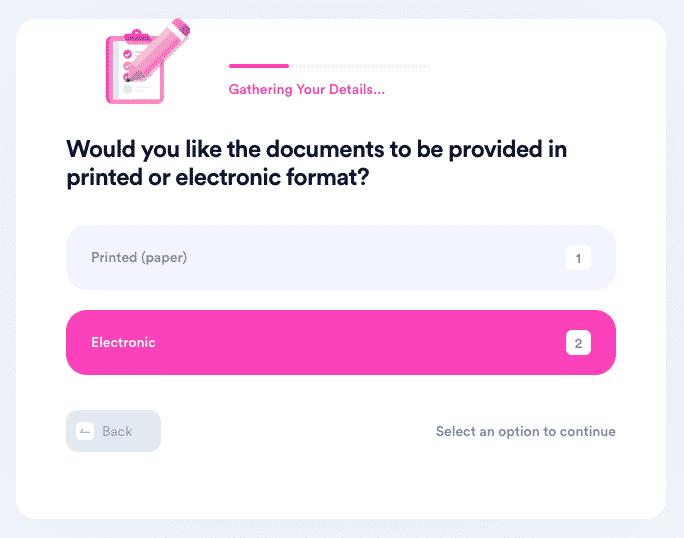 When you complete the steps, DoNotPay will present you with the request letter with the information you provided. We will send the letter to your designated agency, and you only need to wait for their response.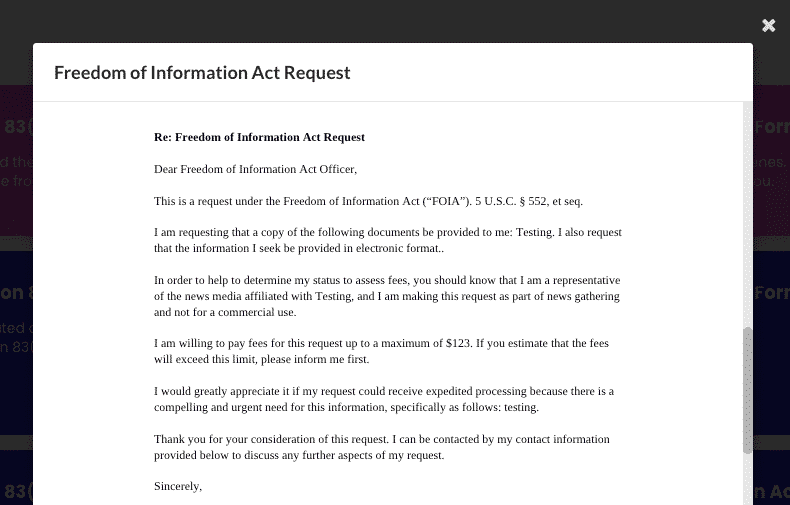 Are There Other State FOIA Requests DoNotPay Can Help With?
is a versatile platform that can help you file a FOIA request not only in West Virginia but also in other states, including:
This isn't all! DoNotPay will also help you file a FOIA request with any agency. It doesn't matter whether the agency is local, state, or federal—DoNotPay covers all of them.
To give you an idea of what kind of agencies you can get help with, we've compiled a list:
Department of Defense (DOD)

Internal Revenue Service (IRS)
Tired of Bureaucratic Hurdles? Our App Will Step In
As soon as you sign up for the world's first robot lawyer, you won't have to worry about any administrative mess you find yourself in. We can help you resolve anything from reporting stalkers, robocalls, spam emails, and spam text messages to applying for clinical trials in any U.S. city.
With our AI-powered app's assistance, you can even get a refund from any merchant or airline you can think of. We can also help you save money by resolving your problems with high bills, canceling any subscription you no longer need, or assisting you with parking ticket appeals.
DoNotPay Helps You Fight for Your Right
Do you feel like a company has wronged you? Don't let them win—sue them in small claims court with our assistance! Our app will prepare all of the necessary documentation and help you win the case stress-free!
Apart from helping you sue any firm or individual, DoNotPay also makes it easy for you to set up a DMV appointment, deal with any credit card issue, start a free trial without your credit card info, protect your work from copycats, and much more!
Sign up for our app to take advantage of all its features!