How To Write FOIA Requests the Right Way

The Freedom of Information Act of 1966 (FOIA) provides access to the records of any government agency.  The public can submit FOIA requests, and the agencies should disclose the requested information. 
An agency can deny a request if it falls under one of the exemptions, such as protecting personal privacy, national security, and law enforcement procedures.
If you don't formulate your request properly, there's a high chance it'll be denied. DoNotPay can help you write a FOIA request the right way in a few simple steps.
Who Can Submit FOIA Requests?
Since the FOIA's main purpose is to keep the public in the loop about the government and its activities and decisions, anyone can make a FOIA request. 
To do that, you can file a FOIA request on yourself or someone else with DoNotPay's assistance. Even if you're not a U.S. citizen, you have the right to file a FOIA request.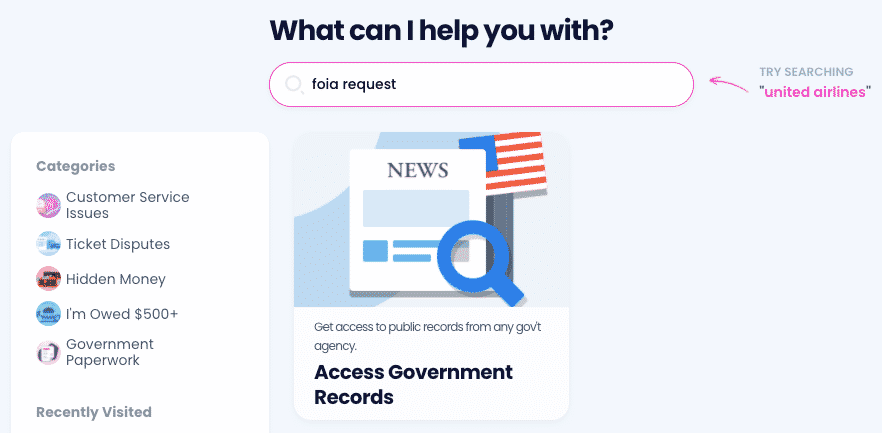 Here's a list of FOIA requests and how the agencies classify them:
| | |
| --- | --- |
| Type | Description |
| Simple request | Doesn't require lots of material or long processing time |
| Complex request | Necessitates larger amounts of information or additional, complex steps |
| Perfected request | Describes the records you're looking for in detail and is created and submitted according to the regulations of the agency you're filing the request to |
| Received request  | Received during a fiscal year by an agency |
| Pending request | Waiting to be processed |
| Processed request | Finalized and delivered |
When it comes to complex requests, the additional steps may include searching for records in multiple locations.
You should find out what details to include in your FOIA request so that the federal or state agency can process it effectively and without any delays.
What FOIA Procedures Should I Follow?

Start searching for the information you need in public sources. You may be surprised to see how much is already available on a state or federal agency's website. Lots of agencies have open libraries you can use to look for various topics. 
Find a FOIA Agency
To find the agency in charge of the information you're seeking, do the following:
Access the government's

Agency Search

feature 

Type in the name of the agency in the first box

Click on

Search
If you don't remember the exact name of the agency:
Go to the

Government Agencies A to Z

box 

Click the

plus sign

on the right

Select the first letter of the agency's name

Choose an agency from the offered list
You'll be able to see if you can file a FOIA request via the FOIA.gov website or directly to that agency. If you'd like to file a request to the agency directly, use the provided contact information. 
DoNotPay offers guides to FOIA procedures for numerous agencies, including but not limited to:
Access our database to get precise guidelines for specific state and federal agencies. 
How To Get FOIA Records

In case you're not able to find the information you're interested in on the agency's website, try running your search on the government's central website for FOIA. Here's how:
Open the government's

Search

tool

Enter the topic or term you're looking for

Click

Search

Use the listed sources to find the information
You can go through the list of web pages to check whether they offer the data you're looking for.
If you can't find the information browsing through the agency's or FOIA's website, you should file a FOIA request in writing. 
Be careful to provide sufficient details related to the documents you'd like to obtain so that the agency can process the request as fast as possible. 
In most cases, you'll be able to submit a request via:
Fax

Mail

Email

An online form
DoNotPay can help you file a FOIA request in a few clicks. We have all the relevant information on the best FOIA request templates and state and federal agencies' procedures you should follow. 
DoNotPay Files FOIA Requests Automatically 
Use our AI-powered robot to generate and submit your FOIA request in the correct and fast way.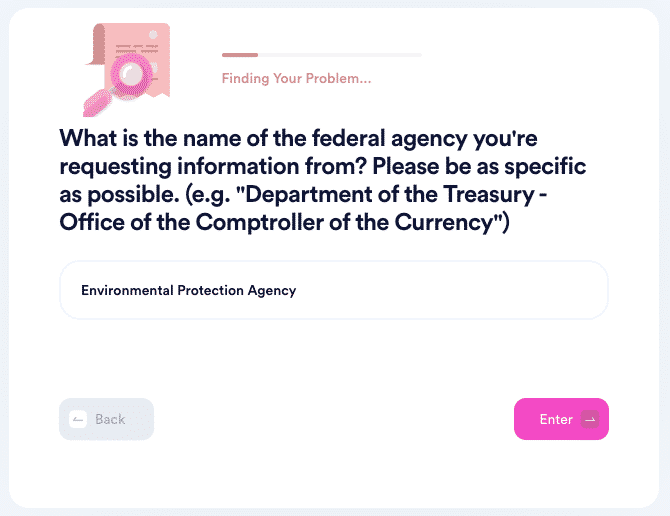 Here's how DoNotPay's FOIA Request feature works:
Visit DoNotPay in a

web browser

Search for freedom, FOIA, public records, or similar

Indicate whether you'd like to file your request to a federal or state agency

State what information or files you'd like to receive and the agency 

Say whether you need a

FOIA fee

waiver,

expedited processing

, etc.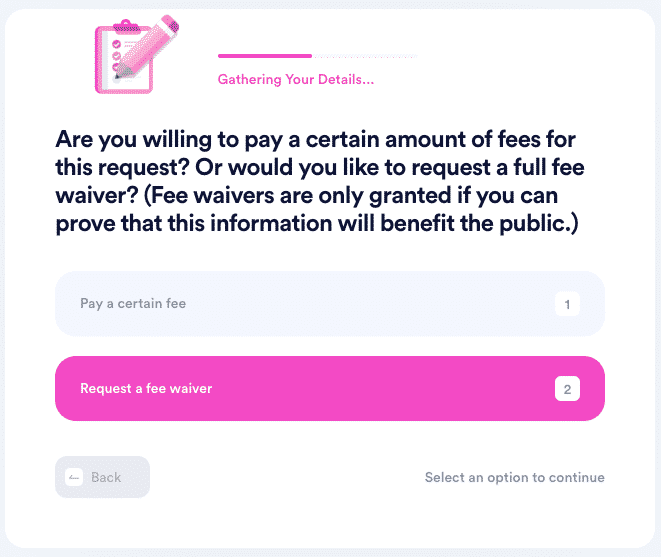 How Long Does a FOIA Request Take?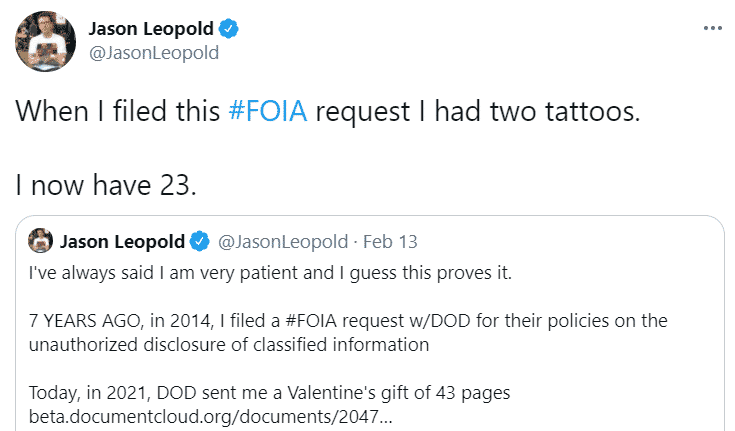 The response time depends on the number of FOIA requests the agency has received. Each agency processes requests in the order of receipt. 
Another factor that affects the response time is the complexity of your request. It'll take significantly less time for an agency to process simple requests, as they don't require a lot of search and have fewer pages.
You can check the status of your FOIA request using the contact information provided on the agency's FOIA part of the website. In case the agency denies your request, you have the right to file an appeal. 
How Else Can DoNotPay Help You Find and Save Cash
Our Missing Money feature helps you find any unclaimed assets in your name in any state. An additional perk is that you can claim your money right in the app—no need for further research!
We can also make sure you don't pay for any unfair parking citations and get the rightful compensation from airlines for any canceled or delayed flight. 
Don't let big companies scare you into not claiming your warranties or insurance. DoNotPay helps you file these claims and appeal any rejections in minutes, which brings you closer to getting your money.
We can also delay your bill payments, get your college fees waived, or sign you up for paid clinical trials to earn some extra cash!
DoNotPay Keeps the Spammers Away
Whether you're dealing with email spam, text scammers, robocalls, or severe harassment, DoNotPay can help. 
Use our virtual credit card or the Burner Phone feature to sign up for free trials safely—without revealing your real info. DoNotPay will make sure that no company can reach you when you use our tools. 
We provide a fake email address, credit card info, and phone number that are in no way connected to your real data. 
We can also help you cancel services or request a refund without you having to contact the company directly.