How To File an SEC FOIA Request

The Freedom of Information Act (FOIA) is a 1966 law that regulates citizens' right to information that the government agencies hold. Anyone can file a FOIA request using the right template, and the most interesting part is—you can file a FOIA request on yourself.
The U.S. Securities and Exchange Commission (SEC) has one of the most complicated FOIA request forms. The guide on how to file the SEC FOIA request is outlined on their website, but the administrative nonsense will give you a headache.
DoNotPay created a feature for filing FOIA requests, and it is one of the most sophisticated options online. Our platform will also provide you with all the important information on the FOIA fees, appeals, exemptions, along with what FOIA actually means.
The Exemptions to the FOIA

If you want to file an SEC FOIA request, you should know that some records will not be available. These documents are exempt from FOIA requests to avoid revealing any potentially harmful info. There are nine exemptions to the FOIA:
One

—Secret or classified documents that could harm the national safety or foreign policy

Two

—Internal personnel rules and practices of an agency

Three

—Information protected by another federal law

Four

—Privileged or commercial and financial information

Five

—Communication considered to be privileged inter-agency or intra-agency information

Six

—Any information that would be an unwarranted invasion of personal privacy

Seven

—Data collected for the purpose of the law enforcement that might interfere with law enforcement proceedings, deprive someone of the right to a fair trial, could count as unwarranted validation of privacy, reveal the identity of a confidential source, divulge techniques or procedures for investigation or prosecution, and endanger someone's life or safety

Eight

—The documents that contain or refer to the reports about financial institutions that SEC is in charge of

Nine

—Geographical information about gas or oil wells
SEC FOIA Request Fees and Fee Waivers
The online request form contains a section about fee authorization. To speed up the processing of your request, you should check the box next to the amount you're willing to pay.
The SEC offers two options—a fee that goes up to $61 or Other Amount. You'll have an option of getting the invoice in two ways:
You can also request a fee waiver, but you need to have a supporting statement about why you deserve it. If the intel significantly contributes to the understanding of the activities and operations of the government, you'll be eligible to get your fees waived.
How To Make an SEC FOIA Request on Your Own
The SEC makes it fairly straightforward when it comes to filing FOIA requests. You can find an online form for FOIA requests on their website, or you can send an email with your request included. The request form is rather complex, and the guidelines on the website are not of much help. 
The SEC does enable you to call their Office of FOIA Services at 202-551-7900 if you need help filling out the form.
How To Use the SEC FOIA Request Form
The steps on how to file an SEC FOIA request are listed below:
Go to the SEC's website

Access their FOIA request form

Provide your contact information

Enter the request details—you need to give clear information about the documents you're requesting

Check the box next to the amount of money you're willing to give

Specify whether you're requesting a fee waiver and explain in what way you meet the criteria

Indicate whether you want expedited service and provide the reason for it

Click on

Submit
How To File an SEC FOIA Request via Email
The email address to which you can also send your request letter is foiapa@sec.gov. Follow the steps below to make an SEC FOIA request via email:
Write your full name and contact information

Include detailed information about which documents you want the SEC to reveal

Indicate the amount of money you're willing to pay as a fee

Specify if you want a fee waiver and provide a reason why you qualify for one

Include the request for expedited service if you need it

Send the request to the SEC email address
Other Inefficient Ways of Filing the SEC FOIA Request
The SEC urges requesters to file their FOIA requests online because those you submit by mail and facsimile will take too long to process. SEC can't access the requests that requesters submit via physical mail and facsimile promptly, which means that the responses to these requests will be delayed.
| | |
| --- | --- |
| Can You File a FOIA Request Via | Yes/No |
| DoNotPay | Yes |
| Phone | No |
| Mail | Yes |
| Email | Yes |
| Facsimile | Yes |
How To File an SEC FOIA Request With DoNotPay
DoNotPay's feature for filing FOIA requests will enable you to file your request in under five minutes, without the administrative conundrum. We will do the most work for you after your open DoNotPay in your web browser.
Follow these instructions to file your request now:
Enter the keyword

into DoNotPay's search box and indicate whether you're requesting information from a state or a federal agency

Input information about yourself, the agency, and the type of format you want your documents in

Specify whether you want your request to be expedited and if you want a fee waiver

Submit your request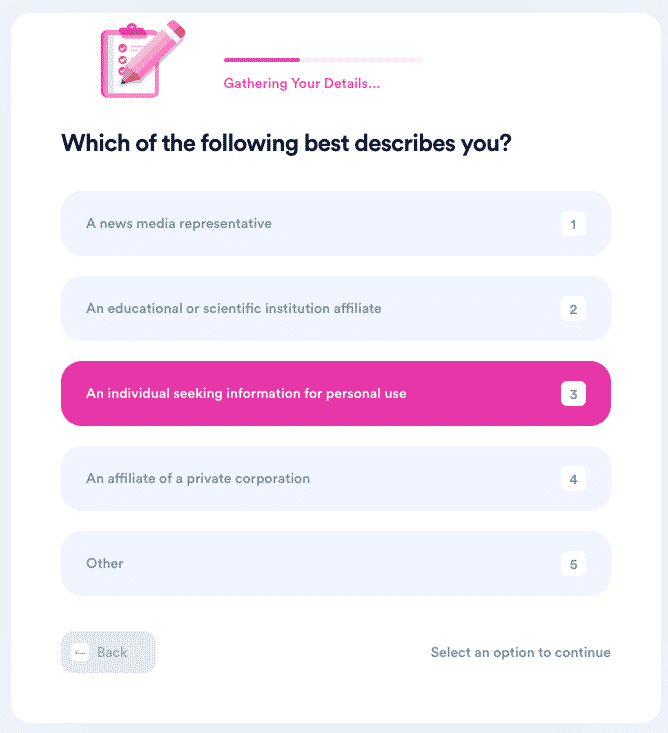 DoNotPay will generate your Freedom of Information Act request letter. After you give us permission, we'll send it to the SEC on your behalf. The letter will look like this: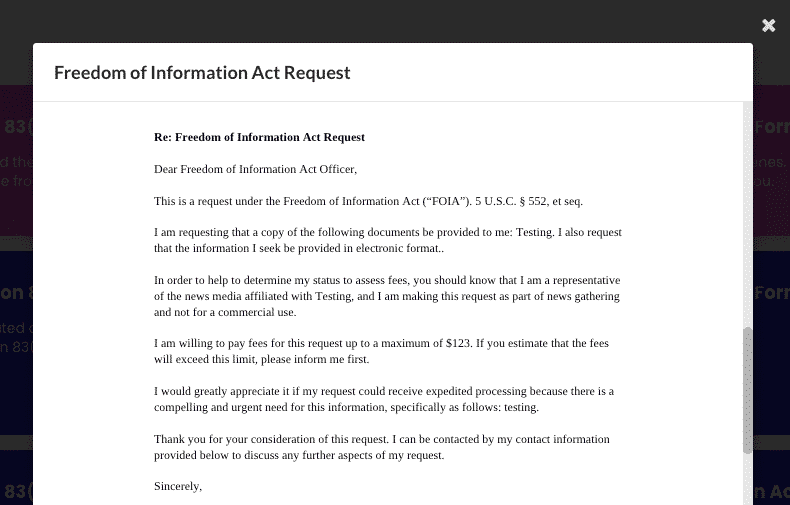 Use Our App To Get Rid of Unwanted Admin Hurdles
Do you want to say goodbye to spam text messages or protect yourself from stalking and harassment? Are you looking for a way to end robocalls and earn off them? DoNotPay can help!
As soon as you sign up for our app, you'll be able to do anything from avoiding phone number verification with our handy burner numbers to acing government tests stress-free!
Take Advantage of DoNotPay's Time-Saving Features!
DoNotPay comes with a wide array of useful features that will help you overcome any administrative issue in no time. As the world's first robot lawyer, DoNotPay can tackle just about any bureaucratic task that people dread.
You can do anything from reporting stalking and harassment, signing up for free trials, and scheduling a DMV appointment to jumping the customer service phone queue, dealing with high bills, and protecting your creative work from copyright infringement with our app's assistance.
If you want to connect with an inmate, sign up for a clinical trial, report spam emails, or sue any company or person in small claims court, you can count on DoNotPay to provide you with the necessary guidance.