A Guide to Requesting the FOIA Expedited Processing

The Freedom of Information Act of 1966 (FOIA) allows citizens to request access to public records from a federal agency. Once you file a FOIA request, you'll have to wait for a few days to receive the requested info. Response time is different for each request, but you can ask for FOIA expedited processing under certain circumstances. 
This article will help you file a FOIA request and explain what kind of requests are eligible for expedited processing.
Types of FOIA Requests
The multi-track processing system allows agencies to divide FOIA requests into five categories according to the following factors: 
The complexity of the request 

Number of business days needed for processing

Number of processed pages

Potential consultations with other agencies
Here's a short overview of each processing track:
| | | |
| --- | --- | --- |
| Processing Track | Requests Requiring | Response Time |
| Expedited | Expedited processing under special circumstances | As soon as possible |
| Simple | Little or no review, search, or analysis | One to five business days |
| Normal | A normal amount of search and analysis | Six to 20 business days |
| Complex | Extensive review, search, or referral  | 21 to 60 business days |
| Exceptional or Voluminous | A large number of records and complex processing | More than 60 business days |
If you've been waiting for a response for a long time, you can find out the status of your FOIA request by contacting the agency in question.
Who Can Request the FOIA Expedited Processing?
You have the right to request expedited processing under certain circumstances. In most cases, a requester can ask for expedited processing if he or she demonstrates a "compelling need" for the requested information. For example, a "compelling need" exists if:
A person's life would be jeopardized should the requester fail to obtain the info on an expedient basis

The information is necessary to prevent the harm of basic humanitarian interests

An individual needs the requested info urgently so that he or she can inform the public of the federal government activity. The requested information needs to be intended for public dissemination and not personal use
The agency will determine whether the request is eligible for expedited processing and respond accordingly. If you're not happy with the response, you can file a FOIA appeal.
How To File a FOIA Request on Your Own
Every federal agency has different rules regarding FOIA request forms. That's why sending a FOIA request on your own can be tricky, especially if you need expedited processing. The agency will reject your request if you don't fulfill all of the requirements to a T. If you choose to submit the request yourself, you should at least search for a few FOIA request templates and follow the rules of the agency in question.  
Take a look at some basic instructions that should work for all agencies:
Explain the urgent need for expedited processing well. You need to prove that the expedited processing request should be granted 

All agencies accept written FOIA requests only. You should send the request via fax, mail, or email, depending on the agency's preferences (you will find that info on the website of the federal agency in question)

You should check if the info you need is already available on the agencies' websites since most agencies disclose frequently requested information

Describe the information you need in detail 

Indicate if the record should be in print or electronic 
Learn How To File a FOIA Request in a Matter of Minutes With DoNotPay
DoNotPay will help you ask for expedited processing when filing a FOIA request. You won't have to search for FOIA request templates and worry about breaking the rules. We will compose an official letter according to the rules of the state or federal agency in question. 
Here's how you can send your FOIA request in a few clicks with DoNotPay's feature:
Access

DoNotPay

Search for the

FOIA

feature

Tell us whether the request is for a federal or state agency

Type in the agency name and describe the document you need

Indicate that you want to request expedited processing and tell us if you need a fee waiver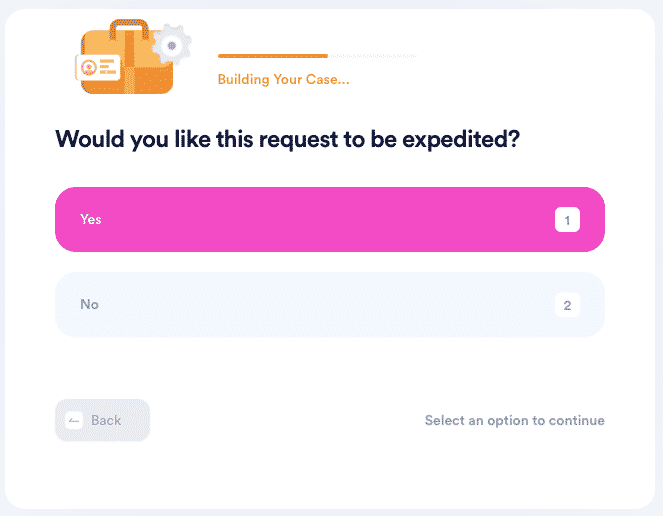 Once we generate the letter, we will mail it to the agency on your behalf.
What To Keep in Mind When Filing a FOIA Request
While the FOIA represents transparency and requires agencies to disclose any requested info, the agencies have the right to reject disclosing information in some cases. If the information is under one of the FOIA exemptions created to protect law enforcement, personal privacy, and national security, it shouldn't be disclosed.
If you want to file a FOIA request on yourself, you will need to provide proof of identity. Agencies request proof of identity to protect your privacy.
Since each federal agency has different rules, you should check if the agency you want to send the FOIA request to charges fees. In most cases, 100 pages of duplication and the first two hours of search are free. If the process lasts longer, the agency will charge an hourly fee.
DoNotPay Will Help You Send a FOIA Request to Any Agency!
DoNotPay's feature will assist you in submitting a FOIA request to any state or federal agency, including:
What Else Can Our Award-Winning App Do for You?
If you think that's impressive, wait until you've heard about other features we boast!
Our powerful app can draft paperwork for you, locate unclaimed funds under your name, cancel subscriptions, sue robocallers, and protect you from stalkers and harassers—all in one nifty browser app!
Our legal services have been recognized by the esteemed ABA Brown award, serving as a testament to our abilities to assist you with your small claims issues, free trial auto-renewals, college fee waivers, public records, copyright protection, and much more!
More Benefits of DoNotPay
DoNotPay is a useful tool for handling many otherwise annoying life's trifles, including: