Make an Air Force FOIA Request Within Minutes With DoNotPay
The Freedom of Information Act (FOIA), established in 1966, is a law that enables the public to access records from the federal government. In most cases, you can file FOIA requests both online and in writing. 
If you need to file an Air Force FOIA request, you've come to the right place. Our article will tell you more about the FOIA fees, appeals, and exemptions. You can also find a FOIA request template easily, which will ensure you have a perfect request form on your hands.
We will help you discover the fastest and simplest way of filing FOIA request forms. With DoNotPay, you'll be able to file a FOIA request with any agency, including the U.S. Air Force.
Who Can File an
Air Force FOIA
Request?
Any member of the public who acts as a private citizen can file an Air Force FOIA request. This includes:
Military personnel

Civilians

Foreign citizens

Organizations

Businesses

Individual members of the Congress
It's important to remember that the FOIA grants access only to information held by federal agencies. The FOIA won't grant you the right to obtain data from the courts, state, Congress, private businesses or individuals, or local government agencies.
Even with federal agencies, there are exemptions to the FOIA.
Exemptions to
Air Force FOIA
The United States Congress formed nine exemptions to the FOIA to protect private and government interests.
The U.S. Air Force relies on the FOIA exemption three to reject disclosing personal and organizational lists of email addresses. The regulation is that the email systems can be used for official and authorized purposes exclusively.
Because releasing this type of information would be considered an unwarranted invasion of personal privacy, another exemption that the Air Force applies is the sixth one—the usage of email is limited to authorized purposes.
The organization can put up a single email address on a web page or in correspondence—the sixth exemption doesn't prohibit it.
Are There Any
FOIA Air Force
Fees To Cover?
The Air Force has three categories of requests. The fee will depend on which category your request falls into.
The three categories are:
Commercial

—You'll need to pay for the search, review, and duplication

Educational, news media, or noncommercial scientific institutions

—You'll get the first 100 pages free

Other

—The first 100 pages and two hours of the search will be free
You may get a fee waiver or get your fee reduced if the information you want to disclose is in the public interest. When you fill out a FOIA request form, you should indicate how much you're willing to pay. If the fee turns out to exceed the limit, the agency will contact you to discuss the matter further.
How To Make a
USAF FOIA
Request by Yourself
There are several ways you can file a FOIA request:
| | |
| --- | --- |
| Can You File Via? | Yes/No |
| DoNoPay | Yes |
| Online Request Form | Yes |
| In Person | No |
| Mail | Yes |
| Phone | No |
| Email | Yes |
| Chat | No |
Follow these steps to file an Air Force FOIA request:
Specify that it's a FOIA request

Give a detailed description of which documents you're asking for

Indicate in which form you would like to receive this information

Include a statement that you're willing to pay any applicable fees (include the amount of money you're willing to pay) or why you believe that a fee waiver should be available to you

Enter your relevant mailing address, your phone number, and email address
Keep in mind that if you're an official, you need to file your request as a civilian. You should only use your personal information and nothing that has to do with your position.
You can check your FOIA status anytime you wish on the eFOIA website.
If you decide to file a FOIA request on yourself, it counts as a Privacy Act request. This means that you'll have to provide proof of identity and give a perjury statement.
How To File a
U.S. Air Force FOIA
Request With DoNotPay
DoNotPay created the fastest, easiest, and most affordable solution to the administrative troubles of filing a FOIA request. Follow the steps below to use this DoNotPay's money-saving option:
Open DoNotPay in any

web browser

and search for the

FOIA request

feature

Specify whether it's a state or a federal agency and include its name and the name or description of the information you seek

Tell us if you need a fee waiver or

expedited processing

Submit your request
After you complete all the steps, DoNotPay will generate a request letter and send it to the agency on your behalf.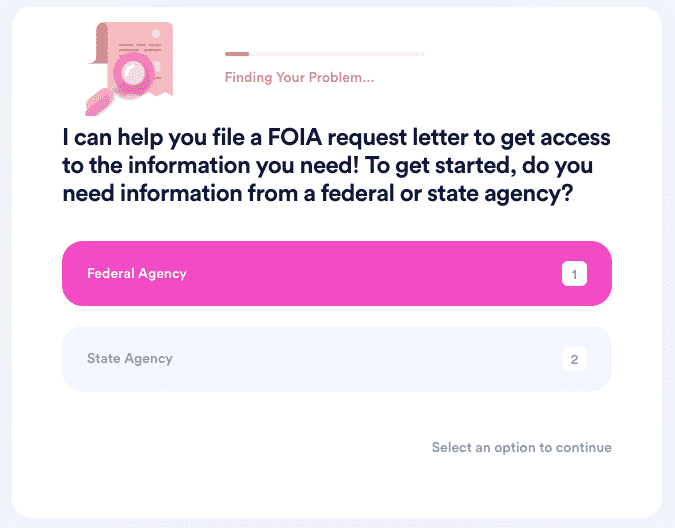 You Can Use DoNotPay To Send FOIA Requests to any Agency
You've seen how easy it is to file the FOIA request with the help of DoNotPay. Check out the list of other agencies and information we can help you with: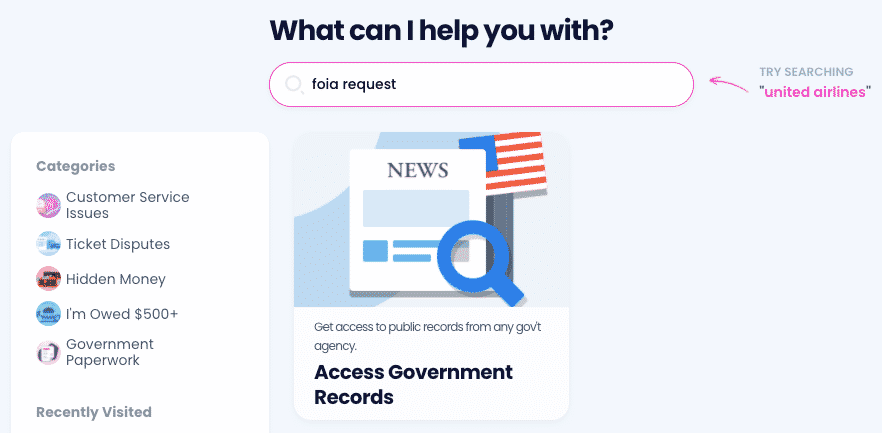 Use Our App To Get Rid of Unwanted Admin Hurdles
Do you want to say goodbye to spam text messages or protect yourself from stalking and harassment? Are you looking for a way to end robocalls and earn off them? DoNotPay can help!
As soon as you sign up for our app, you'll be able to do anything from avoiding phone number verification with our handy burner numbers to acing government tests stress-free!
Take Advantage of DoNotPay's Time-Saving Features!
DoNotPay comes with a wide array of useful features that will help you overcome any administrative issue in no time. As the world's first robot lawyer, DoNotPay can tackle just about any bureaucratic task that people dread.
You can do anything from reporting stalking and harassment, signing up for free trials, and scheduling a DMV appointment to jumping the customer service phone queue, dealing with high bills, and protecting your creative work from copyright infringement with our app's assistance.
If you want to connect with an inmate, sign up for a clinical trial, report spam emails, or sue any company or person in small claims court, you can count on DoNotPay to provide you with the necessary guidance.