How To Submit a Solid CMS FOIA Request

According to the Freedom of Information Act (FOIA), any person has the right to demand access to the records maintained by federal agencies and other government bodies. People are interested in getting such information for various reasons—writing journalistic articles, targeting potential customers, etc. This law, enacted in 1966, applies to numerous federal agencies across the USA, including the Centers for Medicare and Medicaid Services (CMS).
The main purpose of our article is to provide the best instructions for filing a CMS FOIA request on yourself or somebody else the easy way. It will help you find out more about the meaning of FOIA in such cases and related fees, appeals, status checks, and request forms.
What Are the Exemptions to the CMS FOIA?

CMS will disclose any type of records except for the ones covered by nine FOIA exemptions. They cover records that:
Are related to national defense and foreign relations

Refer to agency practices and regulations

Are protected from disclosure by another law

Include trade secrets and confidential business details

Belong to the group of intra-agency or inter-agency communications

Threaten personal privacy

Serve for law enforcement purposes

Contain information about the supervision of financial institutions

Refer to geological information about wells
Details You Should Include in Your CMS FOIA Request

CMS will accept your FOIA request only if it's in writing. The agency offers a request letter template you can use, but it doesn't cover everything you need to include in your petition. The table below shows all the required details you need to state in your request and the information you don't need to disclose:
Do
Don't

Sign your request letter

Provide your contact information

Write

Freedom of Information Act Request

on your envelope

Request fee waivers if the desired records are in the public interest

Specify in which format you want to receive the requested information

Indicate the amount you are willing to pay for searching or duplication costs

Specify the exact type of the records you want, including their titles, authors, subjects, publication time and place, etc.

Submit a

Medicare Authorization To Disclose Personal Health Information

if you are requesting medical records for someone else

Submit a

specific authorization

if you are requesting medical records of the deceased person

Forget to include your contact details

Disclose the reason for requesting public information

Provide a poor description of the desired records—the more detailed the explanation is, the faster the agency can resolve your case
Can You Demand Expedited Processing for Your CMS Request?
CMS allows you to request expedited processing but only in exceptional cases—for example, if the life or physical safety of an individual is in danger. The institution will grant this demand to persons who can prove that the disclosure of the desired public information is urgently needed. 
What Fees Do You Need To Pay for Requesting Public Records from CMS?
If the search for the requested records lasts less than two hours and there are fewer than 100 copied pages, you pay no fees. 
Should the search time exceed two hours, the agency has the right to charge you from $23 to $83 per hour, depending on the personnel salary range. Copying fees depend on the type of copies. 
If your overall costs after applying search time and copying fees don't exceed $25, CMS won't charge you at all.
Rock Your CMS FOIA Requests With DoNotPay
Writing your petition is the most complicated part of the procedure. Not only does it take much time and energy, but you may easily get confused by loads of new information and miss important details.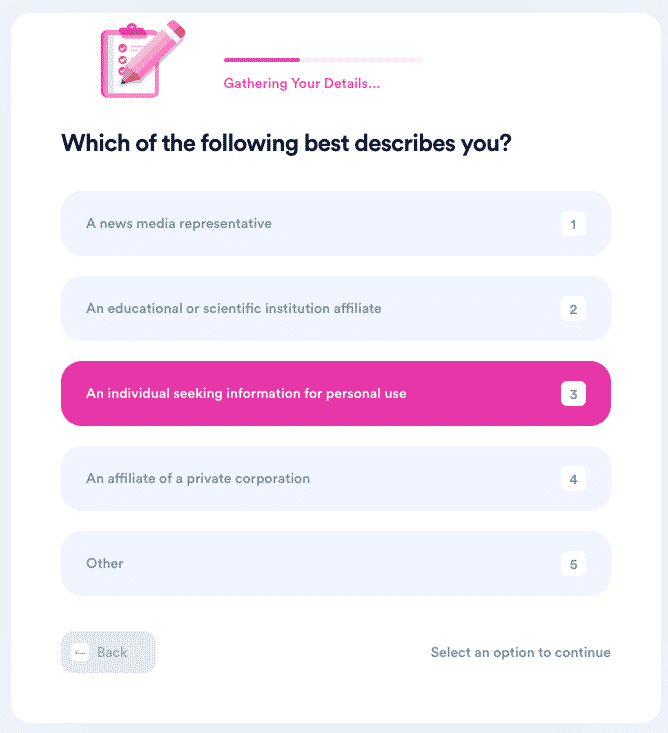 Forget about bureaucracy—DoNotPay will spare you precious time by filing a request in your stead with zero paperwork. Instead of wasting hours trying to compose a petition letter on your own, use our service and solve the issue quickly!
Here are the steps you should follow to request public records via our app:
Visit DoNotPay in your

web browser

Find the FOIA feature by searching for keywords—

FOIA, freedom, public information

, etc.

Pick

State Agency

or

Federal Agency

Disclose the name of the agency and provide more details about the records you are requesting—titles, topics, authors, etc.

Say whether you want to use a fee waiver or expedited processing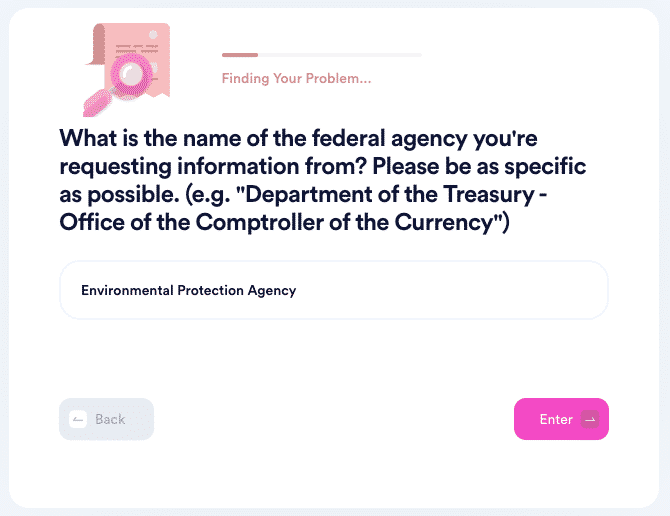 As soon as you fill out our brief questionnaire, we will generate a request and forward it in your name to the particular agency. 
DoNotPay is a fast, easy, and efficient solution for demanding any type of records from state and local governments. Our database contains relevant state-specific laws of Ohio, Florida, Arkansas, Massachusetts, South Carolina, and other U.S. states.
Your FOIA Requests Are DoNotPay's Command
We can teach you how to request public records under the Privacy Act, demand a copy of your I-140 form under the FOIA, or get police or military records the easy way! 
Our handy manuals will give you valuable advice on submitting FOIA requests to various federal institutions, such as:
DoNotPay Offers a Variety of Services
DoNotPay is the ultimate virtual assistant that takes over all those annoying tasks you don't want to deal with!
Need to schedule your DMV appointment? Want to get your college fees waived? Have to draft a legal doc quickly?
We can do all that and much more!
Our app waits on the phone line with customer service of any company for you, reports robocalls, and helps you file lawsuits in small claims court. 
We can also help you deal with your parking tickets, get rid of spam emails and texts, or find and sign up for reputable clinical trials!
Keep Your Money in Check With DoNotPay
How often do you sign up for a free trial and then forget to cancel it before it expires? Unexpected charges are the worst, but you can prevent them if you use our free trial card. DoNotPay's virtual credit card is not connected to your bank account, which means that no money can be taken from it. 
We can also help you get refunds for unsatisfactory purchases or compensation from airlines for delayed or canceled flights.
In case you are struggling with warranty claims, bill payments, insurance, or tax reduction, DoNotPay can solve these issues as well. 
Our app also has the largest database of unclaimed assets in the United States, so you can find and claim your lost funds quickly.