The Maryland Freedom of Information Act Explained

The Freedom of Information Act (FOIA) is a 1966 federal law that enables you to access certain records and documents containing information about the government's work. This article will discuss the Maryland Freedom of information Act with regards to the meaning of the Act, exemptions, and methods of filing requests.
We created the simplest request form on our platform that you can use to get the information you need. Filing a FOIA request with the help of DoNotPay will save you time and energy.
Freedom of Information Act
in
Maryland

The Maryland Freedom of Information Act is also called the Public Information Act (PIA). If you'd like to know more about what types of documents count as public records and who can file the request, check out the table below:
What Counts as Public Records
Who Can File a PIA Request

Any original or a copy of documentary material that a public body created or received. Public records could include:

Books

Films

Maps

Records

Tapes

Drawings

Microfilms

Photographs

Photocopies

Computerized records

Citizens

Universities

Corporations

Private individuals

Associations

Public interest groups

If the record isn't exempt from disclosure, anyone can access it.
Maryland's PIA allows for 30 days of response time. After 30 days, the agency must accept or deny the request.
What Are the Exemptions to the
Maryland Freedom of Information Act
?
There are nine general exemptions to the Freedom of Information Act. Every state has its version of the FOIA and the exemptions.
Maryland exemptions to the PIA forbid the disclosure of the following information:
Trade secrets

Investigative materials

Data that invades personal privacy

The policy of development methods

Criminal records that could be used for the solicitation of services
How To File a Freedom of Information Act Request in Maryland by Yourself

The process of filing FOIA requests could be complicated because it requires plenty of research and dealing with administrative difficulties. Before filing the request, you should make sure that the information isn't already available on the agency's website.
The steps to filing Maryland FOIA requests are listed below:
Write your FOIA request letter—you can use a

template

Determine which agency holds the records you seek—you can use Maryland's list of

records custodians

Include your full name and every relevant detail about the documents you're requesting

Use the list of records custodians to find the PIA representative

Send your FOIA request to the PIA representative via the method that they offer
If you want to file a FOIA request on yourself, you'll have to provide proof of identity.
If you become impatient because of the 30-day rule, some agencies will allow you to check the status of your request. If you can't find the section for checking the status, you can always contact the PIA representative.
The agency might deny your request. With a strong argument, you can file an appeal and get the information you need.
DoNotPay and
Maryland FOIA Requests

The greatest fact about DoNotPay's FOIA feature is that it works for any agency. This includes agencies in any state, such as Maryland. All you need to do is indicate which type of agency you're requesting records from, and DoNotPay will do most of the work for you.
The following are some of the states you can use DoNotPay in and agencies we can help with:
How To File a Maryland FOIA Request With DoNotPay
The first action you'll need to take to file a Maryland FOIA request with DoNotPay is to open our platform in your web browser.
After you access DoNotPay, follow these steps to file a FOIA request smoothly:
Tell us whether it's a state, local, or federal agency you're contacting for documents

Enter the name of the agency and specify in detail which records or documents you're after

Request a

fee

waiver or

expedited processing

if you're eligible

Submit your request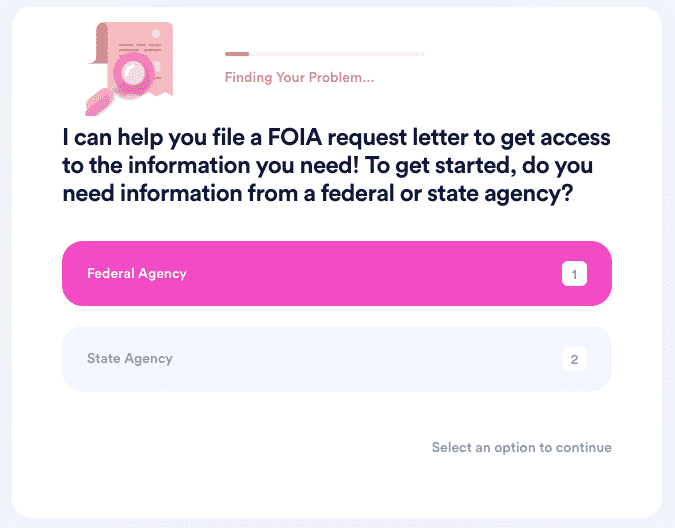 Following your FOIA request submission, DoNotPay will generate a request letter that we'll send to the agency on your behalf. All you need to do next is wait for their response. There isn't a limited number of requests you can submit, so you can use DoNotPay as many times as you like.
Take Advantage of DoNotPay's Time-Saving Features!
DoNotPay comes with a wide array of useful features that will help you overcome any administrative issue in no time. As the world's first robot lawyer, DoNotPay can tackle just about any bureaucratic task that people dread.
You can do anything from reporting stalking and harassment, signing up for free trials, and scheduling a DMV appointment to jumping the customer service phone queue, dealing with high bills, and protecting your creative work from copyright infringement with our app's assistance.
If you want to connect with an inmate, sign up for a clinical trial, report spam emails, or sue any company or person in small claims court, you can count on DoNotPay to provide you with the necessary guidance.
Use Our App To Get Rid of Unwanted Admin Hurdles
Do you want to say goodbye to spam text messages or protect yourself from stalking and harassment? Are you looking for a way to end robocalls and earn off them? DoNotPay can help!
As soon as you sign up for our app, you'll be able to do anything from avoiding phone number verification with our handy burner numbers to acing government tests stress-free!