Get the Lowdown on What a FOIA Officer Does
During your FOIA search and FOIA request submission, you might have a lot of questions. You may have heard of a FOIA officer, but you're not entirely sure what they do or whether you can contact them.
We'll answer all your questions regarding a FOIA officer! You can also count on DoNotPay to walk you through the whole FOIA process up until you obtain the documents or records you seek.
Is There Only One
Freedom of Information Act Officer?
No, there isn't. A central government office that handles FOIA requests doesn't exist, so there can't be only one FOIA officer. According to the Freedom of Information Act (FOIA), each public body should assign one or more employees to be a FOIA officer. Some agencies have one Chief FOIA officer and several FOIA professionals.
What Do a FOIA Officer and Other Employees Do?
Since every federal agency operates differently and appoints its own FOIA officer, the number of employees and their responsibilities varies. Here's an overview of typical functions of FOIA officials:
Title
Brief Explanation

FOIA professionals

Search for requested records

Process FOIA requests

Settle an informal dispute when a requester is dissatisfied with the response to the request

FOIA contacts and FOIA public liaisons

Answer questions to FOIA requesters

Resolve concerns regarding the FOIA process, delays, or disputes

Chief FOIA officers

Oversee their agency's compliance with the FOIA

FOIA officers

Receive FOIA requests

Make sure the agency respects the

FOIA response time

Issue FOIA responses

Compose a list of documents or categories of records that the agency needs to send the requester

FOIA appeals officers
Where Can I Find a
FOIA
Officer's
Email
and Other Contact Info?
Agencies' websites usually have web pages dedicated to FOIA where you can find info about FOIA requests and the contact info. If you're not sure which agency you need to contact, you can visit the government's central website for FOIA and browse the list of all federal agencies.
Another option is to download a listing of all FOIA contacts at the bottom of the Resources page.
When Should I Contact an Agency's FOIA Professional?
You can contact a FOIA professional when you:
Are not sure whether you should file a FOIA request or you can already access certain documents

Don't know the tracking number you need to check your FOIA status online

Want to

check your FOIA status

because you can't perform a check online

Are dissatisfied with an agency's response (e.g., denial, delays, or

fees

)
Can't Reach a FOIA Officer? DoNotPay Will Answer Your FOIA Questions!
An agency's FOIA center may be overbooked, and it may experience a high volume of calls and requests. Luckily, you can turn to if you have any FOIA questions, including: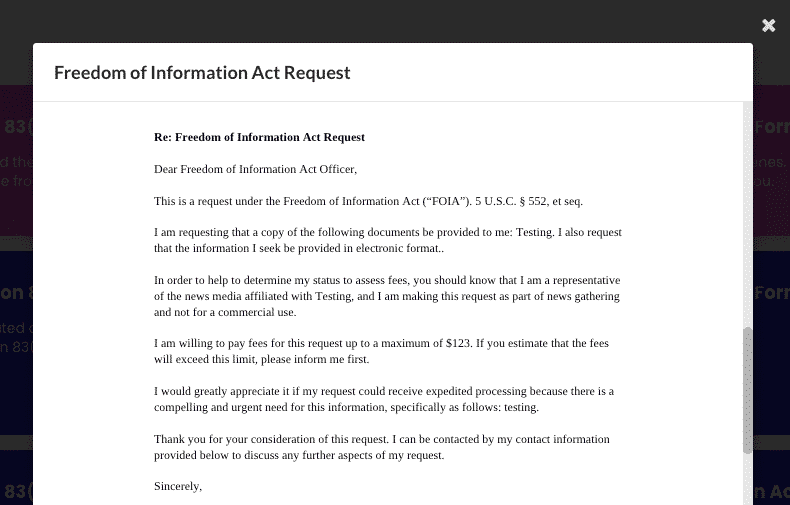 DoNotPay—The Best Way To File FOIA Requests
When you use DoNotPay to submit your FOIA requests, you don't need a FOIA officer. We've got all the info you need, and we'll guide you through the whole process.
Our app will:
Ask you to provide your personal and contact details

Collect the relevant info regarding the records you want to access

Write your FOIA request letter

Send your FOIA request to any agency—federal, state, or local
You can open DoNotPay in any and follow our instructions to initiate your FOIA requesting process. See for yourself how easy it can be to submit FOIA requests:
Locate our

FOIA

feature

Enter the agency you wish to send the request to

Tell us if you want to apply for a FOIA fee waiver or

expedited processing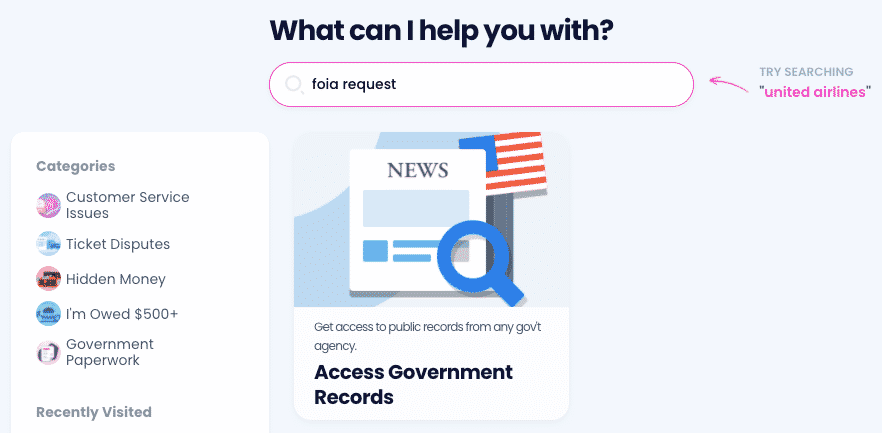 Submit FOIA Requests to Any Agency With the Help of DoNotPay
You can use DoNotPay to file FOIA requests to any U.S. agency or department. If you have any questions about a certain agency and its FOIA processes, check our rundown on it!
Find FOIA info and tips about the following agencies and many more: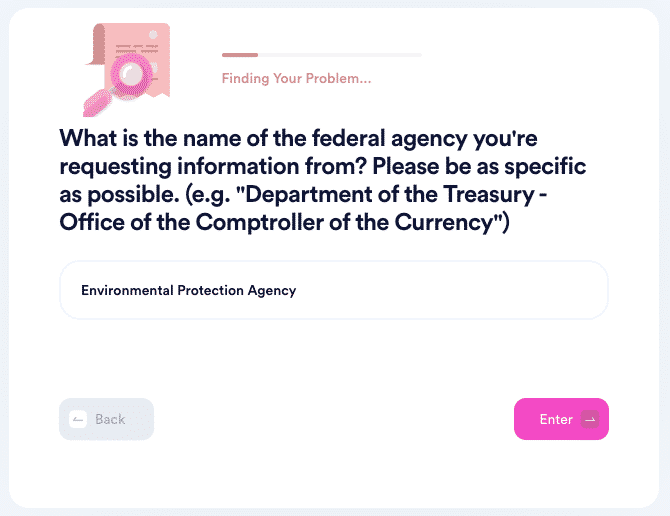 Use DoNotPay To File FOIA Requests in Every State
DoNotPay's FOIA feature works in all U.S. states. Although general FOIA rules and regulations apply, states' FOIA processes may vary. Our learning center boasts articles on filing FOIA requests in different states, including:
Use Our Robot Lawyer To Eliminate Pesky Tasks
Administrative tasks are often time-consuming, which is why many people give up on them before even trying to tackle them. Requesting refunds, canceling services, signing up for clinical trials, reporting stalkers and robocalls, and trying to find unclaimed money are all processes that would usually take a long time to resolve.
With the help of DoNotPay, though, all of these admin hurdles become a piece of cake. In just a few minutes, our app can assist you in appealing parking tickets, getting in touch with your imprisoned loved one, getting an extended warranty, reporting copyright infringement, and so much more!
Don't Break the Bank—Sign Up for DoNotPay!
Our app can save you lots of money by helping you get a refund from any airline, sign up for a free trial without your credit card info, earn off persistent and illegal spam emails, and get an application fee waiver for a college you apply to.
With DoNotPay, you can even schedule a DMV appointment or jump the phone queue when getting in touch with a customer service representative without breaking a sweat!