How To Obtain FOIA Police Reports in Minutes
Under the Freedom of Information Act (FOIA) of 1966, you can request access to federal agencies' records. If you want to obtain information from police reports, you should file a FOIA request. DoNotPay is here to give you more details on the meaning of FOIA and help you submit your FOIA police reports request in no time.
Freedom of Information Act for Police Records
Police departments usually have a bunch of records publicly available on their websites. When it comes to police reports, they might not be easily accessible. Police departments are not willing to publicly display certain information, especially the details regarding crime and arrests. If you can't find the report you seek in the police department's library, you can invoke the Freedom of Information Act.
To obtain information from police reports, you will need to submit a FOIA request. Be aware that there are certain exemptions to the FOIA. You might not be able to access records that:
Protect the interest of national security

Relate to internal rules of an agency

Enjoy protection from disclosure by another federal law

Refer to trade secrets

Include privileged communication within or between agencies

Contain information that can invade other people's privacy

Include the details related to law enforcement purposes

Reveal information about the supervision of financial institutions

Have geological and geophysical data
How Much Does Filing a FOIA Request Cost?
If you seek information from the police reports, you might need to pay a FOIA fee to access them. The fees vary depending on several factors, including the following:
State and police department

Type of information you need

Document format

Number of pages

Time needed to process your request
If you prove that the reports you seek are of public importance, you may be exempted from paying the fees. Requesters from commercial entities are rarely granted fee waivers.
How To Send a FOIA Request for Police Records on Your Own
Here are the most common ways to request access to police reports:
| | |
| --- | --- |
| Can I Submit My Request Via | Yes/No |
| DoNotPay | Yes |
| Online | Yes |
| Email | Yes |
| Mail | Yes |
| Fax | Depends on the department |
| Phone | Depends on the department |
| Special Carrier | Depends on the department |
The methods of filing a FOIA request for police reports differ from department to department. The Chicago Police Department, as well as the Michigan police, require written FOIA requests.
You might have to fill out a FOIA request form, but not all police departments provide one. In case you can't find the form for the agency you want to retrieve records from, you can use a FOIA request template as a guide.
The templates contain only rough information on how to write a FOIA request. If you don't want to waste time and risk omitting important details, use DoNotPay to file police reports FOIA requests effortlessly.
Submit a
FOIA Request for Police Reports
in No Time With DoNotPay
DoNotPay lets you make FOIA requests within minutes! We will compose a FOIA letter for you and send it to the agency of your choosing. With our award-winning app, you can also request a FOIA fee waiver or ask for an expedited process.
To request access to police reports, do the following:
Open DoNotPay in any

Search for

FOIA

Enter the police department you want to get reports from

Provide your personal and contact details

Give us information about the documents you seek and finalize your request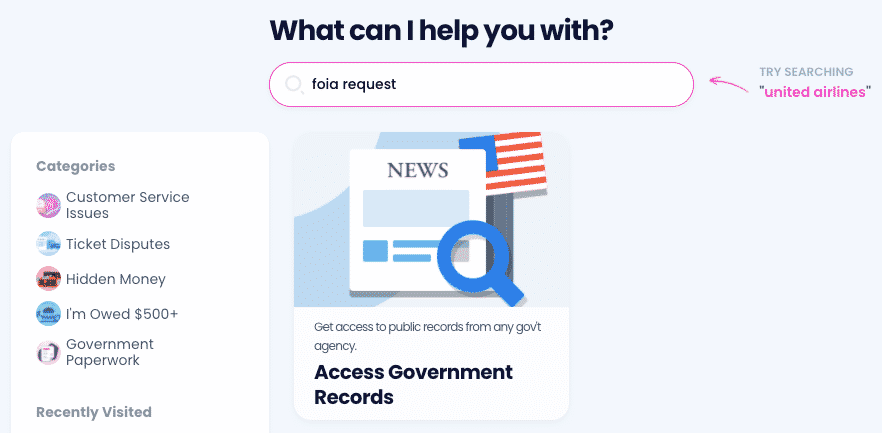 In case your request gets denied, read DoNotPay's guide to filing a FOIA appeal.
What Happens After You Submit Your FOIA Request for Police Reports?
Once you file your FOIA request, the department in question should let you know whether your request was approved. The response time is around 20 working days of receiving it. Note that the response period might be much longer than that. You can use DoNotPay to learn how to check your FOIA status.
DoNotPay Allows You To File a FOIA Request to Any Agency
Do you need to retrieve records from some other agencies? DoNotPay can assist you in submitting FOIA requests to any state or federal agency, including the:
Internal Revenue Service (IRS)

U.S. Environmental Protection Agency (EPA)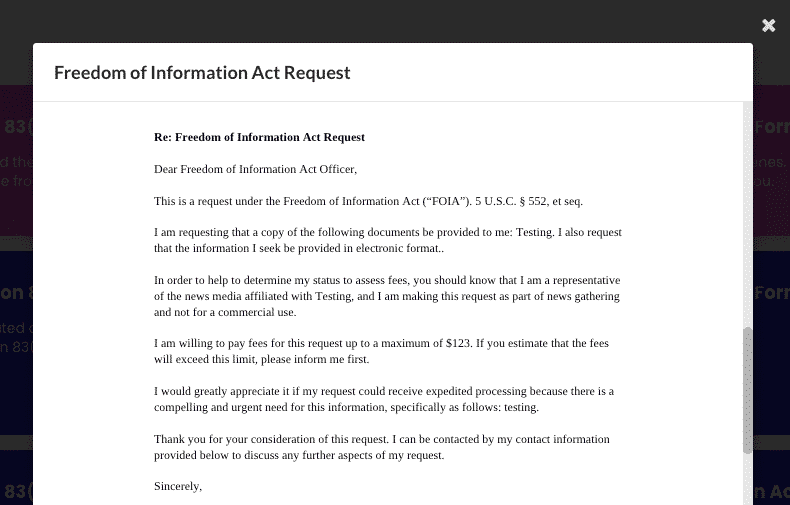 You can seek federal agencies' information on yourself or any other subject. All you need to do is log in to DoNotPay in any , and we can help you get the records you need.
Do You Know What Else You Are Eligible For?
DoNotPay is a handy virtual assistant that can reveal a world of possibilities that you may not have even been aware of. We've perfected our algorithms to identify opportunities for you to save up and take charge of your rights.
Here's a fraction of what we can do for you:
What Else Is New With DoNotPay?
DoNotPay boasts several new features that can help make your everyday life so much easier.
Have you been wondering how to file an insurance claim but weren't sure where or who to turn to? We will gladly do it for you.
Are you tired of outdated faxing practices and manual documentation? Our app can provide you with an online fax solution and draft all your legal paperwork in no time at all.
Do you need a safe place to prepare for your upcoming government test? DoNotPay will give you all the prep tests you need.
We can help out with locating an imprisoned loved one and keeping correspondence with them via our virtual mailbox.
See what else DoNotPay has in store by accessing our web app in any browser.