Ways To Get the UMass Amherst Application Fee Waiver 
It's no news that pursuing a college education in the United States requires some serious cash. Aspiring students have to cover the cost of tutoring, various tests, and application fees before paying for notoriously high tuition and living expenses. 
One of the fees that future students will encounter is the college application fee. Some universities don't charge this fee, but UMass Amherst does. The fee covers the administrative costs of processing numerous applications. An average application fee stands around $50, and that's what most applicants should expect to pay.
Most of the top schools charge significantly more than that. The application fee at the University of California, San Diego, holds the country-wide record at $105. Considering that an average student applies for seven to 10 schools, paying for application fees can be a burden, especially if your finances are tight.
The UMass Amherst Application Fee
The University of Massachusetts, Amherst, is the third biggest university in the state, after Harvard and Boston University, with a tradition longer than 150 years. Its nine schools and colleges received over 40,000 first-year applications in 2020. 
The application fee at UMass Amherst stands at $80, significantly higher than the national average. The University is willing to waive this fee for eligible applicants so that it does not represent a financial barrier. Applicants can request a waiver in one of the following ways:
Common App

Coalition App

UMass Amherst's

Quick Pass

form
To make the process simple yet effective, you can use the powers of DoNotPay, the world's first robot lawyer.
Is There a Way To Avoid Paying College Application Fees?
Most colleges are willing to waive application fees for eligible students. Each school prescribes its requirements for a waiver, usually for financial reasons. Regardless of whether you fulfill the requirements or not, an application does not guarantee that a waiver will be issued. It is entirely at the discretion of the university.
Certain factors increase the likelihood of getting an application fee waiver:
Signed letter from a high school counselor

Demonstrated financial hardship

Veteran status or active duty in the United States Armed Forces
It's always a good idea to check the specific application rules of each college.
What Are UMass Amherst's Criteria for an Application Fee Waiver?
As with most other universities, the basic requirement for application fee waiver eligibility is U.S. citizenship or permanent residency. International students cannot count on receiving a waiver for this fee. If you received the Common App or Coalition App fee waiver, UMass Amherst will accept that as sufficient to waive your application fee. 
Depending on your chosen method of applying, different information about your circumstances may be used to determine your eligibility. The table below shows what circumstances are relevant for each method.
Requirement
Quick Pass
Coalition App
Common App

Eligibility for

Pell Grant

Yes

Yes

No

Veteran status or active duty

Yes

Yes

No

ACT/SAT testing fee waivers

No

Yes

Yes

Homelessness

Yes

No

Yes

Living in subsidized public housing or a foster home

Yes

No

Yes

Affected by a recent natural disaster

Yes

No

No

Signed approval from a high school counselor

Yes

No

Yes

Ward of the state or an orphan status

No

No

Yes

Family income is below $65,000

Yes

No

No

Household income is within federally set

Income Eligibility Guidelines

Yes

Yes

Yes

A family receives public assistance

Yes

Yes

Yes
According to the Income Eligibility Guidelines set by the USDA's Food and Nutrition Service, your household's total annual income must be equal to or below $23,107 if you live alone. For each additional member of your household, add $8,177.
How To Request the UMass Application Fee Waiver
If you believe that your circumstances qualify you for an application fee waiver, make sure that you prepare all the relevant information you might need. You can apply for the waiver via QuickPass, Common App, or Coalition App.
Quick Pass
If you've decided to apply for a waiver via Quick Pass, do the following:
Go to the

Quick Pass

web page

Enter your

personal information,

and if you're seeking to transfer, information about your

current school

Select the

entry term

from the drop-down list

Fill out the questionnaire

about your circumstances 

Click

Submit
Common App
Using the Common App is popular among college applicants. Here's what you need to do to request a fee waiver:
Create an account

on the

Common App

website

Fill out the required information

about your status or current circumstances 

Submit your application

. Your high school counselor will be asked to complete a fee waiver form to support your request
Coalition App
The Coalition App works in a similar way:
Go to the

Coalition for College

website and

create your account

 

In the

Fee Waiver

section of your profile page, check all boxes that apply to you

The automatic search will show you all universities where you are eligible for a waiver

Submit

your application to the university of your choice
Not sure which method to use? Go for DoNotPay, a user-friendly and AI-powered tool that simplifies the whole process.
Requesting the UMass Amherst Application Fee Waiver via DoNotPay
DoNotPay stands out as the simplest way to request an application fee waiver, especially if you're applying to multiple universities. We cover all colleges in the U.S. and reduce the amount of tedious work.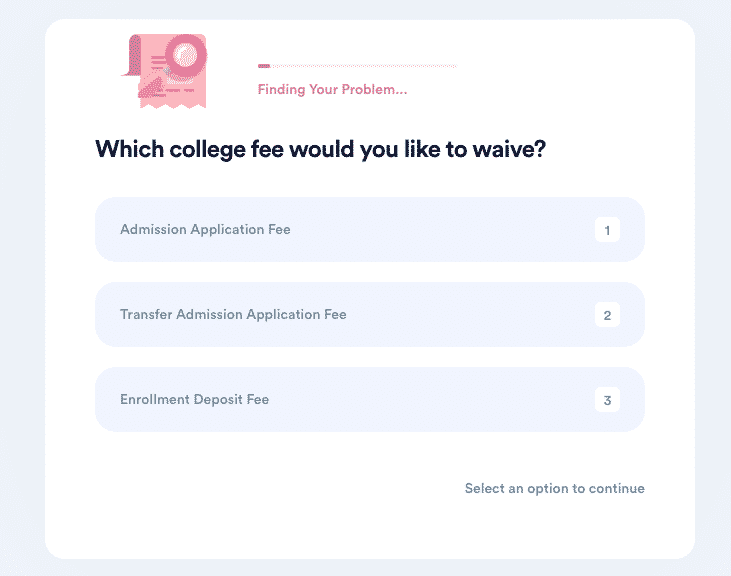 This is how DoNotPay works:
Sign up in your

web browser

Select the

College Application Fee Waiver

function

Select the

type of fee

to request a waiver for. DoNotPay supports test fees (except for SATs and ACTs), new student applicant fees, enrollment deposit fees, and transfer student fees

Search for the

school of your choice

(UMass Amherst in this case)

Complete a

simple questionnaire

about your finances

Request a

letter from your high school counselor

to strengthen your case
Leave it to DoNotPay to do the rest! We will send the waiver request form to the university's admission office and even obtain your high school counselor's signature. Keep in mind that the university might request additional relevant documentation from you later on. 

That's Not All! DoNotPay Can Do Much More 
If you frequently ask yourself, "Is there an app for this?", DoNotPay is the answer. Whether you are trying to avoid mundane everyday tasks, hack bureaucracy or block unwanted payments, DoNotPay has you covered. 
Applying to more than one college? Say no more! We assist in requesting application fee waivers from Texas A&M University, the University of Texas at San Antonio, Texas Tech, Stanford Law, Harvard Law, Northeastern University, and many more! Sign up in your web browser and explore DoNotPay's numerous features that can make your life easier: