Dispute Cambridge parking tickets from your phone in two minutes
Thanks to DoNotPay, you can beat your Cambridge, MA parking tickets with the help of an AI-powered chatbot. As reported by Business Insider, DoNotPay has helped hundreds of thousands of people dispute and win parking tickets.

Appeal your ticket in minutes:
Dispute your tickets directly in your

web browser

.

Answer queries about your parking citation. You should input which state you were in when you got it, the type of infraction given, and the reason you want it disputed.

Take a photo of the ticket and upload it to the app.

DoNotPay will generate the exact dispute letter you need to give you the highest chance of successfully contesting your ticket.
Watch how to dispute parking tickets in any city:
Is contesting my Cambridge parking ticket even worth the time?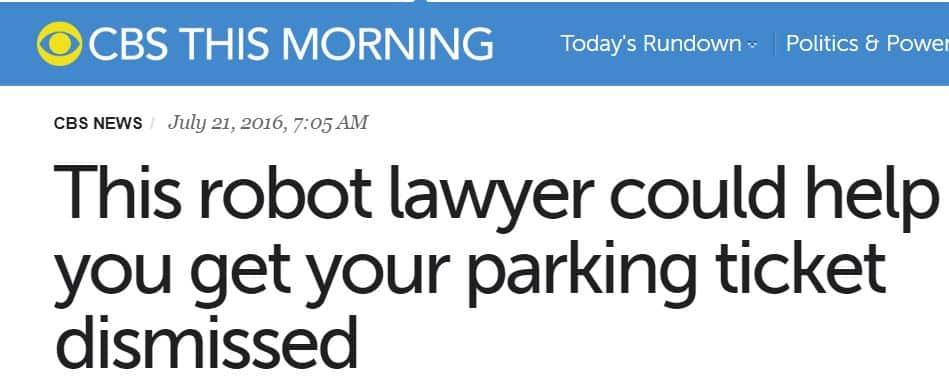 Thanks to DoNotPay's AI-powered technology, you can dispute your ticket in seconds. The app gives you suggestions to dispute your Cambridge parking ticket. These include:
Street signs that have faded paint on it

Citations that occurred after you sold the vehicle to another person

There are details on the parking ticket that are incorrect or missing

You do not own the car

There are no appropriate parking signs on the location regarding the violation issued
If you have evidence that you parked your car legally, then disputing the ticket should be your top priority. Here are some forms of evidence to use:
Unclear street signs and restrictions

Parking tickets that have illegible handwriting

Wrong or insufficient information written

Essential details are not written and listed on the citation
If you wish to bring the citation to court, consider the following:
The parking infraction should accurately describe details regarding your violation

Check if alterations are present or if the parking police officer crossed out some information on the ticket

Gather all possible evidence that may support you as you fight the citation given
Access DoNotPay through any .
How much time does DoNotPay save?
When you decide to do things manually, it may take as much as half a day. You need to gather evidence, come up with possible witnesses and get their statements, craft your own dispute letter, and potentially argue your case in front of a judge.
Can DoNotPay help me dispute tickets from private parking companies in Cambridge?

DoNotPay helps you fight your Cambridge parking tickets from the government traffic enforcers, as well as any parking infraction from any private parking company including:
Douglas Parking

Ace Parking

Laz Parking

ABM Parking Services

Lanier Parking

Imperial Parking, aka Impark

Towne Park

SP+, aka Standard Parking
Access DoNotPay through any .
Should I get a Cambridge parking attorney? Do I need one?
Lucky for you, a lawyer isn't needed when trying to dispute a Cambridge parking ticket. Also, hiring a professional parking infraction lawyer can cost more than the fine itself!

DoNotPay is the world's first robot lawyer and the perfect alternative to a human one. You only have to download the app and input the details of the problem you are facing, and DoNotPay quickly gives you a detailed solution!
However, if you still think hiring a lawyer is necessary, you should do the following:
Look them up online and check the customer feedback. Also, ask around regarding the cases they helped solve

Learn more about their credentials: where they went to law school, what do they specialize in, how long are they in the business, etc.

Be wary of possible red flags. If the lawyer sounds too good to be true, they probably are. If they are operating from a tiny office at the back of a massage parlor, run

Always balance and consider the costs and expenses you might shell out for this lawyer

Call them up and interview them for the sake of having a sound mind, and so that you can judge for yourself if you're willing to push through with a lawyer or not
It's no brainer that lawyer's fees can cost a lot, especially if the infraction happened in a different city, and the offense is grave. Paying more for a lawyer's fee compared to the ticket cost is unnecessary and makes no sense.
Access DoNotPay through any .
How much does a parking lawyer cost in Cambridge?

A parking ticket attorney can cost anywhere from $200 to $1,000. Keep in mind that in this field you get what you pay for, so don't be too happy when an offer from a lawyer is "too good to be true."
On the other hand, the DoNotPay app is inexpensive to use. Access DoNotPay through any .
If I lose my appeal, how do I pay for my ticket in Cambridge?

Don't lose hope just yet! Disputing takes minutes, and often simply disputing the ticket can lower your fine.
If you dispute and lose, you can pay your ticket by:
Providing your license plate or infraction number

Paying via credit card
On the other hand, if you're not tech-savvy, you may also opt to pay by mail. Once you receive an envelope that contains your Cambridge, MA parking ticket, check the back of the envelope for instructions on how to do it. There are two forms of payment: check or money order.
Another option is paying by phone call. You need your ticket violation number for this.
The last payment option is settling fees in person. You can do this by going to the Cambridge financial department or affiliated business centers and paying there. However, arm yourself with a lot of positivity, as there's a high chance you will have to wait in line (and who likes that, right?).
Dispute or pay?
Ease
Time It Takes
Cost
Benefits
Dispute

Using the DoNotPay app makes it easier

DoNotPay disputes take 2 minutes

$18/month

Quick and easy

Pay

Pay online

Paying in person: takes hours

Paying via mail: four to six weeks

Paying online: two days

Ticket price plus transportation fees, as well as the cost of not working that day

You don't have to worry about disputes
Does Cambridge reduce parking citation fines?
Reducing your Cambridge parking ticket is possible, but it also depends on the situation as well as the parking officer. Once the officer inputs the ticket details into the system, cancellation is not possible.
A thread on Reddit discusses how it's possible to reduce or dismiss a parking ticket with the proper approaches.
However, you may also get reduced monthly parking fees if you're a resident of Cambridge. Once you have a current Resident Parking Permit, you're allowed to park at the First Street Parking Garage for $100 per month (from May to November) and $50 per month (from December to April). A one-time $10 fee also applies when you use the electronic access card upon entrance and exit.
If you're not a resident of Cambridge and you want to add your name on the waiting list, call the garage offices at (617) 349-4753 as well as the Traffic Department at (617) 349-4700.
What if I don't pay my parking infraction in Cambridge? Money is tight right now
Although there are many differences in each state or country regarding payments of ticket fees, none of them go as far as sending the accused to prison.
If you fail to meet your Cambridge, MA parking ticket, here's what can happen:
Your car can be moved or much worse, impounded

Fees and costs can increase

You won't be able to renew your vehicle's registration papers
Cambridge gives you less than twenty-one days to settle five or more unpaid parking tickets. If you don't pay for your violations, the authorities have the right to boot your vehicle.
When your vehicle is booted, there are corresponding fees such as the boot fee ($45) and the storage fee ($20 per day, which starts at 12 AM). Towing operations happen in three days if payment still isn't settled or if your total violation fees exceed $1000. Keep in mind that the towing company also charges you for the towing and storage costs.
To remove a boot from your wheel, visit the Cambridge Traffic, Parking & Transportation Office and pay all fees associated with your name and license plate. You may use cash, credit card, or bank check. However, payment by phone is also possible as long as you remember the violation number from your ticket.
Avoid these situations! Access DoNotPay through any .
Will a ticket from Cambridge go on my record?
No. Your record is not affected by parking infractions. Once you refuse to pay for your Cambridge parking tickets, the fees add up and will show on the system. In the future, if you have violations, you are required to settle previous outstanding tickets first, aside from the current parking ticket violation.
Settle your parking citations by disputing them instead of choosing to ignore their existence. Access DoNotPay through any .
I got a parking citation in Cambridge, but I never saw it on my vehicle
If someone takes the parking citation off your car or the wind blows it away, that is still not an excuse to ignore the citation (that you don't know about). The authorities address the issue by sending you a notification via mail. If you no longer live at the address registered on your license, the letter is turned over to a collections office.
If you refuse to pay your parking fees and the case ends up in court, your credit score can be affected. Your credit scores decrease and may impact your ability to get a car loan.
Don't let it get this far! Access DoNotPay through any .
Can Cambridge infractions make my car insurance go up?
No. An issued Cambridge parking ticket does not affect your insurance rates. Minor offenses such as parking infractions do not affect your car insurance rates simply because the company doesn't get notified about matters like these.
Many are confused between parking violations and moving violations. Moving violations include receiving a speeding ticket or a citation for severe offenses such as DUI. A moving violation effects and increases car insurance rates.
However, just because you didn't settle your Cambridge parking ticket doesn't mean that you won't pay for the consequences of your actions later on.
Ignoring a citation poses other consequences in the future, such as the inability to renew your license, as well as getting a license plate renewal sticker. A driver without a renewed license plate sticker is not allowed to maintain their car insurance.
What if I got a ticket, but I'm not from Cambridge? I'm actually from another state
Before traveling to another state or city, make sure you educate yourself regarding the traffic and parking laws. During your stay, you should follow and abide by all rules and regulations to avoid unwanted problems.
Instead of rushing to pay every parking citation you get, try disputing them first. Use the DoNotPay app to appeal your tickets in a matter of minutes, in whatever state you receive it in. The app offers you information and smoothes the process while you fight your parking infractions.
If you're driving out of state and are thinking about whether you should pay for your Cambridge parking ticket or not, here are a few tips and advice.
Can I get a ticket even if I'm in the car?
Yes. Violations happen whether you are or aren't inside the car. You can be standing beside your vehicle or sitting inside, taking an important phone call. If parked improperly, the authorities will issue parking tickets.
Always remember to keep an alert mind when deciding where to park to avoid unwanted citations. Be conscious and wary if ever you need to answer a phone call or if your car breaks down.
To further support this, read a thread on receiving tickets while in the car.
I was driving a rental car when I received the citation, do I still need to pay?
Yes. You must pay for all the parking tickets you receive in Cambridge while using a rental car. Rental car companies such as National Car Rental require you to settle your parking fees. In addition to this, administrative fees also apply, which range from $30 to $45.
Most of the time, parking and administrative fees are included in your overall car rental bill. If you choose to ignore the infractions given, there is a big chance of an increase (up to $100) in the administrative fee and ticket fee.
If you need more information, learn more about rental car navigation by using this guide.
How much does Cambridge make from parking tickets?
Cambridge uses parking tickets as revenue for what the city calls 'the parking fund.' In a month, Cambridge collects $70,000 from infractions. According to Wicked Local, the government received approximately $840,000 between August 15, 2017, and August 15, 2018.
Ticket prices range from $25 to $120 and in a year, and the authorities collect almost $10 million in parking tickets alone.
DoNotPay helps users fight and beat tickets in any city
DoNotPay helps users fight parking tickets in every city in the US and UK. Here are a few cities we've helped users dispute the most tickets in:
What else can DoNotPay do?
Aside from the above mentioned, DoNotPay may also help address the following:
Beating speeding tickets

Disputing traffic tickets

Help you get compensation for delayed and canceled flights
To help you save time, efforts, and your wallet, download the DoNotPay app. The services of the app shed light on "a big problem with the justice system," according to The Verge.
To Summarize Cambridge Parking Tickets:
| | |
| --- | --- |
| Choosing to appeal tickets is easier. | DoNotPay helps people save money by disputing parking infractions. |
| It's possible to challenge a parking ticket within 120 seconds. | Once you input all essential details in the app, DoNotPay does everything else for you. |
| One of the goals of DoNotPay is to help you in winning battles regarding parking tickets against private parking companies. | An infraction may result in towing and license revocation. |
| Not paying for a ticket imposes many consequences. | However, there is no chance of going to prison. |
| Pay for your parking tickets to avoid unwanted consequences. | DoNotPay makes it easier for you to fight your fees. |
| You have a lot of choices regarding parking fee payments. | But DoNotPay gives you the easiest route if you wish to appeal it. |
| Cambridge offers a reduced monthly parking fee for residents. | If you don't live at Cambridge, you may request to be on the waiting list for reduced monthly parking fees. |
| Your driving record is not affected by parking tickets. | But you still have to settle your parking ticket payments. |
| If someone took the citation from your car, you still have to pay for it. | The authorities send the citation a few times via mail to give you ample time to settle fees. |
| Your car insurance does not increase with a parking ticket. | License renewal may not be possible if you have unpaid parking tickets. |
| You may pay parking fines online through service centers, via mail, or by phone. | Dispute and avoid paying ticket fees through DoNotPay's app. |
| You are required to pay for a ticket if issued while visiting other states. | You must abide by each state's rules and regulations. |
| You can avoid parking infractions in many ways. | And there are also many ways to dispute them. |
| Even behind the steering wheel, you can receive infractions or citations | Always park legally and be aware of your surroundings when using your phone. |
| You have to pay parking fines even when using rental cars. | During car rental violations, companies require you to pay for parking and administrative fees |
| Every year, cities make millions from parking violation tickets | Cambridge makes almost $1 million a year from parking fees. |
| DoNotPay offers more services that can solve your legal issues. | Additional services include suing companies and beating traffic tickets. |