Start a Tesco Clubcard Plus Free Trial Without Giving Your Banking Info

Tesco Clubcard Plus is a new monthly subscription from Tesco stores that began in November 2019. The Clubcard Plus benefits are only available to Clubcard members–so you will need to join the free loyalty scheme first if you haven't signed up for Tesco Clubcard. However, if you don't want to purchase a new subscription, there'll be no modification to your current Clubcard scheme.
Determining the worth of a Tesco Clubcard Plus membership for you is mostly dependent on how much you spend at their stores monthly. You ought to understand that Clubcard Plus can be profitable only if you spend £80+ monthly in a Tesco store. It's also worth noting that the new service can be used in all Tesco stores in the UK, including Express shops and Metro, but it cannot be used for online shopping.
Does Tesco Clubcard Plus Offer a Free Trial?
Yes. Every new member stands a chance to enjoy all the benefits associated with a Clubcard Plus for one month. Some of those benefits include:
One-month free trial for every new subscriber.
10% off your groceries in-store, twice every month – they can go up to £200 in each shop.
Double data as well as double Clubcard points.
10% off non-grocery Tesco brands, including Fred & Flo, F&F, Go Cook, Tesco Pet, Fox & Ivy, and Carousel.
Sign up and use the discount you get on the same day.
How Can I Get a Tesco Clubcard Plus Free Trial?
To get your free trial, you'll need to go to the Clubcard Plus page and then follow the sign-up process. You will be requested to enter your payment details, although you don't need to worry since they won't charge you until the free month ends.
Does the Tesco Clubcard Plus Free Trial Automatically Renew Into a Paid Subscription?
Yes. Once your free trial period comes to an end, you'll be charged a subscription fee of £7.99 automatically. You don't need to do anything for you to continue enjoying the benefits of Clubcard Plus.
Avoid Automatic Renewal With DoNotPay Virtual Credit Card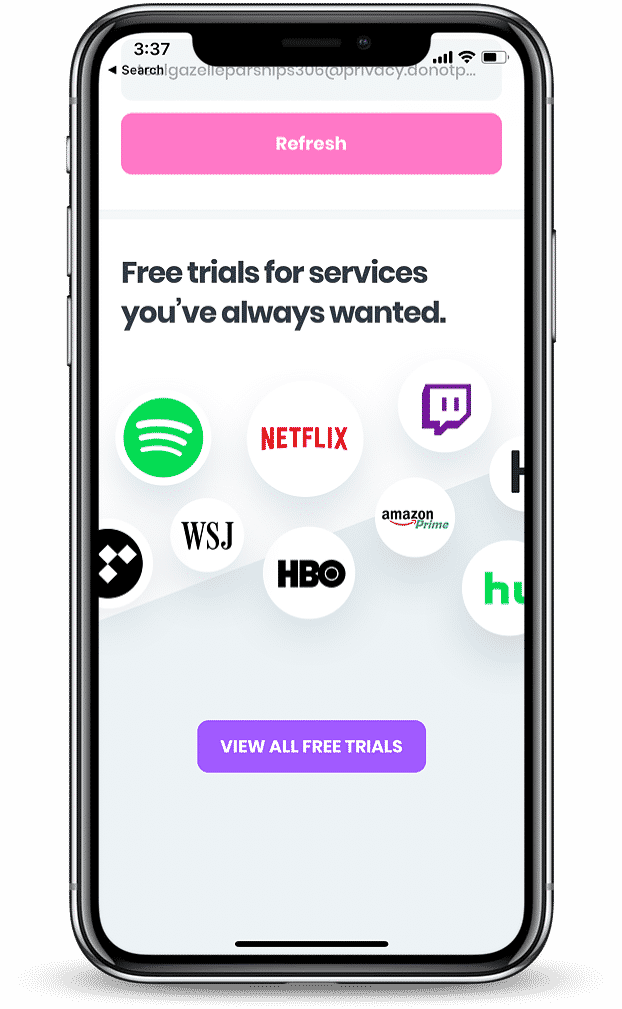 As earlier mentioned, once the Tesco Clubcard Plus free trial ends, you'll automatically be charged unless you choose to cancel the subscription. Luckily, with the invention of virtual credit cards (VCCs), you don't need to worry anymore about unexpected charges on your credit card.
How Virtual Credit Card Works
The virtual credit card works by generating a temporary number through a random credit card generator that makes it hard to be used by fraudsters. Unauthorised purchases cannot in any way use the card because it's normally limited to one merchant, one transaction, or one spending amount that you settle on.
You may use any name or address and the virtual credit card number, as well as the expiration date given by the DoNotPay app. You stand a chance to get free credit card numbers and have the liberty to use the VCC to sign up for a free trial of any kind of service.
Benefits of DoNotPay's Free Trial Card
The free trial card can help you save money and time by:
Creating a random credit card number
Approving on billing pages or "free trial" automatically
Disapproving subscriptions or any other charges
Terminating subscriptions for you
When you use DoNotPay's free virtual credit card, the app's algorithm will carry out all the work for you. The minute you tap the purchase button, the DoNotPay system will get the ping and then check the code request to affirm if it's for a free trial. If not, the system will decline the transaction, which means no money leaves your pocket. Although you can't make real purchases with the Free Trial Card, the card will greatly help you with free trial sign-ups.
How Much Does Tesco Clubcard Plus Cost After the Trial?
To continue enjoying the benefits of Tesco Clubcard Plus after the trial, you'll be charged the following:
| | |
| --- | --- |
| Duration | Fee |
| Monthly | £7.99 |
| Annually | £95.88 |
The annual fee is settled in monthly payments that can be cancelled anytime.
The savings you make at the end of the year mostly depends on how much you spend per month. For instance, if you use £100 per shop twice a month, Clubcard Plus will help you save £10 on each shop, making it £20 every month and £240 every year.
Solve All Your Free Trial Issues With DoNotPay

Besides Tesco Clubcard Plus free trial, DoNotPay can also help you seamlessly get:
Other Services From DoNotPay

Alongside free trials, DoNotPay can also help you:
Sign up on our website today, and let's help you save money and time with just a few clicks.