How to Try NOW TV With a Virtual Credit Card

Many people worldwide rely on music and television streaming services for their entertainment. The options are endless, from Netflix or HULU to channel-specific programs like those on HBO. NOW came on the scene in 2012, and to prove they are the best option, you can experience a .
Of course, free trials can be problematic in large part because many of us forget to cancel them. Fees for forgotten subscriptions might seem like a minor nuisance until you see how the $.4.99, $9.99, and $19.99 charges quickly add up. Many times the subscriptions aren't even for services that are used. That is where DoNotPay has jumped in to create the perfect solution, virtual credit cards.
What Is NOW?
Formerly known as Now TV, NOW is a British television streaming service. As of now, NOW is only available in specific countries, including the United Kingdom, Germany, Austria, Ireland, and Italy. Although not currently available in the United States, you can try to stream the service over a VPN.
NOW offers various membership options ranging from sports to reality TV. Each package has its own price point and features, but if you don't want to commit yet, you can always get a .
Package
Price
Inclusions
Sports Membership
£5/month

All 11 Sky Sports channels
Thousands of hours of documentaries and highlights
F1 racing
Premier League
Much more

Cinema Package
£9.99/month

Exclusive Sky originals released every week
thousands of movie options
the latest blockbusters

Entertainment Package
£9.99/month

HBO
Epic Kids
Sky original content
Top dramas and series from your favorite networks

Hayou
£4.99/month

Top Bravo shows including all Real Housewives, Below Deck, Keeping Up With the Kardashians, and more
Over 8000 reality television episodes

BOOST Add-On
£5/month

Three devices can stream simultaneously
Ad-free streaming
Full HD experience on all content
Does NOW Offer a Free Trial?
If you aren't sure if NOW is right for you, you might be curious about a . You are in luck. Each of NOW's packages offers a 7-day free trial, which is an excellent way to determine if NOW is right for you.
However, you must supply NOW with your credit card information to access the free trials. If you cancel the subscription before the trial ends, the card won't be charged, but NOW will automatically charge you for a subscription if you forget. If you want to avoid accidentally forgetting to cancel a card, DoNotPay is here to help.
Enjoy NOW's Free Trial Risk-Free With a Virtual Credit Card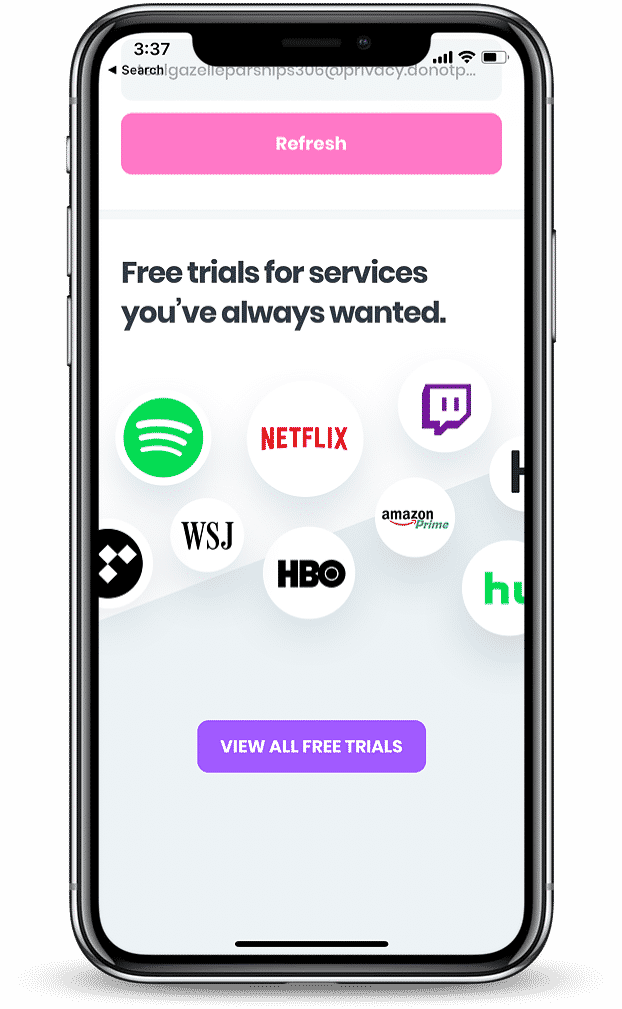 Life gets busy, and it is easy to forget to cancel subscriptions, especially free trials, leaving you with unwanted charges. DoNotPay's virtual credit cards are the perfect solution. The application generates a random credit card number that will work for NOW but won't have actual money on it, so it can't be charged when your free trial ends. Best of all, generating and using DoNotPay's virtual credit cards is quick and easy.
Go to DoNotPay
Click on "Solve This Problem For Me"
Fill out your information.
Specify which merchant you need a virtual credit card for, in this case, NOW
DoNotPay will generate a free virtual card number, expiration date, and CVV code.
Copy the credit card information, and paste it onto NOW's website.
Sit back and enjoy your NOW free trial worry-free. You won't be charged if you forget to cancel the subscription.
Each virtual credit card is only usable once. For each free trial, you must generate a new card.
Why Use a Virtual Credit Card?
If you are on the fence about using a virtual credit card, DoNotPay makes the process simple and safe. There are numerous benefits to the use of virtual cards.
Your bank and credit card information stays secure.
You avoid unwanted charges on your cards and checking account.
You avoid stress because you do not have to remember to cancel the subscription.
For added freedom and security, DoNotPay can generate a random email address that will forward to your actual email address. This keeps your email secure and free of spam.
What Else Does DoNotPay Help With?
After experiencing how easy and enjoyable DoNotPay's virtual credit cards are, you are sure to wonder what else they can help with. Virtual credit cards are just the beginning. DoNotPay is here to help you with a plethora of everyday chores.